Coronavirus declared global health emergency by WHO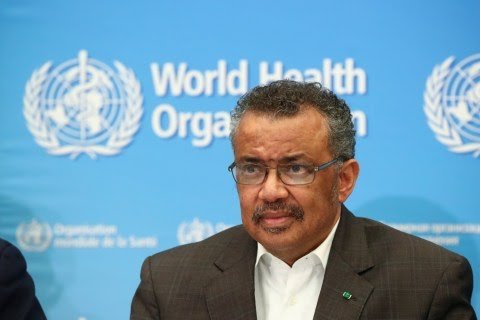 London —  Coronavirus has been declared as a global health emergency by the World Health Organisation.
The announcement was made on Thursday evening following a meeting of the WHO emergency committee in Geneva, Switzerland.
 98 cases in 18 countries were confirmed outside China, while there have been eight involving human-to-human transmission in Germany, Japan, Vietnam and the US.
As British medical officers increased the risk level in the UK from low to moderate tonight, the issue was considered  seriously.
Approximately 150 UK citizens are due to be brought back from a flight leaving the Chinese epicentre, Wuhan, at 7am local time on Friday (11pm Thursday UK time), Metro News writes.
Director-General of the WHO, Tedros Adhanom, said that despite the 'extraordinary' efforts made by China to contain the outbreak, the virus has 'escalated' in an unprecedented' fashion.
I am declaring a public health emergency of international concern over the global outbreak of #2019nCoV, not because of what is happening in #China, but because of what is happening in other countries.https://t.co/HNrxyGeoBA

— Tedros Adhanom Ghebreyesus (@DrTedros) January 30, 2020
'Over the past few weeks, we have witnessed the emergence of a previously unknown pathogen, which has escalated into an unprecedented outbreak, and which has been met by an unprecedented response,' he said.
'As I have said repeatedly since my return from Beijing, the Chinese government is to be congratulated for the extraordinary measures it has taken to contain the outbreak, despite the severe social and economic impact those measures are having on the Chinese people.
'We would have seen many more cases outside China by now – and probably deaths – if it were not for the government's efforts, and the progress they have made to protect their own people and the people of the world.'
He added: 'I also offer my profound respect and thanks to the thousands of brave health professionals and all frontline responders, who in the midst of the Spring Festival, are working 24/7 to treat the sick, save lives and bring this outbreak under control.'
At least 170 people have died from the virus in China, while thousands have been infected, however there have so far been no deaths outside of the country – something Mr Adhanom said we 'must all be grateful' for.
'Although these numbers are still relatively small compared to the number of cases in China, we must all act together now to limit further spread,' he added.
'The vast majority of cases outside China have a travel history to Wuhan, or contact with someone with a travel history to Wuhan. We don't know what sort of damage this virus could do if it were to spread in a country with a weaker health system. We must act now to help countries prepare for that possibility.
'For all of these reasons, I am declaring a public health emergency of international concern over the global outbreak of coronavirus.'
With the help of Dr. Tom Moorcroft, an osteopathic physician focused on infectious disease, CNET has discuss the current risk of becoming infected with coronavirus, how to protect yourself and how to stay informed.
How to protect yourself from the coronavirus
For now, just stick to the basics, Moorcroft says.
The coronavirus is spread through respiratory vapor, such as when someone sneezes or coughs into the air around you. Influenza viruses and common cold viruses are also spread this way.
"The things you should do to protect yourself from the coronavirus are things you should do every day," he points out. "The No. 1 thing you can do to prevent any respiratory illness is to practice good personal hygiene."
Moorcroft also reiterates the CDC's advice for avoiding coronavirus (and other respiratory diseases):
Wash your hands with soap or use a hand sanitizer that contains alcohol.
Sneeze and cough into tissues or the crook of your elbow. If you get snot or spit on your skin, clean it off right away. Avoid touching your face with unwashed hands.
Avoid close contact with people who are sick, especially people exhibiting respiratory symptoms and fever.
Stay home when you're sick.
Regularly and thoroughly clean surfaces, such as counter tops and doorknobs, with a disinfectant.
Again, these are all basic protections that should be normal, everyday things. Moorcroft believes that extra protections, like wearing medical masks, aren't really necessary at this point, unless you have the virus or are being investigated for it.