Nepali embassy London urges Nepalese to remain alert, follow directives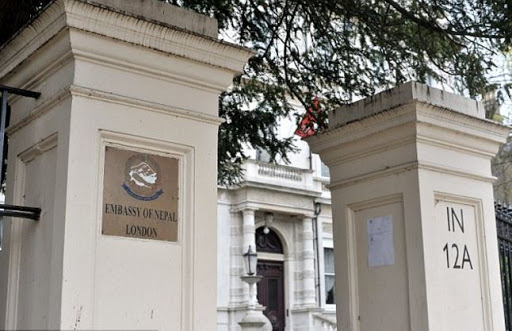 London—The Nepali embassy in London has urged Nepalese living in the UK, Ireland and Malta to remain alert and follow the directives issues by their respective governments.
In a statement issued on Friday, the embassy urged the Non-Resident Nepali Association (NRNA), Nepali diaspora associations, organisations, societies in the UK, Ireland and Malta, brothers and sisters to provide suggestions, information sharing and assistance to Nepalese affected by the COVID-19 diaster.
"It is our responsibility to extend mutual cooperation, support and help. All the NRN communities are requested to help and support each other, share the information and provide help to the needy people," the embassy of Nepal to the UK said in an appeal.
The infection of COVID-19 is increasing day by day. (Hence), it is our prime duty to play the role from our part for the safety and security of all our stakeholders, customers, diplomatic friends and fellow Nepalese, the statement said. The embassy further said:
In order to receive daily consular services i.e.: passport renewal, travel permission, NRN card, Visa and document validation, all the customers are requested to follow the instruction mentioned in the embassy website ( www.uk.nepalembassy.gov.np) and send all the documents by post.
Customers are advised to visit the Embassy in case of urgent tasks such as preparing power of attorney and letter of consent only where you are required to sign on the documents in person.
Customers are requested to book an appointment via phone or email prior to visiting the Embassy for any urgent task during the office hours from 10 am to 1 pmand from 2 pm to 4 pm.  Only the person concerned is advised to visit.
In order to receive services from the Embassy, all the customers are advised to call and email as follows:
+44 20 72291594 (Office Secretary), 020 72299655(Visa),                020 72437859 (Consular)
Email  eon@nepembassy.org.uk, consular@nepembassy.org.uk
Apart from office hours, customers can also contact following officials in case of any emergency:
Sharad Raj Aran , Chief of the Consular Service: + 44 7460595188
Tejendra Regmi, Third Secretary: +44 7427330837
"The embassy is providing its dedicated services during the office hours as usual," spokesperson of the embassy Mr Aran said.