"Historical evidences from the days of the British-India clearly show the entire Kalapani region, including Lipulek and Limpiyadhura, belongs to Nepal.": Dr. Yubaraj Sangraula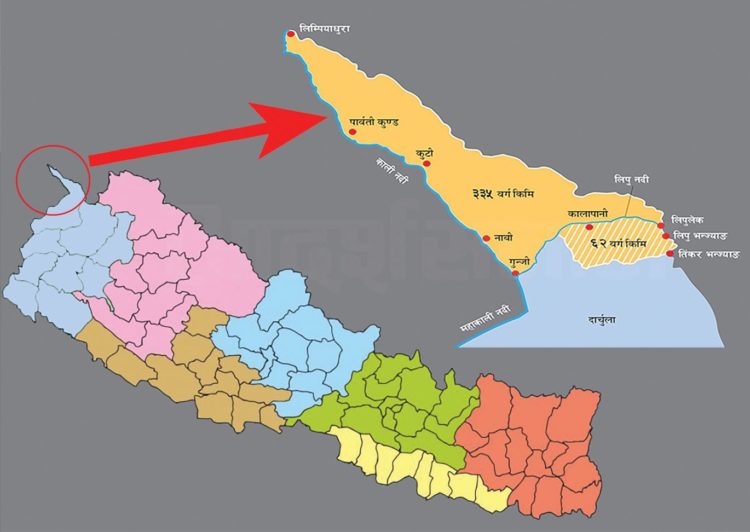 Kathmandu, May 24: Senior Advocate Prof Dr Yubaraj Sangroula has presented historical evidence from the days of the British-India that clearly show the entire Kalapani region, including Lipulek and Limpiyadhura, belongs to Nepal.
"The British war with Nepal in 1814 and 1816 were imperialistic interventions into our territory. Kumaun and Gadhwal were under Malla kings of western Nepal and they were not the lands annexed through encroachment but brought under Nepal in a unification process," he wrote in an article published in Gorkhapatra daily on Saturday.
Dr Sangroula said that Nepal should have received Kumaun and Gadhwal after the treaty of 1950 as per the international law because these two provinces were also liberated as India and were Nepal's territory annexed to India by the British rulers.
However, then Rana rulers who were counting their days in power did not care about protecting the land that actually belonged to Nepal so we must consider the colonial suppression while marking the international borders, he said, The Rising Nepal daily writes.
"It means the border at the Mahakali River between Kumaun and Nepal is not a matter to be settled as per Indian opinion. The basis of the international border between Nepal and India would be Nepal's view on it because the land was snatched away from Nepal and was not returned," said Dr Sangroula.
According to him, the very right to Nepal is given by the international laws. Captain Woodbridge, in his book Military Sketches of the Gorkha War, has said that the British rulers in India wanted to end the war after Nepal lost it at multiple fronts by taking the land between the Mahakali River and Sutluj River and leaving land East of Mahakali to Nepal.
This is the proof that the Mahakali, the first river east of Kumaun, is Nepal's western border. But India has termed a small stream, east of Limpiyadhura and Lipulek, artificially created by it as the Kali River.
"This is the expansionist act of India. We must accept the border set by the earlier documents exchanged between British India and Nepal. Not accepting it would not be good for India as well," said Dr Sangroula.
He has urged India to review the facts presented in those documents and decide whether the land it encroached belonged to it.
An agreement was signed between Amar Singh Thapa and David Ochterlony in Malong on 15 May 1815 which names the Kali River as the border. "If India does not accept that decision, it should not accept any agreement with British-India; there would be newer discussions in such a situation," he said.
Cartographic exercises started immediately after the Malong convention and the maps clearly stated t