Gastronomy as tourism product for South Asia – A case of Nepal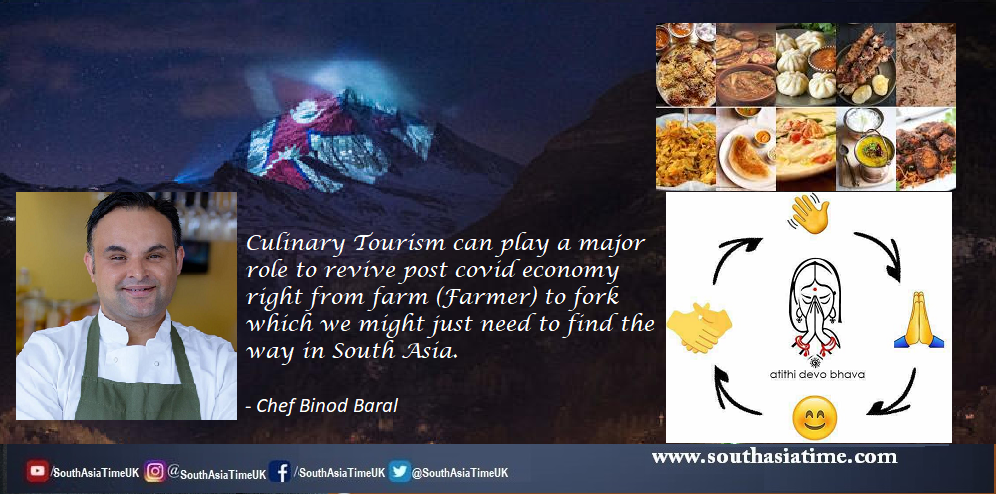 By Binod Baral
There is a big opportunity for domestic culinary tourism in South Asia especially after Covid- 19. We need to find different ways to attract tourist and every little help will count for most affected industry.
Gastronomic tourism can be defined as travelling for the sake of experiencing the gastronomical resources of the destinations which is likely to include visiting food spot,  food festivals, food fairs, food tasting, cooking exhibitions, tasting local street food and specialty.
Culinary tourism refers to trips to hospitality venue and a whole life cycle involving from farm to fork. One of the most exciting opportunities presented by food tourism is the opportunity to really differentiate the unique aspects of the local environment through food and flavour which is everlasting as I never forget Taste of Gelato from Gallarate Malpensa or Catalan coca bread from Barcelona.
Local cuisines play an important role. They provide travellers a direct and authentic connection with their destination. Tourists can experience local heritage, culture and people through food and drink.
Who in this world is not interested in food?  It depends on what we offer and what kind of guests are there – health-conscious, vegetarian, diet restrictions, immune-boosting, etc. so we must think long term and in a sustainable way.
Culinary Experiences
South Asia has rich tradition in gastronomy. Thousands of unique foods are prepared and eaten by over 1.3 billion people in South Asia. Domestic as well as foreign tourists are interested in culinary experiences. It is a new area that can be promoted in a big way starting with domestic tourists especially after the lockdown is opened. That will be an opportunity to promote local delicacies to make a memorable experience, such as Malekhu ko Macha, Dakchinkali ko Khuwa and same time we need to create derivative dishes for everyone such as khuwa Ice cream, Khuwa Kulfi etc. If Fish 'n' Chips can be mass pleaser, then why not Malekhu ko Machha and Aloo Chop ?
Culinary Tourism can play a major role in the economy right from farm (Farmer) to fork which we might just need to find the way. Promoting local, seasonal, farm-fresh, cook fresh, clean, hygienic, economic, eye-appealing, tasty, moveable, healthy, medicinal, immune boosting, ayurvedic food , spice , herbal all depend where we are and what can we do from there.
As campaign
Well-known hotels can start to look for local women who make good food and Star hotels can help street food or road side restaurant can train on their presentation skill, personal and kitchen hygiene As part of providing culinary experience, projects like 'A Day With Newari Kitchen or A day with  a Fisherman in Trisuli' or  'Learning to Milk a Cow and Make Products from It' would be great.
I personally would love to come and spend 10 days in Newari Kitchen, and  Similarly, I would love to spend one day in Thakali kitchen and Tharu Kitchen.
 Many such experiments are happening in various places across the world as I did in Thai kitchen in 2017. Foreign tourists can learn to make Momo in typical Nepalis style, this might be their lifelong learning experience.
Most of our kids do not know how oil is extracted from seeds so may be Tokha can be a gastronomic attraction place learning about oil and where we can serve our delicacy from oil. It can be a simple fried egg in pure mustard oil with Jhaneko Aloo with crispy flat rice.
We must join hands with our governments to promote our cuisine through embassies and consulates in various countries like Thailand and other neighboring countries doing. Nepali  organisations abroad should present Nepali feasts during festivals and events  so they will get Taste of Nepal, otherwise. Dining out is common among tourists and food is believed to rank alongside climate, accommodation, and scenery for tourists.  In Nepal, experiencing food and shopping  local products tend to be largely a domestic tourism activity for local tourists. Local tourists sound a bit odd  now, but this is part of 'New Normal'.
Gastronomic tourism or culinary tourism is experience of Nepal or if we talk about domestic tourism the food of the country, region, or area, and is now considered a vital component of the tourism experience. In gastronomic tourism, food and beverages are the main factors for Nepali economy.
Street food and eating out culture is growing every day in Nepal. After lockdown, people would like to go out which opportunity on gastronomic tourism, and again if we push a bit now and continue work with heart and soul  it will grow rapidly in the coming years.
In Nepal, leisure trends have identified that the so-called gastronomic tourists are looking for a more participatory style of holiday experience, which satisfies their interest in food and drinks and contributes social status so identifying delicacy and promoting places, regions or even entire countries locally and globally is important now.
As food and beverages increasingly will be one of the main reasons for travel in the future, attempting in a big way to combine food, local souvenirs, and culture into a total tourism experience will go a long way to promote tourism. The package, however, should be authentic and reflect the local and unique flavours of an area or the province. Similarly, South Asian countries have the potential to boost gastronomic tourism by promoting authentic multicultural cuisine.
People might not be able to travel right now but their mind can. People  can dream, explore, learn, and connect so we have made  curious for future.
The spread of the coronavirus is taking a huge hit in the hospitality industry, and restaurants are struggling to stay afloat. Turning to takeaway and delivery can make up for some lost revenue but in the long term. It is just to roll the ball and that may not be enough to stay in business.
Creative operators are going beyond these platforms, fighting back with innovative ideas that create demand.
Corona will not go away from us not soon or later and we have to make a habit to live with it.
We might have to change our lifestyle the same way new area of promoting yourself in the global market and for New Normal.
Lockdown, Social Distancing, COVID-19, Coronavirus, Sanitizer, Furlough, Contactless, Key Worker, Essential Retailers, Online, Virtual, Working from Home, quarantine and might be few more are recent most used Keywords so we should focus on these Keywords.
Let us explore these ideas about what we can do more for locally and globally and share solutions to this unprecedented challenge.
In order to achieve this common goal, support from the community, Embassy,  Media and all the stakeholders is essential to bring Tourism and Hospitality back for new normal.
We need to find their way to the next normal and I strongly believe as Food is part of the culture in South Asia  let  us take this as an opportunity to our gastronomic Tourism.
So, let's resolve, remodel, resilience, return, reimagination, challenges, strategic areas to focus on to recovering revenue, rebuilding operations, rethinking the organization to accelerate to our Tourism business via Food Tourism.
Although,  it all depends on the country to country and business to business still and again every little help.
"Atithi Devo Bhaba"  The Guest is God
The author is a Chef, entrepreneur, and runs Momo & Roti restaurants in London. Baral has recently published a post-COVID kitchen manual book which could be purchased from Amazon (Click Here )