Former Nepal PM, Madhav Kumar Nepal, honoured with "Patron of Humanity" award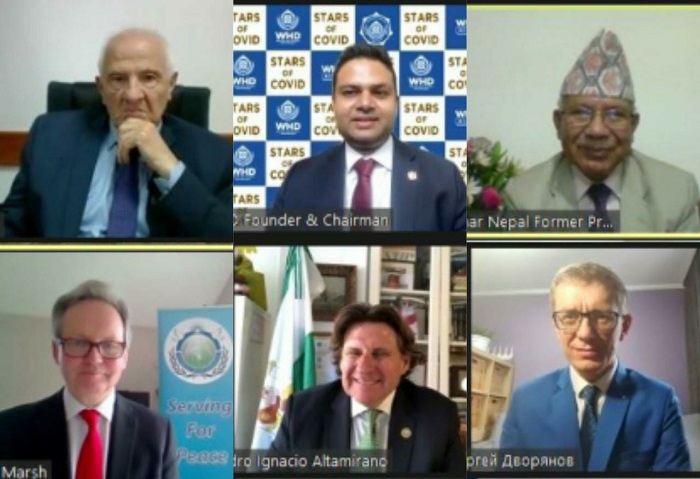 London —  Former Prime Minister of Nepal, Madhav Kumar Nepal, has been awarded the title "Patron of Humanity" in recognition of his contribution to promoting humanity in Nepal and abroad.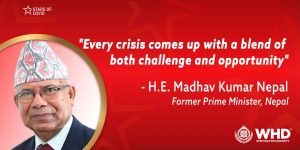 The award was set up by a London-based organisation, "World Humanitarian Drive (WHD)," founded in Croydon U.K. by Dr Abdul Basit Syed.
The honour was bestowed to Mr Nepal at the "Stars of Covid" award announcing virtual ceremony.
"When the entire world was shut down and afraid to step out, these stars lent a helping hand to the world that was battling against Corona. The nomination process for the event started on May 1st, 2020. Over 1600 nominations from all the seven continents received reaching global recognition in such a short period," a press statement said.
The online honoring ceremony was held on June 28th, 2020. Mr. Madhav Kumar Nepal was the chief guest while other distinguished guests included H.E. Fatmir Sejdiu, former President of Kosovo, Pedro I Altamirano, President of The National Assembly, Andalusia- Spain, along with Dr. Abdul Basit Syed, the Founder Chairman of WHD. The session was moderated by Mr. Robin Marsh, Secretary-General of UPF (UK).
The World Humanitarian Drive has awarded 100 individuals, organizations and community groups from 35 different countries with the prestigious "Global  Humanitarian Award" so far.
Full video of the ceremony: