Time to rethink the charity model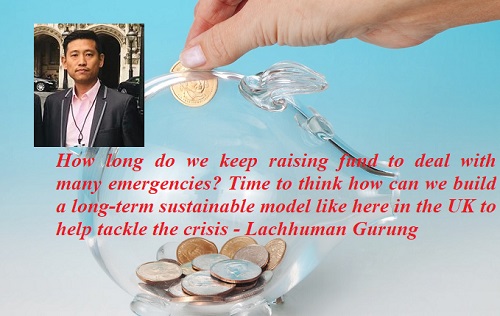 By Lachhuman Gurung
Charities in UK are regulated by the Charity Commission. Charities such as Cancer Research UK and British Heart Foundation raise fund through direct donations on their website. Interested donors can participate in their fund-raising events and raise fund for the charity. The donation and fund raising events are open to everyone throughout the year. These charities also encourage individuals to raise fund through various creative challenges such as running 50K, cycling 100K, shaving heads etc, at their own pace. One of the most extra ordinary examples was that of Captain Sir Tom who managed to raise whopping £32 million for the NHS charities, before his 100th birthday, by walking 100 laps in his garden. Captain Sir Tom surpassed the target of £500,000 and handed over the raised amount to NHS charities that provide support to NHS and its key front-line workers.
Further in response to the pandemic, Chancellor Rishi Sunak announced £750 million to be allocated to charities working in front line to help vulnerable and needy groups. £360 million was directly paid from the government and £370 million was paid to the small and medium sized businesses through National Lottery Community Fund in England. Most of these support directly come from the taxpayer's money.
Raising fund to support people during crisis has never been a struggle for me. I have by all means used my network, connections and public relations to raise awareness and support those in need both physically and financially. And people have been kind to my appeal and donated generously. Like myself there are many other individuals and groups raising money through various activities and challenges they complete, here in UK. Some of them are voluntary groups and some are individuals like me. According to a reliable source, around 300 Nepali organisations operate in the UK. Some of these are registered in the company house while others are not. Many of these organisations have been magnificent in providing support to those affected by the pandemic in Nepal and in the UK. The work and effort of these individuals and organisations have been exemplary and outstanding.
I recall my experience of raising funds to help earthquake victims in Nepal in 2015. I had survived the earthquake in Nepal and extended my annual leave for two weeks to support those affected. With the help of GoFundMe account, I was able to raise £1000 which was used to provide relief and food to the homeless and those affected by the calamity. Five years later, in June 2020, I was able to raise £1500 to help support Nepali migrants travelling from India during the COVID- 19 pandemic. I had challenged myself to cycle 100K with some of my friends to help raise the target amount, just before my birthday. The raised fund was donated to a non-profit organisation called blinknow.org, in Surkhet, Nepal.
Preparing for future crises
The question is not about raising money and helping those in need during such crisis. The key question here is about how best we can do this and prepare ourselves for such crisis in future. Until when do we keep raising fund to deal with such emergencies. The question is how can we build a long-term sustainable model like here in the UK to help tackle the crisis. Every time I initiate a fund-raising campaign, I begin to think if there is any sustainable way of raising fund for the needy and the affected people. For how long will Nepal rely on voluntary donations from organisations and individuals. Is there a sustainable and a transparent way of raising such fund to help tackle such national emergencies in future? What mechanisms are in place to dealing with such crisis?
Nepal should now take stock of the number of charities, NGOs and INGOs working to help the general public at crisis. How many local and international charities operate in Nepal and how equipped are they to deal with such crisis in future? How are these charities funded and held accountable to the authority? What are the best funding models for these charities so it can sustain itself to help those affected? The way UK has handled the pandemic and supported local businesses, NHS and the general public can be a good case study for countries like Nepal. Who knows when the next global pandemic is due and if at all we are prepared to face the crisis.
It is time that all the donors, individuals and organisations, big or small, come together to rethink the model we use to support our country during such crisis. Clearly, it is paramount to seek for a permanent and sustainable approach to dealing with such emergencies and calamities. No government should rely permanently on donations and international grants to support the country and its people. This is simply not a permanent solution. It is rather likely to manifest into a parasitic approach and increase of dependency in international resources. Status quo should never exist. Complacency has no space in this modern world of economies. It should rather seek for its own local sources of fund and focus on right distribution of the resources to the right groups at the right time. It is scary to even think how dependent Nepal and its government has been on these grants and donations during such a crisis. It is easier said than done but every country must have its own mechanism to help support its most vulnerable and affected population during such unprecedented times. And, Nepal surely is one of them!
(Writer Gurung who posses PGCE:HE, Birkbeck University of London MBA, Ace Institute of Management, Pokhara University is currently an Associate Lecturer at Arden University Senior Lecturer and Academic Lead for Quality at Global University System Fellow member of Higher Education Academy (FHEA) Standard Verifier at Pearson Education )