Death toll reached 20 In landslides at Myagdi district of Nepal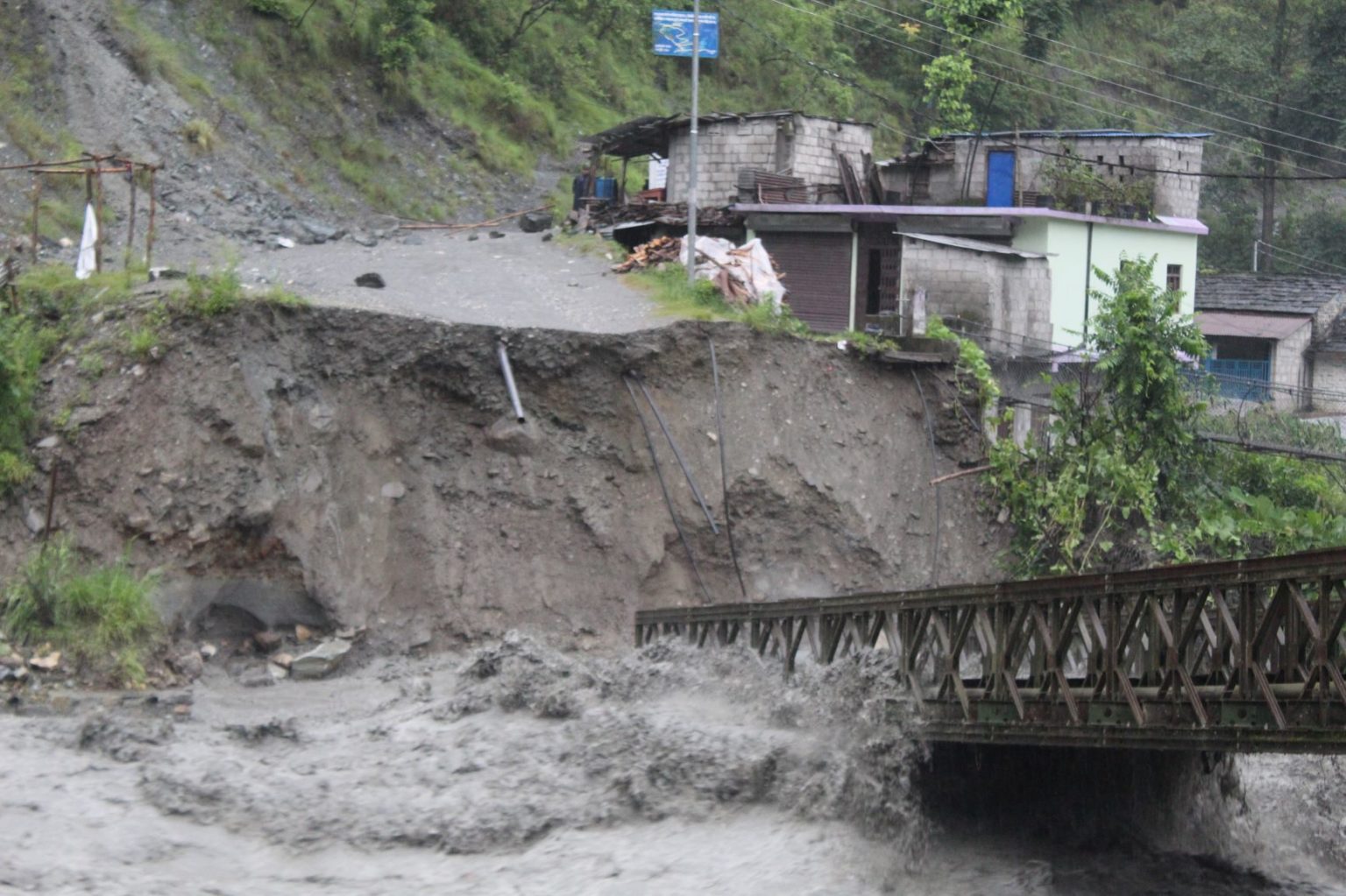 Kathmandu– Total 20 people have lost their lives in the landslides that occurred at different parts of Marang in Dhawalagiri Rural Municipality-6 of Myagdi in Nepal.
Ward Chair Rajaram Subedi confirmed the retrieval of one body at Kalleni, one at Thulogaun and seven in Ramche. Until the filing of this report, a security was on the way to Rikh which reports the missing of seven in the disaster occurred on Friday morning, the Rising Nepal reported.
It may be noted that the lifeless body of one Naliman Chhantyal who was swept away by flood at Thadakhani of Raghughanga-6 was recovered Friday.
Similarly, a team comprising the Nepal Army, Armed Police Force and the Nepal Police arrived here this morning to launch search and rescue efforts for eight reported to have been missing from Tallogaun, Nauru and Dule of Bim in Malika Rural Municipality-7. The rescue team landed here through the NA helicopter. The arrival was delayed due to geographical remoteness of the landslides hit areas and adverse weather. The team joined the duty, said ward Chair Resham Jugjali.
State of Gita Roka of Malika-6 who was swept away by the Dukhu stream is yet to be known. Four people injured in the landslide at Ramche were rescued by a helicopter and have been admitted to the Beni Hospital. Among the injured, one is pregnant mother.
Meanwhile, landslides at Devisthan of Malika Rural Municipality-5 and Kafaldanda of Dhawalagiri Rural Municipality-7 displaced 93 families due to growing risk of disaster caused by incessant rain coupled with continuous mudslide. They were relocated to safer places with the help of people's representatives, local youth clubs and mothers' groups.
According to local Suryamukhi Youth Club Chair Bhak Bahadur Gharti, 53 families from Tamla, Garjara, Darimbot, Ghorlate, Di and Paribhitta were shifted to Runma with household belongings.
Likewise, 10 households in Jugja, nine in Panthok, four in Gharithok and one of Magardang had moved to safer places. The landslide has buried a building of Nawasirjana Youth Club, Runa, damaging canal, barrage and power house of the 30-kilowatt Magardang Micro Hydro Power Project.
The trekking route to Deutabhira and a suspension bridge over the Kharwang Stream have been damaged by the disaster. Devisthan's ward member Dil Bahadur Pun said people of risky settlement have been shifted to safer areas to avert untoward loss.
Man Prasad Magar and Dandapani Jaisi of Kafaldanda had lost homes to the landslip. Their families including of Tej Bahadur BK, Khum Bahadur Magar, Ram Bahadur Magar and Chitra Bahadur Magar have been evacuated to safety, shared Devi Deurali local youth club's member Lokesh Garbuja. Garbuja added that 39 families at Kafaldanda are at risk due to the occurrence of landslides at several places. Landslides and floods from local rivers have largely damaged agricultural farms and orange gardens.