Gastrodiplomacy : Post Covid solution for tomorrow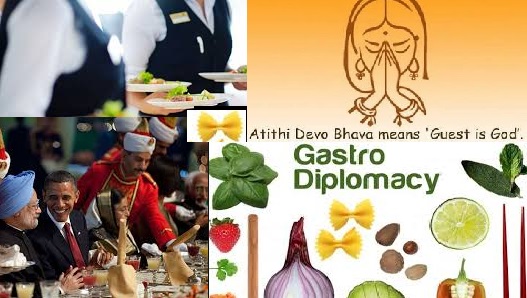 By: Binod Baral
Gastrodiplomacy is regarded as a soft power tool to enhance Nation's Brand recognition.
It is an increasing trendy strategy like other common practices.
Countries like Denmark, Norway, Sweden, Japan, Malaysian, Peru, South Korea, Taiwan, Australia, and Thailand are some countries that have been recognized for their extraordinary public diplomacy through their heritage cuisine.
Many have gone so far as to devote significant amounts of their treasure to funding formal campaigns to share their cuisine and their culinary expertise across the globe.
Let's lobby for Gastrodiplomacy with our government, it can be one more tourism product for country to improve the lives of the local community members.
During this time and age of globalization, heritage cuisine represents historic identities and associations between food, culture communities, at national, regional, and local levels lead down to person.
As a result, cuisine is a unifying factor that reflects a country's identity for its past and its government's national attempts at identity-building in the present.
Gastrodiplomacy can evoke a sense of national pride and unity around food.
So, Food lover from around the world, let's call it Global foodie this is the time to show our heritage through our gastronomy.
Let's join our hands as a POST COVID 19 fraternity now which will give us pleasure during our lifetime and feel we did something in life for our community and country . We can do our part through food.
What we need is an innovative, productive but constructive, globalization of cuisine. Which will bring our identity at global map and make us proud. Everyone knows that Sushi and Ramen are from Japan, noodles from China, Pasta Pizza Italy, Curry India and Thailand, it is just one  kind of bread from thousands that Pretzel, but it represents German Identity.
 "Relay Food Tour"
I would like to suggest a campaign known as "Relay Food Tour" to showcase our food where selected Chef members of a team take turns showcasing from our best dishes of  their cuisine or organising presentation and workshop as per demand and resources.
'Relay Food Tour' can be done with local professional and amateur Chef under one of our selected representative members anywhere in the world . In this way, we can easily cover locally and globally. Also, we can track result in a cost effective way, closely working as team local stakeholder, Embassy, Representative Chefs, Nepal Tourism Board, Government Authority and representatives, local and international food and lifestyle media.
We can't globalise our food until we take our food outside to the  world, so we must convince first and give them confidence to consumers, restaurant owners and investors from abroad.
Chefs alone can't Globalise our food . Media might have to play the biggest role — especially in local languages as well as in English .
 Let's come to reality rather than being emotional, we can't take our food further if we only talk and stick on too authentic dishes. So, it must be bit common and familiar and easy to accept by masses and simple to prepare and tasty food .
 Tikka Masala, Chicken Madras, Vindaloo are they authentic Indian food ? Is Thai curry what we eat are authentic ? Let's Learn from them. We have found mass pleaser dish from  our dishes to adapt,  what customers want in first  phase and then slowly encourage people to explore more.
In Nepal's context, Spiced Jerkin – we can replace with Sukuti, Tikka Kebab can be replaced with Sekuwa, Chatamari can be replaced with Dosa, Doughnut can be replaced with Selroti – just to name a few.
 Let's start writing good things about cuisine following current trends. Yes,  we love our food but let's find what other people want to hear ? It might be our vegan, vegetarian dishes, Himalayan herbs, food as medicine, Gluten free food like Buckwheat varieties from Himalayas, Immune boosting foods, our forage, let's follow the trend what people want to hear.
Not only food cooked by our Chefs, we must think a bit broad so it can be beer from Nepal, water from the Himalayas. If we can get water from Mt. Everest, we can sale it as water from the top of the world — likewise with herb or spices.
We know that it's good and we have enough to share. We must work on consistency, quality, and international standard and more importantly overall quality, shelf life  traceability and labelling. Why not we can work on our local homemade  Beverage,  Organic beverage with right AVB.
In gastronomy, we  just talk about  food, it starts from farm so choosing ingredients , using cooking method and preparation technique, so Robata grill can be gastro diplomacy product, whether we use a chopstick, spoon, fork, knife. Where we eat including sitting area, how we eat, chew, swallow, drink and with beverage pairing drinks so this is again start from farm to fork any thing that comes in between can be a product for Gastrodiplomacy.
Let's discuss what might add value to our campaign.
Such as Might be Cook book in food video, more Street Food videos are current trends  in food channel, Food Festival Tour, food festival, Food Talk shows from expert Like  Ken Holm, Nobu Matsia  Rene Redzepi Denmark, Ferran Ardia  from Spain, Julia Childs–  she made  French food common to American. Chef Massimo Bottura from Italy, he replaced  Parmesan  cheese to in his dish to rescue post-earthquake for his town. He uses his local rice and cheese  that small changes made big difference to whole country Economy; he was in first series a first episode of Netflix Chef Table likewise Asma khan is first Indian chef in Netflix Chef Table Series. She is pioneer from the pool of chefs. More over she is an advocate of  women empowerment in the kitchen.   Wild honey hunting from Nepal can be interest story and very good and organic for market, with Video Western love to see adventure of it, fishing or farming video, Organic farming to name a few.
 Working with foreign embassy on home countries, they are great Messengers and Ambassadors, more constructive and relevant story, and history.
Tourism increases the awareness of food heritage and strengthens local identity, although these food products are not much used in ordinary food consumption, it is more for business.
We definitely need more marketing of restaurants, about Place, Chefs and Owner if they have story , history and legacy, Cuisine they served , Signature dish, if they focus something better like Forage , Farm to Fork, Sattvic, Yoga food, Vegan , Gluten free , One dish restaurant, Specialised, Restaurant opened to support good cause and charity so we need to say these things loud.
Secondly, hygiene should be of high standard and delivering consistent product and validating standard agency, traceability of produces, Staff Food and Safety Training , PPE, Personal Hygiene, may be open kitchen plan so people can see to achieve quick confidence.
It should be very strict and trusted hygiene rating system.
Let's work together Chef, Government agency, food and beverage  media, food scientists. Let's find and utilise experts from around the globe  to make our future better.
(A passionate foodie and restaurant entrepreneur, Binod is a Research and Development chef working for a global leading brand.)