UK Announces Rs. 7.1bn Support Package to Nepal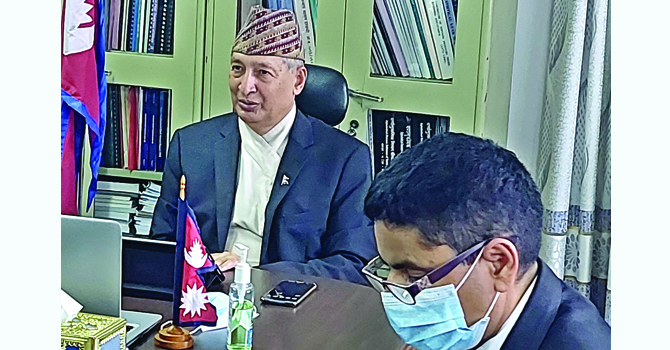 Kathmandu — The United Kingdom has announced 45.8 million Sterling Pound (Rs. 7.12 billion) support package for Nepal to help the latter in the fight against the COVID-19.
In a virtual meeting with Minister for Finance, and Communication and Information Technology Dr. Yuba Raj Khatiwada on Thursday, State Minister of Foreign and Commonwealth Office of the United Kingdom Lord Ahmed has announced the financial assistance, said the Ministry of Finance, the Rising Nepal reported .
The British Minister has also said that his government would like to extend support to Nepal in the areas of improving the investment climate, mitigating the impacts of climate change as well as Sagarmatha Sambad and green development.
Dr. Khatiwada appreciated the UK for its continuous support in Nepal's socio-economic development. He also lauded the proposed cooperation by the former in health, social security and infrastructure sectors in Nepal during the difficult times of coronavirus pandemic.
The UK has been supporting Nepal in the areas like economic development, post-quake reconstruction, financial access, road infrastructure and investment.
The Finance Minister had updated Ahmad about Nepal's development priority, economic status and efforts in creating the investment-friendly environment.
The two ministers discussed about holding the next round of Nepal-UK Bilateral Consultation Mechanism (BCM) meeting virtually between the Ministry of Foreign Affairs and the Foreign and Commonwealth Office within the next few months.
While agreeing to work together on the common areas of climate action, they expressed their hope that the outcome to be produced at the Sagarmatha Sambaad next year, will help inform the wider deliberations of the COP26, said the MoFA in a statement