Nepal's legendary mountaineer Ang Rita Sherpa "Snow Leopard" passes away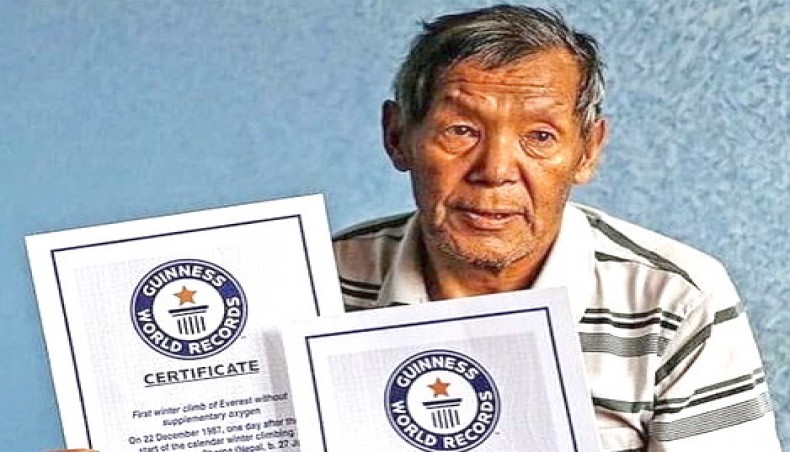 Kathmandu,  (IANS) — Ang Rita Sherpa, a Nepalese mountaineering legend who climbed Mt. Qomolangma — popularly known as Mt. Everest — 10 times without bottled oxygen, passed away on Monday.
Ang Tshering Sherpa, former president of the Nepal Mountaineering Association (NMA) confirmed to Xinhua news agency that the Nepali mountaineering legend, also known as 'Snow Leopard,' breathed his last at his daughter's residence at Bauddha area of Kathmandu on Monday morning at the age of 72 years.
Former NMA president Sherpa, who knew Ang Rita closely, said the veteran climber was suffering from liver and vain related health issues. He was hospitalised in 2017 after suffering from a brain hemorrhage.
"During his time, Ang Rita was considered as one of the strongest climbers," said the former NMA president. The NMA is an agency involved in promoting mountaineering in Nepal.
Born in 1948 at Thame village in Solukhumbu district, which hosts the southern part of Mt. Qomolangma, Ang Rita had last stood at the top of Mt. Everest in May 1996 without supplemental oxygen.
In 2017, the Guinness Book of World Records had recognised him as the only person on the planet to have climbed the Mt. Qomolangma 10 times without supplemental oxygen.
The Guinness Book of World Records has also recognized him as the first person to climb Mt. Qomolangma in winter without bottled oxygen in December 1987.
According to a web portal focused on Qomolangma history, Ang Rita's mountaineering career began at the age of 15 as a porter. He was hired as a low altitude porter for the Dhaulagiri expedition in western Nepal.
In May 1983, he first reached the top of the world's tallest mountain without supplemental oxygen. He continued climbing Mt. Qomolangma without oxygen until 1996, becoming a legend in the mountaineering community.