Perplexities of Human Rights and COVID-induced Crisis in Nepal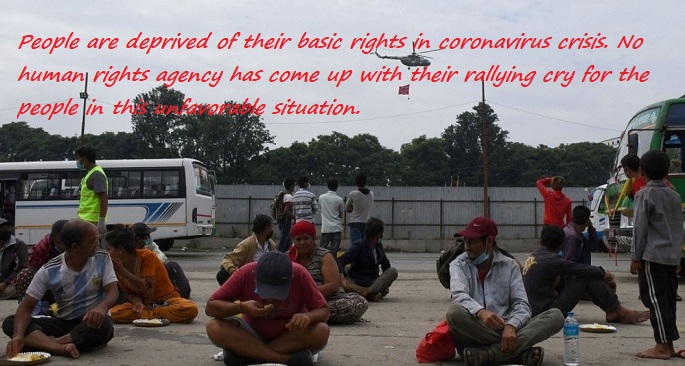 By Uttam Poudel
"In the eyes of authority – and maybe rightly so – nothing looks more like a terrorist than the ordinary man."
― Giorgio Agamben, What Is an Apparatus? and Other Essays
This quote by Italian philosopher and political thinker is implicitly hinting at the sovereign in modern States that tend to take common goods as potential to terrorize society and hence exert diversified state mechanisms to control them. This is the starting point of state-sponsored human rights violation. After the World War II, the Universal Declaration of Human Rights (UDHR) was adopted by the UN General Assembly on December 10, 1948 to stop the magnitude of war, violence and violation of human rights across the globe. Needless to say, UDHR has taken a giant stride in the successive decades in propagating the international treaties and legal enforcements. However, critics, more particularly cultural relativists from non-western world, have critiqued the notion of universal human rights as an exclusively the western construct with so many limitations emphasizing on different concepts of rights of people from different socio-cultural backgrounds. This criticism against the universality of human rights makes sense because the perplexities of human rights campaigning agencies can be seen due to their obliviousness to human rights violation in health crisis induced by the coronavirus pandemic in Nepal.
In the wake of the COVID-19 outbreak in Nepal, tens and thousands of people have been deprived of basic State facilities and services and have been reduced to destitute humans. During such a horrible situation, democratic State such as Nepal is expected to protect the rights of its people. The great irony, however, is that there are host of evidences and incidents wherein human rights have been blatantly violated, often by the very sovereign power (the State) itself. Even most of the human rights agencies are apathetic to safeguarding the basic rights —  right to food, right to health, right to education, right to shelter and right to dignified life, among others.
There are so many cases of State-sponsored human rights violation in different provinces of Nepal. Media in the country are continuously reporting horrible tales of deprivation and apathy seen in the quarantine and isolation centers, leading not only to inconveniences but also deaths. In the absence of stringent security measures at quarantine centers, many people, especially women and girls are prone to physical and sexual abuses. Lack of health services, food and timely testing (PCR tests) for the deadly contagion are very common complaints in almost all quarantine centers set up by the local governments.
Cases of sexual violence are also seen in many quarantine centers. A 31-year-old woman was gang-raped by quarantine volunteers in the Kailali-based quarantine centre a few weeks ago. In the same district, a 22-year-old man died of snake bite. An assistant sub-inspector of Nepal Police allegedly abused people staying in quarantine in Saptari district, according to a media report. He is alleged to have beaten people up in quarantine centre and also sexually harassed women and girls therein. The victims have blamed that the police sub-inspector tried to molest them when they were asleep at night. These are just the representative cases that show the condition of the ill-managed quarantine centers in Nepal and also brings to fore the fact that people deployed for the security and safety at the quarantine centers are themselves involved in violating human rights. The pervasive unfair PCR testing in Ghorahi of Dang in Province 5 has also been reported in the media. Kith and kin of the local authorities have been getting opportunity to undergo PCR tests on time while commoners have been facing trial and humiliation. The Mayor of Ghorahi Sub-metropolitan City was recently accused of making an irresponsible statement in the public in relation to the virus. He reportedly said that coronavirus was something to be digested, and not to be tested. Such irresponsible statement by the person holding key portfolio at a  local body has made people see the sovereign with suspicious eyes. Even the statement made by the health minister on different occasions on coronavirus has drawn flak from all corners.
A couple of months ago, 'Enough is Enough' campaign was initiated by an apolitical youth group demanding effective handling of the COVID crisis by the government through fast-unto-death at Patan Durbar Square, Lalitpur. The protest was supported mostly by people who were untouched by any political ideology. The youth-led group also took to the streets protesting the government's lack of urgency, transparency and accountability to combat the COVID-19. The movement later extended to major cities across the country. The Nepali youths also intensified this campaign in front of the Prime Minister's official residence in Baluwatar, Kathmandu. The government, however, resorted to power to suppress the protests. Their demand was to increase Polymerase Chain Reaction (PCR) testing, which is considered more reliable than the Rapid Diagnostic Testing (RTD). They had also pressured the government to make the quarantine centers user-friendly and to release people from there only after PCR tests. Their other demands were to act effectively in preventing the spread of the virus at community level.
Recently, at the heart of Kathmandu, some so-called landlords misbehaved with doctors and nurses saying that they were high-risk carriers of coronavirus. Some landlords went to the extent that they forced medical personnel to leave the house. Health workers, who are testing and treating patients risking their life, are in the frontline in the fight against coronavirus without sufficient personal protective equipment. They deserve due respect from the members of the public. These incidents, however, have simply de-motivated them. In Kathmandu alone, more than a dozen cases of medical professionals facing discriminatory behavior from their landlords have surfaced and dozens of nurses have quit their jobs due to stigmatization by society. Complains have been filed but the authorities concerned have not taken any action against those landlords. The most horrible scenario is that the private hospitals are not giving health services to fever patients and hence, many have lost their lives. There are dozens of other unreported cases of human rights violation across the nation.
On the eve of the Constitution Day, a pedestrian was giving his opinions about the after effect of the promulgation of new constitution in Nepal to the reporter in front of the Federal Parliament House at New Baneswor, Kathmandu, exercising his constitutional right to freedom of expression, suddenly the police baton-charged him and chased him away as if he was a terrorist. This incident is nothing but a mockery of democracy. Senior orthopedic surgeon, Dr. Govinda KC, was recently barred from providing voluntary service at a health post in the remote part of Dolpa district. According to reports, the chief of Rural Municipality threatened the health service provider not to allow Dr. KC to provide health service to the public. Dr. KC has been raising his strong voice in favor of independent academic functioning of the government medical institutions in Nepal and against the pervasive corruption in medical education. This clearly shows the status of human rights in Nepal. Dr. KC has started his 19th fast-unto-death in Chandannath Municapility-6, Jumla demanding the quality health service across the nation and much needed reformation in the medical sector. He was mistreated by the police when he was brought to Kathmandu on Tuesday.
Nepal as a democratic country should have been aware of the basic rights of its people. However, it is not serious enough on those issues. Common people taking recourse to movements and protest programs to enjoy constitutionally guaranteed fundamental rights is a sheer insult to democracy. Like in totalitarian regime, the government is giving street protesters, people shouting anti-government slogans, and those questioning against existing corruption, absurdities and disparities in State mechanisms the status of non-citizen, terrorist and undesirables. COVID victims, the quarantined ones, protest through non-violence means, those raising voice against the modus operandi of the government are the threats to the government leading it to treat them as "terrorists" or "non-citizens"  or "abject objects" in Agambenian terms.
The bitter truth, on the other hand, is that despite having more than dozen of institutions working in the field of human rights in Nepal, people are deprived of their basic rights in coronavirus crisis. No human rights agency has come up with their rallying cry for the people in this unfavorable situation. Had there been any social, political and economic movements in Nepal, perhaps human rights bodies would have been seen in the frontline. It is because they are likely to focus more on reporting and negotiating with governments, non-governmental organizations (NGOs), International Non-governmental Organizations (INGOs), corporations and others about human rights violation giving not much room to real violation of rights. In this sense, human rights sound something related to United Nations instruments and other international charters which make them less appreciable to the common people.
To sum up, the government is immediately expected to respect human rights as guaranteed in the constitution. In the time of the health crisis, people are more vulnerable to violence and violation, more particularly in quarantine and isolation centers, the State mechanisms should be more alert about it. People, who are protesting in this critical time, are not going to topple this government. They, rather, simply expect government to be more serious about the fundamental rights— right to food, right to be in safety environment, right to get medical facilities, right to information, right to get self-esteem and the likes. By the same token, the human rights campaigning agencies should operate and intervene to sensitize government to the issues of violence and violation seen across the nation in this critical juncture ravaged by COVID-19. Human rights agencies should also come up from the state of perplexity to non-perplexity and also from the state of solitude to solidarity to stop violations of rights in the time of pandemic or else such institutions will lose credibility and face serious crisis of trust and faith in the days to come. Human rights discourse is often criticized as a privileged discourse; hence, to demystify it, it must be accessible to everyone, everywhere and every time. During the horrendous time like COVID-19, the human rights organizations are expected to be more active and assertive. Let's be hopeful that the government will regard the sentiment of its people and be more sensible about their rights and human rights organizations too will play their role not only in collecting data and reporting about affective dimension of COVID-19 in Nepal but also in favor of people who are deprived of their rights in this time of crisis.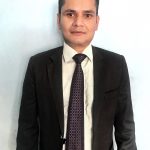 The writer is an Assistant Professor at Nepal Sanskrit University, Balmeeki Campus, Kathmandu, Nepal