Dr Pherali elected as Chair of the BAICE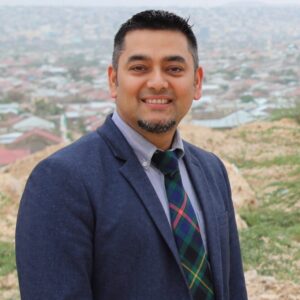 London — Dr Tejendra Pherali has been elected as  Chair of British Association for International and Comparative Education (BAICE). Established 23 years ago, BAICE has over 300 members.
Dr Pherali is Associate Professor in Education and International Development at the Institute of Education, University College London.
British Association for International and Comparative Education (www.baice.ac.uk ) is a diverse professional association comprised of academics, researchers, policy makers and members of governmental and non-governmental organisations. The association is committed to research, study, and policy advice in all areas of international and comparative education.
BAICE promotes teaching, research, policy and development in all aspects of international and comparative education. It is the British affiliate of the World Council of Comparative Education Societies but membership is open to all interested in international and comparative education, regardless of nationality or institutional affiliation.
BAICE produces the journal Compare, which is celebrating its 50th anniversary and organises a series of research conferences annually. Each year BAICE convenes a conference of topical importance. Alternate years, the conference is integrated into the United Kingdom Forum on International Education and Training (UKFIET) biennial international conference on education and development which is held at the University of Oxford.
'Our scholarship needs to be collaborative, inclusive and forward thinking'
–          Dr Pherali
Newly elected Chair of the BAICE, Dr Tejendra Pherali, said that there are important discussions and strong voices emerging in the comparative education community about how to decolonise the curriculum, pedagogy and overall university environments.
"As a BAICE community, we can play a greater role by advancing debates about decolonisation of the academia. As a community of comparative and international education researchers, we have the responsibility to redress epistemic violence that reproduces hegemonic cultures, and make advances in reclaiming and harnessing indigenous knowledge about how to deal with global problems, such as violent conflicts, environmental crisis and inequalities. To this end, our scholarship needs to be deliberately collaborative, inclusive and forward thinking," said Dr Pherali.
Also, it is not enough to produce good quality research, but also pay attention to how the knowledge we produce can directly benefit the educational communities at the grassroots which I think is the idea of 'bottom up policy pressures.' There are indeed new ways of knowledge dissemination that break the barrier of paywalls and translate complex ideas into applicable and transformative knowledge, said Dr Pherali adding, "We also need to rethink about our methodologies when we conduct research in educational settings as we live in the post-COVID-19 times. It is important to consider not only how to adapt our research approaches given the restrictions to travel but also how societies and educational systems are changing for good due to the pandemic."
BAICE will promote research and scholarly debates in these areas and will continue to uphold important values of fairness, inclusion and social justice, he added.