'Nepal needs trained manpower to attain the SDGs'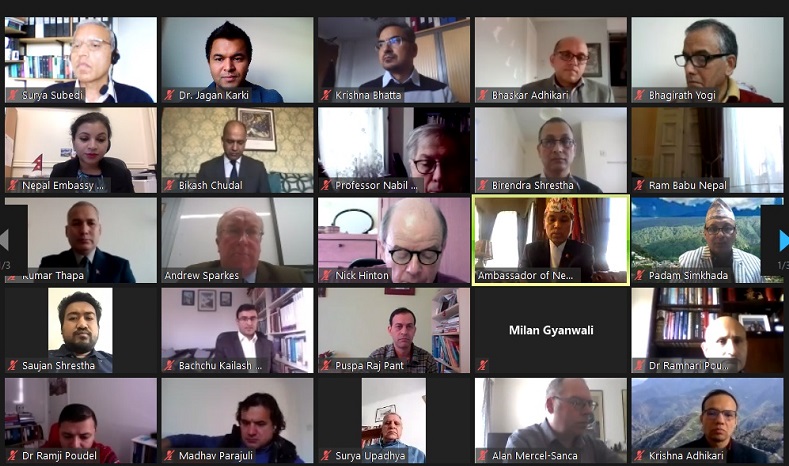 London – Ambassador of Nepal to the UK, Dr Durga Bahadur Subedi, has called upon Nepali academics in the UK to utilise their skills and expertise for the socio-economic development of Nepal.
Addressing the 12th Nepal Development Conference organised during his four-year-long tenure in the UK on Saturday, Dr Subedi lauded the moral and substantial support from the government and people of the UK to the government and people of Nepal. "The UK is one of the biggest development partners of Nepal and the annual British aid is on increasing trend," he noted.
"Nepal needs trained manpower in different sectors to attain the Sustainable Development Goals (SDGs) by 2030. I encourage all Nepali scholars to join the Brain Gain Center (BGC) set up by the Government of Nepal and contribute to efforts of the government," he added.
Addressing the conference as the guest of honour, Professor of International Law at the University of Leeds, Dr Surya P Subedi, said the purpose of an academic is to strive to serve society by virtue of the strength and power of the knowledge gained within our own respective disciplines. An academic is expected to uphold the values of non-discrimination and treat everybody on equal footing and with respect. Indeed, आत्मबत सर्बभुतेशु य पश्यति स पण्डित: (meaning, the one who sees everyone in himself and himself in everyone will be called an enlightened or learned person), said Prof. Subedi.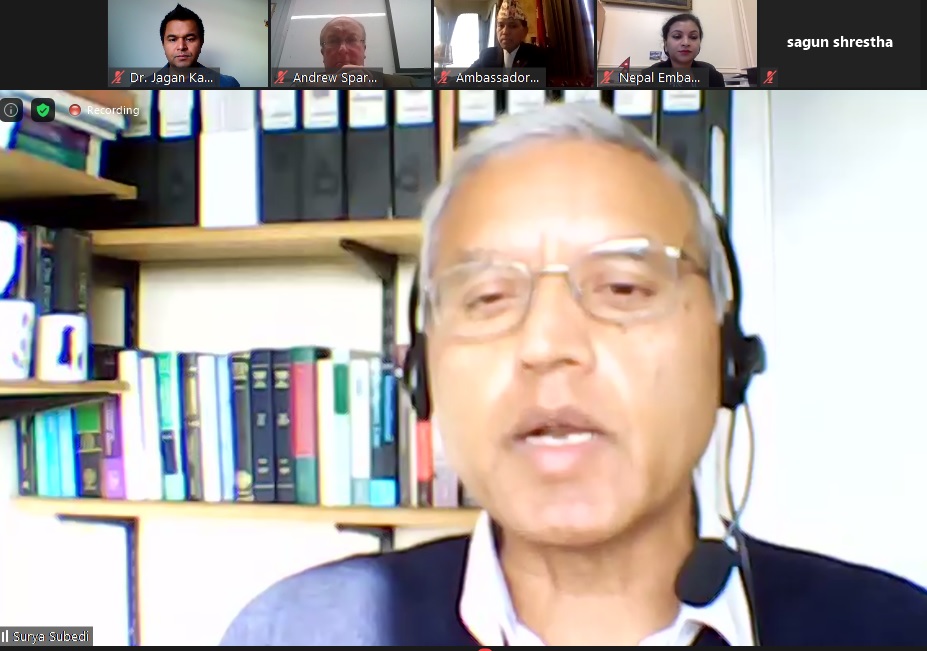 "We all face the same challenges in accomplishing our goals within the limited time available to make a contribution to our field of studies. We all have to be selective in what we do. This is because, as put eloquently in Sanskrit :
अनन्त शास्त्रं बहुलाश्च विद्या अल्पश्च कालो बहुविघ्नता च | यत्सारभूतं तदुपासनीयं हंसो यथा क्षीरमिवाम्बुमध्यात्
(meaning – there are so many books and so many areas of studies, but the time is limited, and many hurdles come in our way. Therefore, we have to do what a swan does in separating milk from water and taking the milk and leaving the water)," said Prof. Subedi.
Speaking on the theme "Economic Diplomacy for Nepal," Prof. Subedi said a heightened competition for influence in Nepal among its immediate neighbours and other major powers can benefit the development of Nepal. "Competition among other nations for Nepal's natural and other resources and for the development of the tourism sector in Nepal, should increase Nepal's bargaining power and bring in more revenues for the country. For a country like Nepal, it is helpful to be the centre of attention and a place for healthy competition," he added.
During the event, Ambassador Dr Durga Bahadur Subedi felicitated Prof. Surya P. Subedi in recognition of his immense contribution to promote Nepal-UK ties at the academic and people-to-people level.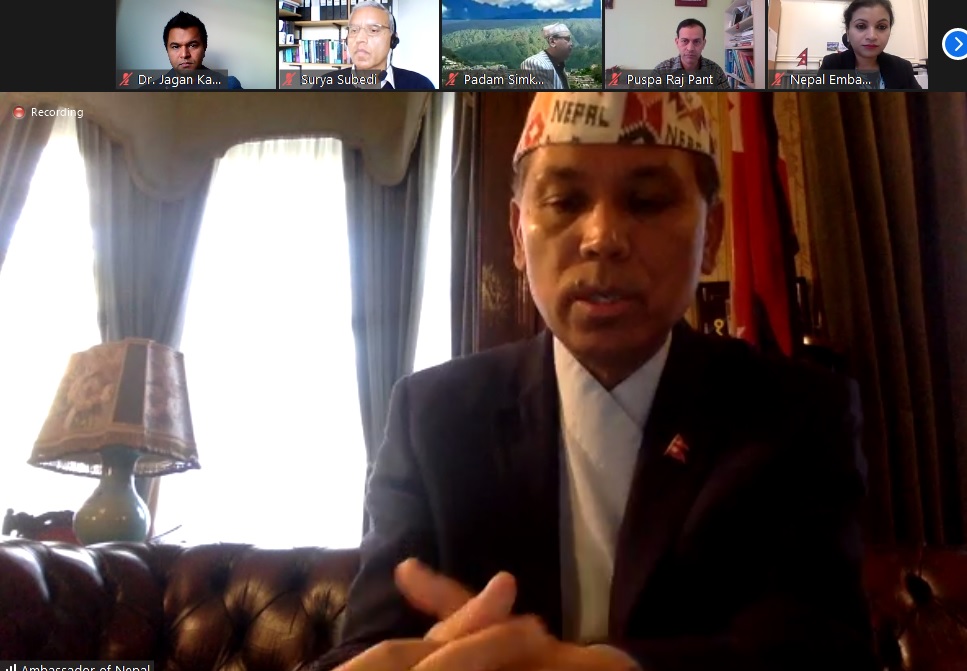 Making a presentation on the theme "Health and Wellbeing Issues of Nepali Migrant Workers," Dr Padam Simkhada, Professor of Global Health at the University of Huddersfield, said that migration had a direct impact on economy and society as a whole in Nepal. Referring to five different studies carried among the Nepali migrant population, Prof Simkhada said most of them said that they felt loneliness, anxiety and were suffering from other mental health issues. He said nearly one-fourth of Nepalese working in Qatar and Malaysia were suffering from mental health problems. Citing structural factors related to Migration, Prof Simkhada said there was the need of coordination, cooperation and enforcement to tackle these problems.
Dr Krishna Adhikari, a research fellow at the University of Oxford, said that Nepal's community forestry, female community health volunteers and community managed irrigation systems were successful examples of community-based development endeavours. Making a presentation on the theme "Wealth of Nations: Are Community-based Organistions a missing link in the local self-governance systems in Nepal," Dr Adhikari said with the newly devolved system of governance, there are numerous opportunities at the local level. "If these systems could be retained and nurtured, Nepal could benefit a lot," he added.
Dr Punam Yadav, Lecturer in Humanitarian Studies and Co-director at the Institute for Risk and Disaster Reducation at the University College, London (UCL), said that there was a need to find out the impact of natural disasters in Nepal on women. Making a presentation on the theme "Gender Disaggregated Date and Why Does It Matter," Dr Yadav said it would be useful to know why more men were being infected by the Covid-19 compared to women.
Dr Bachchu Kailash Kaini, Senior Health Care/Hospital Manager at the Lewisham and Greenwich NHS Trust, said that nearly 70 percent of the spending on health care in Nepal came out of pocket (OOP) of ordinary people while the government and donors chipped in the rest (22 percent and 8 percent respectively). Making a presentation on the theme "Health Care Governance," he said there was a need of whole of government, whole of society approach to deal with a pandemic like Covid-19. "The role of the government and society becomes critical to ensure health democracy," said Dr Kaini, who also teaches at Arden University.
Making a presentation on the theme "Managing Kathmandu's Traffic: Lessons from London," Dr Birendra Shrestha, Principal Transport Modeller at the Transport for London (TfL), said that there were a number of things Kathmandu could learn from the public transport management system in London. "Big infrastructure alone will not be effective by themselves. Traffic signals could improve junction capacity, giving priority to buses, improving pedestrian facilities and creating cycle lanes will help," said Dr Shrestha adding,"while traffic stop in London to give way to pedestrians, zebra crossing is hardly visible and no one is giving way to pedestrians in Kathmandu."
Dr Bhaskar Adhikari, a Biodiversity Scientist at the Royal Botanic Garden, Edinburgh (RBGE), said that Nepal and UK had 200-year-old relations in terms of botanical studies. Making a presentation on the theme "Importance of Collaborative Research in Plant Science for the Development of Nepal," Dr Adhikari said protection and promotion of medicinal plants in Nepal could help in the economic development of the country. He said there was a need of collaborative research and science diplomacy to exploit the huge flora and fauna available in Nepal for the benefit of the country and people.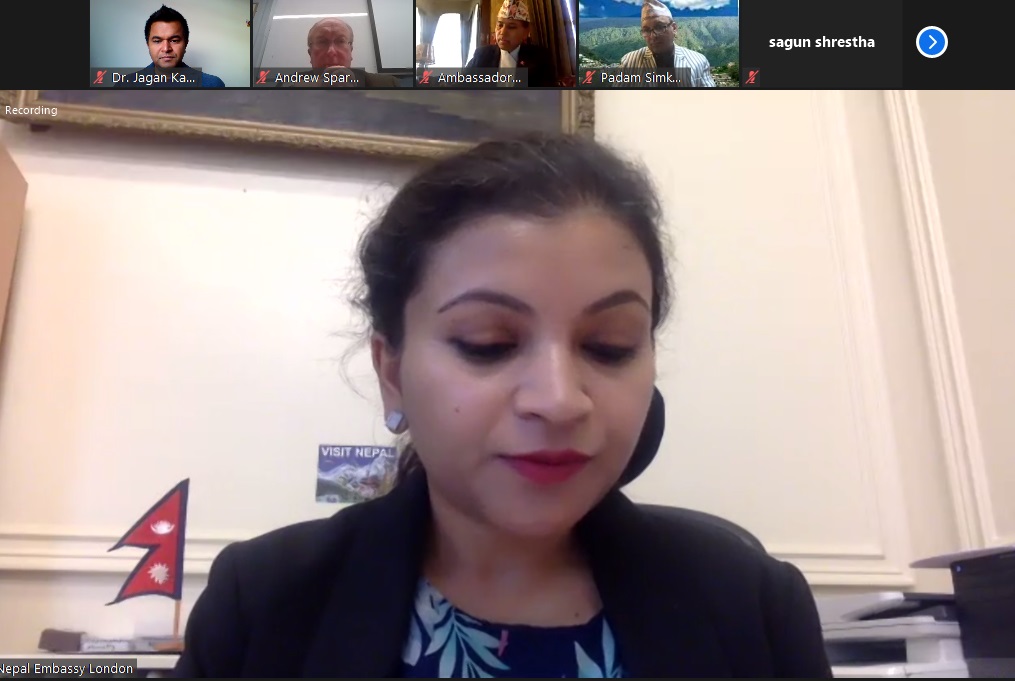 Mrs Roshan Khanal, Counselor at the Nepali embassy in London, conducted the conference. Former British ambassador to Nepal, Andrew Sparkes, academics, students, researchers and community leaders took part in the conference that was conducted virtually.