15 countries, sign RCEP, the world's largest trade pact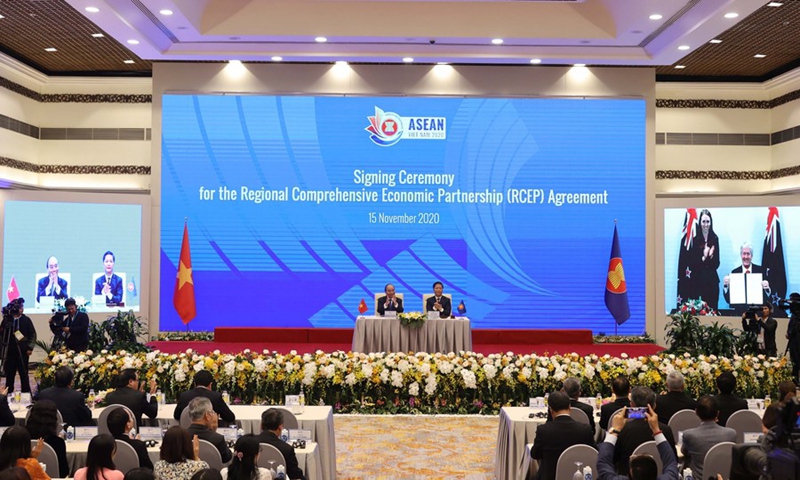 London -The world's largest trade pact was inked on Sunday (Nov 15) by ministers from 15 countries including Singapore, in a move likely to spur the region's economy as it battles its worst crisis in decades.
Building on existing free trade deals among members, the Regional Comprehensive Economic Partnership (RCEP) will broaden and deepen economic linkages across the Asia-Pacific, ease trade in goods and services, facilitate the flow of foreign investments, and enhance protections in areas such as e-commerce and intellectual property, the Startimes reported.
RCEP members account for 30 per cent of the world's economy and one-third of its population. They comprise all 10 Asean members and key partners Australia, China, Japan, South Korea and New Zealand.
According to estimates by International economics professors at Johns Hopkins University, RCEP will add US$186 billion to the size of the global economy and 0.2 percent to the gross domestic product of its members. The benefit of cheaper goods will spread throughout ASEAN and the RCEP members as well as filter through to consumers in Europe and the United States, Aseanbriefing writes.
There is still much work to be done though, and the RCEP deal isn't yet fully 'comprehensive'. Agriculture is largely omitted — all nations within RCEP wishing to protect their respective markets, and RCEP does relatively little to set common standards for products. Environmental issues and human rights — including labor — are also unaddressed.
RCEP has additionally been unable at this stage to agree on e-commerce regulations, with members unable to agree on any rules on cross-border data flows or a customs moratorium on data transmission. That area will be a major source of interest in future discussions.
Although further tariff reductions were not on the immediate agenda, RCEP nations have agreed to mutually recognize each other's professional qualifications, potentially opening doors for RCEP market opportunities for lawyers, dentists, doctors, and other professions. RCEP should also help reduce manufacturing costs and make life easier for companies by letting them export products anywhere within the bloc without meeting separate requirements for each country.