In Nepal's post-earthquake reconstruction, women masons are breaking gender barriers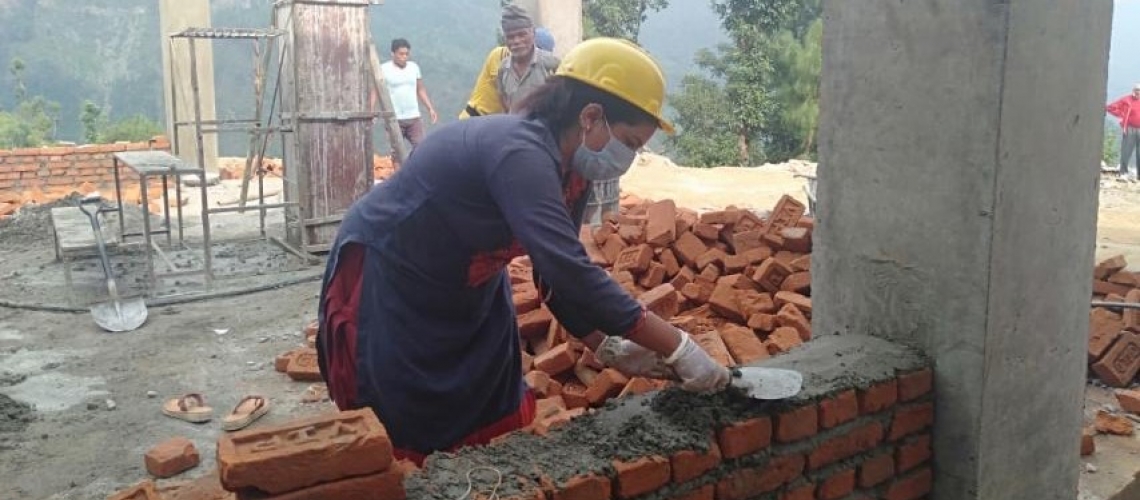 by Sulochana Nepali  
"Mason training transformed my life. It provided me with an opportunity to not only gain new skills and experiences but also to serve my community," recounts 38-year-old Kamala B. K. from Nuwakot in central Nepal.
WB Kamala is one of 149 women mobile masons hired by the National Reconstruction Authority in 14 districts most affected by the earthquake for providing socio-technical assistance under the World Bank-supported Earthquake Housing Reconstruction Project.
Under the project, women mobile masons make up 20 percent of the total mobile masons recruited, which is an unprecedented feat considering that masonry, and the construction sector, have conventionally been male-dominated until recently.
However, according to Nepal's 15th Five Year Periodic Plan developed by the National Planning Commission, women's labor force participation stands at 26.3 percent which is slightly less than half of that of men at 53.8 percent.
Data from Nepal Engineering Council shows that the percentage of women engineers who have received the license to work professionally at the national level is 12.5 percent, whereas the remaining 87.5 percent are men.
Post-earthquake reconstruction offered new avenues for women in occupations that were previously male-dominated.

 
The gender gap is even higher in masonry and other construction sub-sectors such as carpentry, plumbing, electricians, among others. Sociocultural norms are the main reason why women are not easily accepted in male-dominated occupations including masonry. 
But this stereotyping is gradually fading.
According to the Global Gender Gap Report 2020, Nepal ranks 101 out of 153 countries in economic participation and opportunity, which is an improvement from previous such assessments.
Increasing participation, changing mindsets
Prior to the 2015 earthquake, apart from engineering, women's participation in the construction sector was limited to basic labor work.  Post-earthquake reconstruction, including those under the Earthquake Housing Reconstruction Project, offered new avenues for women in occupations that were previously male-dominated.
The masons training opened new opportunities and immediately many of the women trainees, such as Kamala, took up masonry as a vocation. 
Ganga Bhujel, a 21-year-old mobile mason from Okhaldhunga notices a change in behavior and perception from other people when regarding women working in the sector.
"When I started, there was a lot for me to learn in the field. However, homeowners encouraged me to continue working and assured me that with experience, I will also perfect the craft," she shares.
Besides technical assistance, the mobile masons have additional responsibilities of linking communities and beneficiaries with the program and providing support such as house inspection and grievance redressal for the vulnerable households.
Opportunities must be expanded to retain women in the sector and enhance their skill sets as the local context and market demand significantly increases.
As many field engineers are not able to be present on the ground due to COVID-19 related restrictions, the locally-based mobile masons have become even more sought-after experts in the villages.
"Villagers now consider us engineers as we are informing local people about resilient construction techniques," exclaims Durga Bhatta, a mobile mason from Rasuwa.
Leveling the field for women masons: To sustain this momentum and to ease the debilitating impacts of the COVID-19 economic downturn, opportunities must be expanded to retain women in the sector and enhance their skill sets as the local context and market demand significantly increases. There are several types of skill enhancement programs that can be introduced. Such as;
Diversifying skill enhancement opportunities: Most women masons in rural areas are skilled in 'stone with mud-mortar' techniques. However, there is a growing trend of homeowners opting for RCC technique as their financial status advance. Similarly, there are alternative construction technologies introduced after the earthquake, which are being adopted by homeowners. Therefore, training women masons on these new technologies will enhance their skillset and keep them relevant beyond reconstruction.  Likewise, educated women masons with entrepreneurial characteristics can be provided with entrepreneurship development training.
Facilitating linkage to opportunities: Trained masons, both men and women are already working in close coordination with the concerned local levels. Employment Service Centers at each local level can facilitate linkages with employment opportunities or use their skills in other development programs.  Such centers are also supported by World Bank's Youth Employment and Transformation Initiative Project.
Communities and governments at all levels should work together to further empower and create an enabling environment for women to endure and evolve to their full potential in the construction sector.
Promoting construction-driven micro enterprises: Earthquake reconstruction also introduced a number of alternative technologies, such as, interlocking bricks, compressed stabilized earth bricks and stone-cutting technology. The women mason can be mentored to be entrepreneurs and supported in accessing finance and markets to ensure long-term sustainability in the sector. 
By entering the non-conventional sector, women masons like Kamala, Ganga, and Durga are breaking gender barriers while rebuilding homes and ensuring that no one is left behind in reconstruction.  Communities and governments at all levels should work together to further empower and create an enabling environment for women to endure and evolve to their full potential in the construction sector.( Originally published on  world bank blog )