Nepali climbers have scripted history in mountain-climbing by scaling K2 in winter season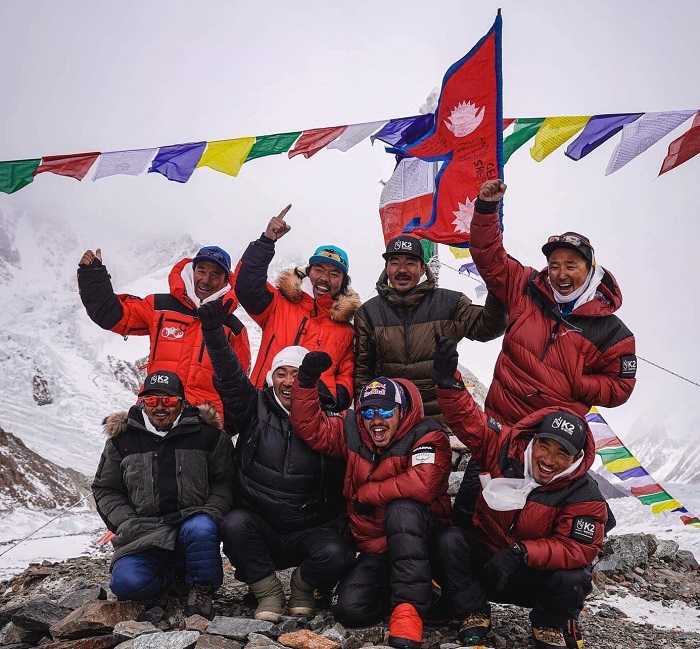 KATHMANDU — A group of Nepali climbers have scripted a new history in mountain-climbing by making the first ever winter ascent of the world's second-highest peak this afternoon.
Some of the world record holder climbers like Mingma Gyalje Sherpa and Nirmal Purja (Nimsdai) along with other Nepali Sherpa climbers stood atop Mt K2 (8,611m) in the Karakoram massif at around 17:00 hours local time, according to an expedition advisor Mr. Nawang Sherpa  "They now become stars in the climbing world."
Among 14 peaks above 8,000m in the world, K2 remained the only unclimbed mountain in the winter season. "But, Nepali climbers have made Nepal and the world mountaineering fraternity proud by successfully scaling the savage mountain today in the winter season," Chhang Dawa Sherpa, Expedition Director at Seven Summit Treks said, sharing the information from the K2 base camp, The Himalayan times write.
As Nepal is home to eight of 14 peaks above 8,000m, the first ascent record for all these peaks goes to foreign climbers. "So, I have decided to take a challenge on K2 this season to attempt to have Nepali climbers in the list of first ascent," Mingma Gyalje Sherpa, owner of Imagine Nepal Treks, shared with THT before leaving for K2 last month.
Born in Rolwaling, the climbers' valley, Sherpa is also the first summiteer on Mt Cheki-Go (6,257m), Mt Bamongo (6,400m) and Mt Chobuje (6,685m) via west. Sherpa, who has an all-Nepali team of three experienced Sherpas on K2 this season, had stood atop G-II making it the 12th eight-thousander that he climbed without using supplemental oxygen last year. The five-time Everest summiteer has also become the first Nepali climber to make the most ascents of 8,000-metre peaks without using supplemental oxygen.
Similarly, Nimsdai has already set the world record by scaling all 14 peaks above 8,000m in six months and six days, the shortest time to climb all 14 peaks, in 2019. Likewise, Mingma David is the youngest person to complete all 14 highest peaks in the world.