BJP plans to expand into Nepal & Sri Lanka, form govts there: Tripura CM quotes Amit Shah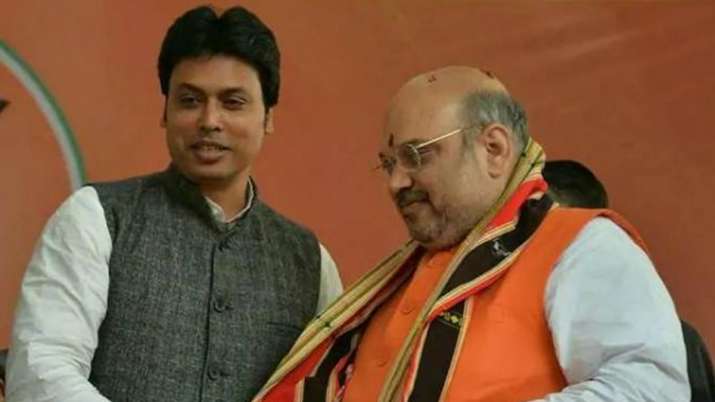 New Delhi — Tripura Chief Minister Biplab Kumar Deb has stirred up a fresh controversy after disclosing that former BJP President Amit Shah has plans to establish a government in Nepal and Sri Lanka, or at the very least, expand the party into India's neighbours, Republic world writes.
According to a report in news portal East Mojo, during a party program in Rabindra Satabarshiki Bhavan on Saturday, Deb said that Amit Shah during his visit to Tripura, in a tea party with the state leadership, said that he plans to establish the party in neighbouring countries after winning in most of the states in India.
'Now Sri Lanka and Nepal is left'
'We were talking in the state guest house when Ajay Jamwal (North-East Zonal Secretary of BJP) said that BJP has formed its government in several states of India, in reply Shah said, Now Sri Lanka and Nepal is left. We have to expand the party in Sri Lanka, Nepal and win there to form a government,' the Chief Minister said quoting the Union Home Minister.
According to the report, Deb said it was only under the leadership of Amit Shah that the BJP became the world's largest party. "The communist had claimed that their party was the largest in the world, which Amit Shah broke by making BJP the largest party in the world. Deendayal Upadhyaya's party, Shyama Prasad's party, Prishtha Pramukh's party," Deb added.
"The BJP will change the trend of change of government between the Left and the Congress every five years in Kerala and emerge as the winner in the southern state as well," he said.
Reacting to this, BJP leader and Rajya Sabha MP Subramanian Swamy tweeted saying, "Was the CM joking' Or sarcastic' He could not be serious."