Woman goes on live in a bra and did not apologize for coughing on Nepali Uber driver in US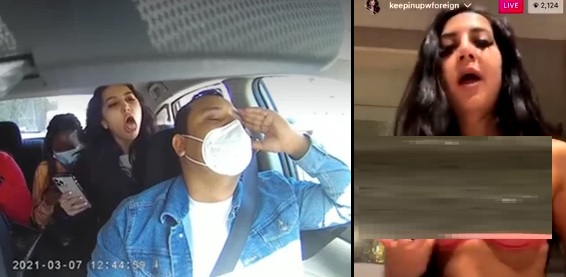 London — An unruly passenger coughed on, assaulted, and tried to steal the phone of an Uber driver in San Francisco, all because he had asked her to wear a mask.
Video shows three women in the back of a cab driven by Subhakar Khadka, 32, cursing and yelling at him. One of the women, who is not wearing a mask, begins coughing dramatically at him, and then lunges forward to grab his phone and the mask off his face.
Mr Khadka managed to get his phone back, but was left stunned by the attack.
"I never said anything bad to them, I never cursed, I was not raised that way. I don't hit people, I am not raised that way," Mr Khadka told KPIX 5, MSN writes.
The driver said he picked up the three customers on Sunday afternoon in the Bayview area, and noticed one of them wasn't wearing a mask. He asked her to put one on, and when that didn't work he drove to a gas station where she could buy one. She then apparently lost her temper, shouting "F*** the mask!" and attacked him.
When the three women finally left, Mr Khadka said one of them sprayed a chemical into his car, making it difficult for him to breathe. Police believe it was pepper spray.
Uber says it has banned the woman who grabbed Mr Khadka's phone.
The Uber passenger who coughed at her Asian driver over the weekend went on Instagram Live Tuesday night dressed in lingerie to tell her side of the story.
She didn't apologize—in fact, she said she prefers Lyft anyway. (Both Uber and Lyft have banned her.)
California anti-masker who coughed on a driver says she plans to sue Uber pic.twitter.com/IjlGs0wnRg

— Fifty Shades of Whey (@davenewworld_2) March 9, 2021

"The behaviour seen in the video is appalling," the company said in a statement. "The rider no longer has access to Uber."
Bb girl really said "I'm an entire dumpster fire of trash but while I'm here, lemme get some followers" pic.twitter.com/1WLjRNR04r

— Taylor Cardace (@TaylorCardace) March 9, 2021