British Sikh community support Gurkha demands, call for end of discrimination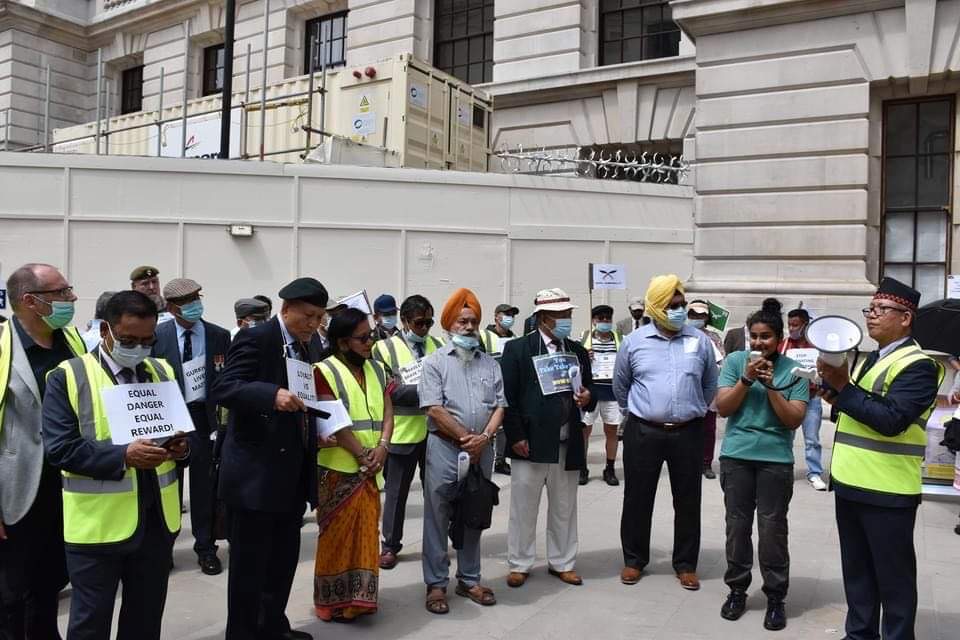 Jagan Karki, London – The British Sikh community has extended its support to long-running demands of Gurkha veterans for equality and justice.
Sikh community leaders expressed solidarity with hundreds of ex-Gurkha soldiers of the British army and their family members in central London on Tuesday. Addressing the protest rally, Chair of Council of Southampton Gurudwaras, Harjap Singh said, "The Sikh community are now fully aware, with no shadow of doubt or hesitancy, that our Nepali-Gurkha brothers have been suffering a historic and very real present and current major injustice, that has now culimatedina heroic, but should never have been forced, needed, hunger strike."
He also called upon British Prime Minister, Boris Johnson, to play a direct part in setting in place a new mechanism to resolve the Gurkha demands positively.
"We want justice," read a placard carried by a retired Gurkha soldier in late Seventies.
Historic Injustice
Gurkha soldiers retired before 1997 say that they get only one-third of the pension compared to other fellow British soldiers. "We have sacrificed our lives to protect British public and the Crown. But we have been treated in an unfair way, to say the least," said Gyan Raj Rai who led the rally at Whitehall, London.
Rai, who is the campaign director of the British Gurkha Satyagraha United Struggle Committee UK-Nepal, has warned to stage an indefinite hunger strike from July 2021 if their demands are not met by 30th of June this year. "First there will be relay hunger strike from 1st of July and from 14th of July, I will sit on an indefinite hunger strike with two other colleagues,"he said.
The committee has appealed to the British people to encourage their government to take the Gurkha issues extremely seriously and hold a government-to-government meeting immediately.
Earlier, the British Ministry of Defense had said that the Nepal government can communicate with the British government to address the grievances of Gurkha veterans.
"The UK Ambassador in Nepal is in contact with the Minister of Foreign Affairs on a regular basis and should the Nepal government wish to communicate on the matter of Gurkha veteran grievances, they may do so," the Ministry said in a formal response to a letter addressed to the Gurkha Department of the Non-Resident Nepali Association UK that had sent a petition to the British Prime Minister together with five Gurkha organizations in April.
After a successful campaign led by British actress Joanna Lumley, the British government in 2009 allowed Gurkha veterans that had served for at least four years in the British Army to settle in the UK. Since then, thousands of ex-Gurkha soldiers and their families have settled in different parts of the UK. But Gurkha veterans insist that they are still being discriminated against in terms of pension and benefits.
Gurkha Satyagraha has called upon both Nepal and the British government to form a dialogue committee to address their grievances.
Photo : Shiba Bhandari/London