Boosting exports to support South Asia's recovery from COVID-19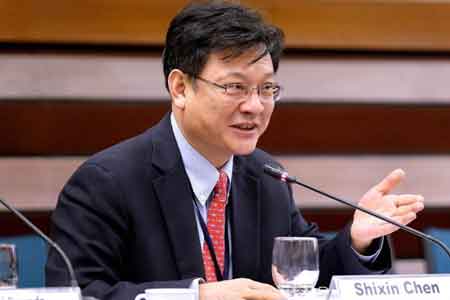 By : Shixin Chen
The COVID-19 pandemic has disrupted the global economy and world trade. As South Asia emerges from the worst economic performance in decades, exports can be an important engine to help foster the economic recovery.
In recent decades, exports have been a key catalyst in transforming many Asian economies and lifting hundreds of millions of people out of poverty. But South Asia, one of the fastest growing subregions in the world before the pandemic, is yet to see dynamic export growth spanning across diverse sectors.
Home to about a quarter of the world's population, South Asia contributes a meagre 4% to global GDP while its share of total worldwide exports is lower at 2.5%, according to World Development Indicators (WDI). And yet Southeast Asia, with an even smaller share of world GDP of 3.4%, is the source of 7.5% of global exports – three times that of South Asia.
The trend has not improved in recent years. Since 2014 South Asian countries have seen their exports fall relative to the size of their economies. Twenty years ago, Sri Lanka's exports accounted for almost 40% of GDP but they are now half that. Pakistan and Nepal have also seen exports stagnate at low levels in recent years, while exports in Bangladesh and India are growing more slowly than their overall economies.
Exports serve many vital functions. An economy with strong exports can compete in international markets and exploit its comparative advantages. Exports open economies to the global marketplace and enable their domestic companies and sectors to grow. This triggers the virtuous cycle of exports, investments, economic growth, and social development that has benefitted Asia so greatly.
Why hasn't South Asia joined the rest of the region's export boom? The primary reason is simply that its goods and services, except for a few sectors such as ready-made garments in Bangladesh, IT services in India, and luxury tourism in Maldives, are yet to establish high competitiveness against other exporting countries. This is demonstrated in the fact that South Asia's heavy machinery, home appliances and smartphone markets are dominated by foreign brands. Other reasons for the region's lower export performance include trade barriers, infrastructure bottlenecks, currency overvaluation, and institutional and regulatory constraints.
To boost exports and improve competitiveness, South Asia can learn from the experience of Southeast and East Asia and establish more robust trade, investment, and industrial promotion regimes. The pandemic adds urgency but also offers opportunities.
First, the region must look at foreign direct investment (FDI). In 2018, FDI to South Asia was 1.4% of GDP, compared to 5% in highly competitive Southeast Asia. FDI introduces technology and managerial knowhow that helps local companies in the long term and enhances their international competitiveness. More openness to FDI and trade requires policy and regulatory reforms that will support stronger export-oriented strategies. These reforms include introducing economic zones, providing easy credit access and tax incentive policies, encouraging firms to move up value chains, and investing in human capital.
Second, governments need to improve the business environment focusing on areas of low international ranking. There are some success stories of unbundling energy conglomerates in India and Bangladesh showing that state-owned enterprises (SOEs) are being reformed in South Asia. But inefficient SOEs still dominate in areas such as banking, utilities, and infrastructure, hampering efforts to improve competitiveness. Significant subsidies to these SOEs also constrain governments' essential expenditures on education, health and infrastructure, and impede export competitiveness.
Third, proactive policies are needed to improve competition in markets and ensure they function properly. These should make it easier to enter and exit most sectors while curbing monopolistic behaviour. Reforms are needed to promote technology adaptation and innovation, develop product standards and certifications, provide trade finance, and reduce bureaucratic red tape.
The countries need not address these challenges alone. Dynamic regional forums, such as the Central Asia Regional Economic Cooperation Program and South Asia Subregional Economic Cooperation Program supported by the Asian Development Bank, bring South Asian countries and regions together to expand markets, scale up economies, and boost productivity. They also cooperate on vital regional infrastructure projects such as international highways and initiatives that break down cross-border trade barriers.
After the severe impacts of the pandemic in 2020, a recovering global economy in 2021 and 2022 should boost global demand and trade, offering South Asia opportunities to expand its exports. In response to the pandemic, many countries in the hard-hit region increased their investments in health and education and deepened structural reform. By extending these investments and reforms to trade and industrial promotion, South Asia can also become an export powerhouse. (Shixin Chen is the Vice-President of the Asian Development Bank, in charge of operations in Central and West Asia, and South Asia.)
The article was originally published on www.ft.lk