Chef Santosh Scholarships at AITM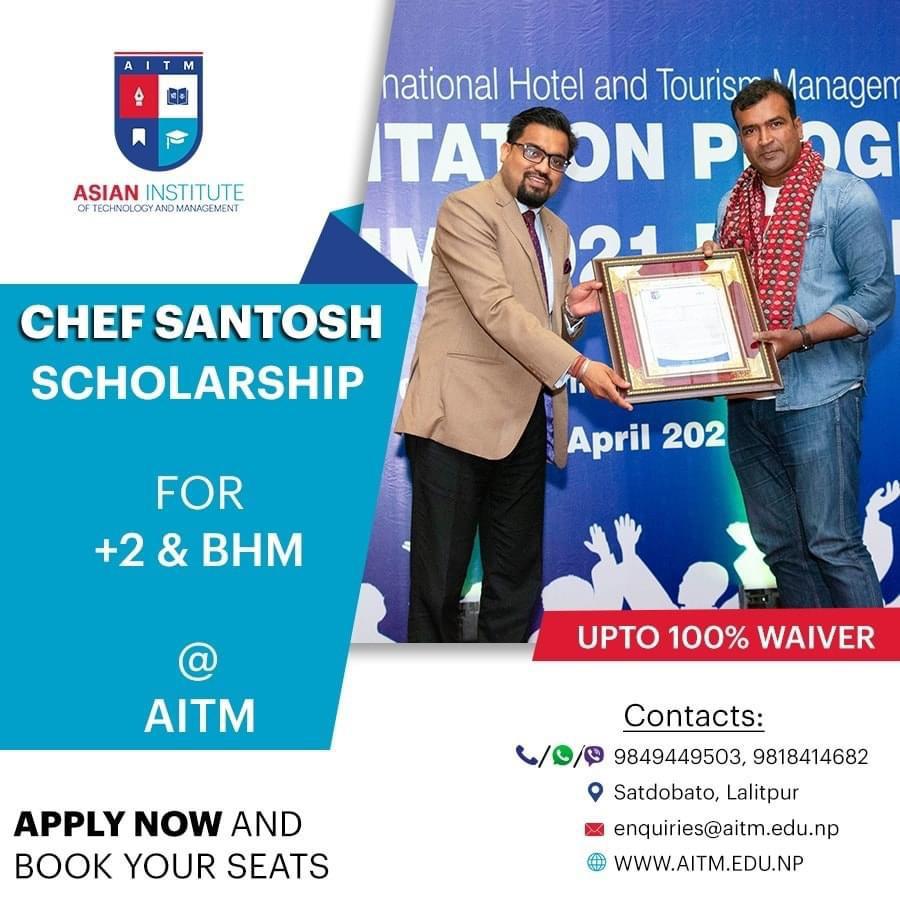 London — Asian Institute of Technology and Management, AITM recently had an agreement with Chef Santosh Shah in recognition of the global recognition and fame that he has earned in the Culinary History of Nepal. In this agreement, AITM established a yearly scholarship plan for the students from Chef Santosh's village Karjanha of Siraha district. According to the scholarship board of AITM, the scholarship will be granted to the applicants from Siraha district as a whole if no applicant is there from his village in the particular academic year.   There will be Six scholarships (3 from Plus Two in Hotel Management and 3 from the BHM Program of AITM) will be provided every year and it will be under the sole discretion of the scholarship board of AITM to decide to whom the scholarship is to be provided based on the scholarship guidelines of the board.
Under this scholarship, one student from AITM's BHM program and one from the Plus Two in Hotel Management Program will be awarded the full waiver of the total fees. Similarly, four candidates, two from each program will be awarded a 50% waiver of the total fees. The total value of the Scholarship will be Nrs. 25 Laks Nepalese rupees.  This Scholarship scheme will be valid till the year 2025 subject to renewal after the successful completion of the first tenure.
The scholarship award will be provided on the basis of the financial condition of the applicants. Candidates should be academically eligible for enrollment in AITM'S BHM and Plus Two in Hotel Management programs according to the eligibility criteria of the college. The candidate should be from the Karjanha Village of Siraha District which is the birthplace of Chef Santosh. The Candidate should have obtained the recommendation from the ward office or municipality of the candidate's proof of residency and should have all the physical and mental abilities to study the particular program. Additionally, to support the mission of chef Santosh to establish a library in his village, AITM will provide required books, shelves and other reading materials as per requirements
The Asian Institute of Technology & Management (AITM) is a private academic institution, which offers high-quality national and international undergraduate hospitality, management, engineering, and technology programs in Nepal.  Chef Santosh Shah is the head chef at Cinnamon Kitchen London UK. He was the executive chef at The LaLiT London. He participated in MasterChef Professionals 2020 and became the first runner-up.