Gurkhas call off their hunger strike after the British govt agrees for talks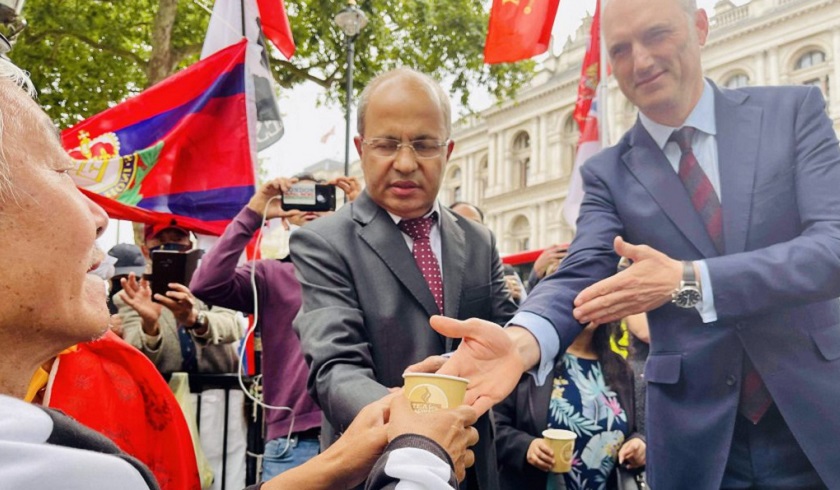 London — Gurkha veterans  in the UK have ended their 13-day hunger strike on Thursday after the British government agreed to sit for talks with the Nepal government and their representatives.
Former Gurkha soldier, Gyan Raj Rai, Dhan Gurung and a Gurkha widow, Pushpa Rana Ghale, were on a fast-unto-death since 7th August demanding that both the governments of Nepal and UK form a high level committee to address their demands.
They have been demanding that the British government provide equal pension to thousands of Gurkhas who retired prior to 1997 vis a vis their British comrades.
Minister of State for Defense, Leo Docherty, and Nepal's Ambassador to the United Kingdom Lokdarshan Regmi   offered  juice to the protesters who were sitting just across road from the British Prime Minister's office.
The agreement came a day after one of the veterans, 60-year-old Dhan Gurung, was admitted to hospital with heart problems. He joined the hunger strike on early Wednesday as soon as he was discharged from the hospital.
A Ministry of Defence spokesperson told the BBC, "We are happy the Satyagraha group have agreed to break their fast.
"Our primary concern is always the health and welfare of our serving personnel and veterans and this strike was not a course of action we encouraged.
"We look forward to meeting with the group next month alongside the Nepali Ambassador to move forward together." BBC writes.
According to the agreement, preliminary discussions will be held between the British government officials, Nepali officials and the Gurkhas on September 8 and the talks will start from December 2021.