Climate threat over South Asia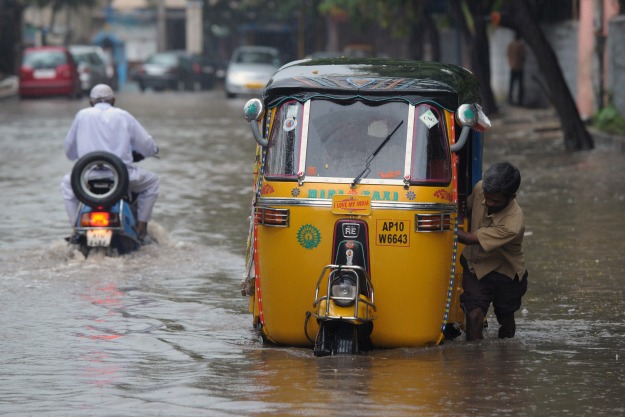 Jawed Naqvi
HOW badly are SAARC countries already affected by climate change, and what is the hope the damage could be contained before it becomes an unmitigated disaster? With these paramount questions, there should have been a common strategy, a shared concern representing the eight member states at the Climate Change Conference starting in Glasgow on Sunday. It didn't happen because the group is largely frozen in time over shortsighted agendas and seasonal military skirmishes between India and Pakistan.
The Maldives is one of the more vulnerable Saarc members. It could literally disappear under the rising waters of the Indian Ocean if global warming is not reined in very urgently. And then there'll be seven Saarc countries left. But, as Agatha Christie would ask, for how long can the remaining seven survive? The populous low-lying delta region of Bangladesh is primed to be inundated if the oceans continue to rise, thus presaging a demographic catastrophe.
If the looming threat were not vacated post-haste to thwart the inevitable, the impact would not spare Indian states surrounding Bangladesh, as well as other countries in the neighbourhood. The controversial Indian citizenship act would mutate into something more sinister, not least because a scientific discussion, which should be about the tussle between human greed and human need from nature, has been discarded to drive a myopic and divisive politics.
Afghanistan, whose mountains boast of the second highest snow cover after the Arctic ice, is gazing at a dark future independent of any ruler's conservative or puritan worldview. Climate change affects the hydrological cycle, influencing both water availability and demand. Climatic variability, several studies say, is inevitably "greater in the Hindu Kush–Himalaya (HKH) mountainous region of Afghanistan, Bangladesh, Bhutan, China, India, Myanmar, Nepal, and Pakistan, than in other parts of the world. Glaciers are one of the most important indicators of climate change, and the HKH region is host to some of the world's largest glaciers, which are the major water source of the Indus, Brahmaputra, and Ganges rivers".
Water shortages, drought, floods or landslides and tsunamis are not constrained by national boundaries.
These river basins remain very sensitive to changes in climate. The glaciers in this region are also feared to be among the world's fastest thinning glaciers. Turning them into war zones and battlefields as India and Pakistan have been doing since the 1980s in Siachen is not prescribed. The temperature is apparently set to increase in the Hindu Kush-Himalayan region by 1.7 degrees Centigrade to 6.3°C by the end of this century. In many parts, monsoonal precipitation may increase, and it is predicted that extreme precipitation events will occur more frequently.
Band-aid approaches won't do. The aerial survey of Indian Home Minister Amit Shah last week over the Uttarakhand state will remain cosmetic and hypocritical if lessons are not learnt. Incessant rains have caused massive landslips and floods in which dozens have perished in the BJP-ruled state, among the most ecologically sensitive Himalayan regions to have experienced disasters and untold misery in the recent past from nature's fury.
Clearly, the South Asian club could do well to suspend its chronic political differences between India and Pakistan to jointly vacate the threat the member states are facing. Water shortages, drought, floods or landslides and tsunamis are not constrained by national boundaries. A climate-driven crisis can be like a locust invasion. It leaps over the barbed wires and slips past armed sentries that are supposed to keep boundaries securely demarcated. A water crisis can trigger a bitter political row between regions within national boundaries as it does between sovereign neighbours. Tamil Nadu and Karnataka in India, or Sindh and Punjab in Pakistan are excellent examples of how things could go seriously wrong politically and socially within domestic boundaries if climate change is not addressed on a war footing.
As water becomes scarce its demand also increases. The Chinese Communist Party has mandated its government to construct a dam on the Brahmaputra, considered a lifeline for northeastern India and Bangladesh. The plan envisages building the dam at Medog county, bordering India, where the Yarlung Zangbo Grand Canyon is located. Yarlung Zangbo is the Tibetan name for Brahamaputra. Medog in Tibet abuts India's Arunachal Pradesh.
The Chinese plan is not constrained by any pact as India and Pakistan are by the Indus Waters Treaty. However, the quest for scarce water has found India and Pakistan at loggerheads even over their internationally brokered treaty. One remembers filing a report for Dawn quoting former Indian foreign secretary, the late S.K. Singh, during a rough patch in bilateral ties. "Switch off the Indus waters," Singh had demanded. Early morning the next day, Dr Mubashir Hasan was on the phone from Lahore. As Z.A. Bhutto's water resources minister he knew the implication of Singh's call. "What have you published? It will be an act of war," the long-time advocate of peace and friendship between India and Pakistan had cautioned.
In a 2014 report, the Asian Development Bank underscored the impact of climate change in South Asia. It said a "warming trend of about 0.75°C has been observed in annual mean temperatures in South Asia over the past century. Unless there is a concerted effort worldwide to cut greenhouse gas emissions, South Asia will suffer huge economic, social, and environmental damage from the consequences of climate change".
ADB had said that "between 1990 and 2008, over 750 million people in South Asia were affected by at least one natural disaster, resulting in almost 230,000 deaths". It stated that "the livelihoods of more than 200 million people in Bangladesh, Bhutan, the Maldives, Nepal, and Sri Lanka are threatened by the rapid loss of snow cover in the Himalayas and rising sea levels".
Without joint action, "the collective economy of six countries — Bangladesh, Bhutan, India, the Maldives, Nepal, and Sri Lanka — could shrink by up to 1.8 per cent every year by 2050 and 8.8pc by 2100, on average".
Pakistan and Afghanistan are not far behind. Wake up Saarc.
This article was originally published in Dawan.com.