NRNA UK General Secretary wins this year's Global Youth Leadership Award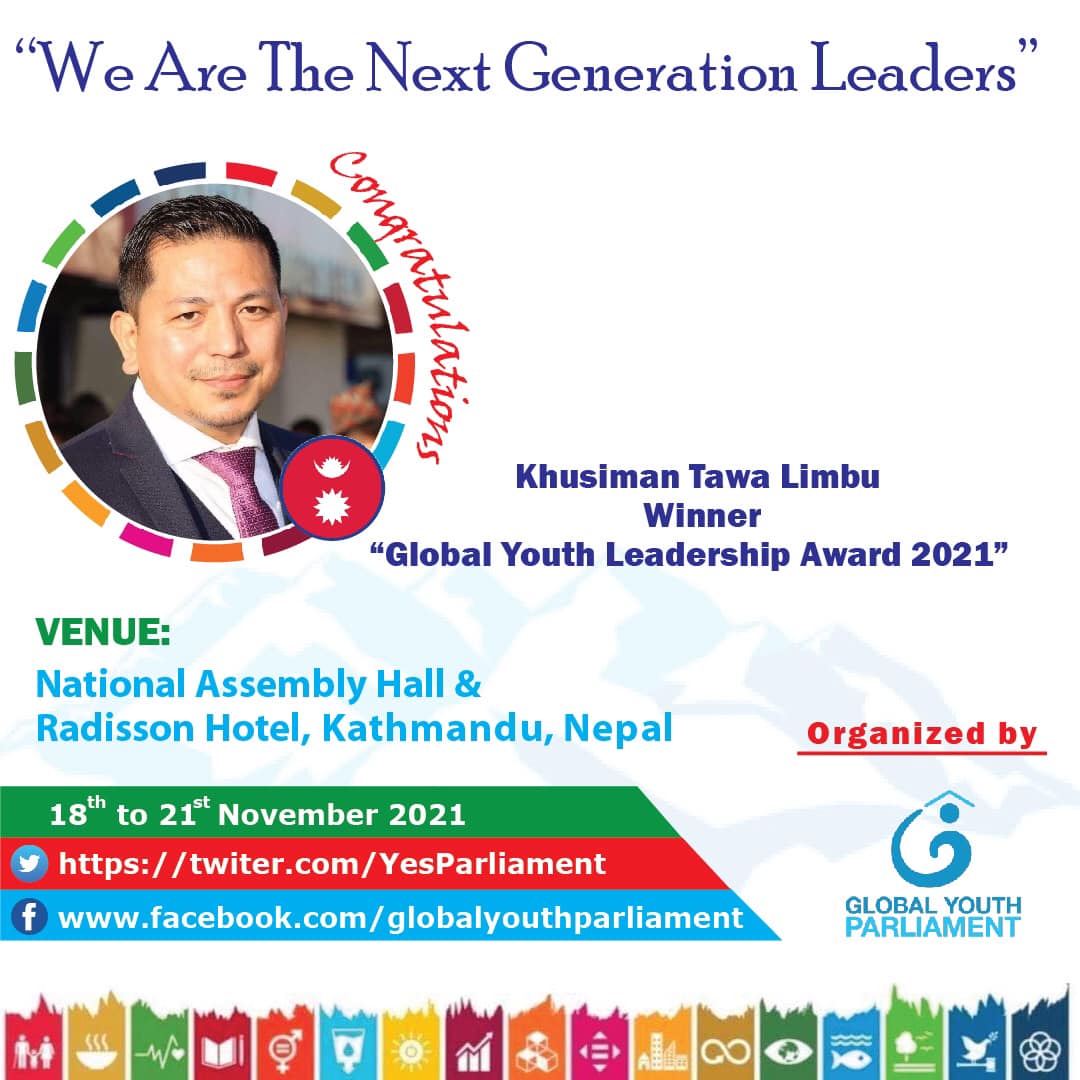 London — Non-Resident Nepali Association (NRNA) UK General Secretary Khusi Limbu has become the winner of this year's Global Youth Leadership Award.
The annual awards were created by Global Youth Parliament to reward people for their endeavour to what it calls "transforming the youth energy by empowering ideas for the better world".
Winner Khusi Limbu has been in societal works since 2004 and has been associated with various organisations and campaigns. Most notably, he led a campaign between 2004 and 2008 for the enactment of the British Nationality (Hong Kong) Act 1997 to register over 10,000 British National Overseas citizens from Hong Kong who were left virtually stateless aftern Britain left her colony in 1997.
"I am so grateful and humbled to have been the recipient of this year's Global Youth Leadership Award; it's a global recognition for my dedication to making a positive changes in my communities through charity and journalism. I'd like to share this accolade with all people and organisations I've ever associated with", said Mr. Limbu.
Over the years, Limbu has served in various capacities in organisations like NEFIN UK, FONIJ UK, Panchthar Samaj UK, Hong Kong Nepali Munch UK, and Royal Borough Greenwich Nepalese Society. He also does charities works in Nepal through Dilmaya Memorial Foundation of which he is the founder and currently a chairperson.
His most acclaimed works in recent years have been what was popularly called 'Sirise Project' – partly funded by the NRNA UK. The community school rebuilding project in a remote village in Nepal cost Rs.3.5 million. The physical infrastructure eventually helped his campaign to upgrade the school from primary to a high secondary in 2020, paving the way for over 100 pupils each year ever to have secondary level education.
In 2018, Mr. Limbu also successfully led a 2-million-rupees fundraising campaign for Tharpu Society UK helping him to set up a college library in Tharpu village of Panchthar district.
Established in 2010, Global Youth Parliament aims to inspire individuals from around the world and recognize their contribution that has added value to the creative endeavours in serving humanity.
There are 15 other winners in different categories announced in Kathmandu so far, each receiving medal, trophy as well as a certificate.
General Secretary Khusi Limbu, who is also Chief Editor of Nepal Mamila, is among other winners from Nepal, including celebrity journalist Rishi Dhamala and actress Rekha Thapa, as Global Youth Parliament has confirmed.
Scores of delegates and award winners from across 73 countries have flown to Kathmandu this week to participate in the Global Youth Parliament Summit and subsequent award ceremony.
The event is due to take place at Radisson Hotel Kathmandu and National Assembly Hall on the 19th of November. The award will be presented by Vice President Nanda Kishor Pun 'Pasang'.