CNS UK celebtrates its 10th anniversary along with Nepalese festival in London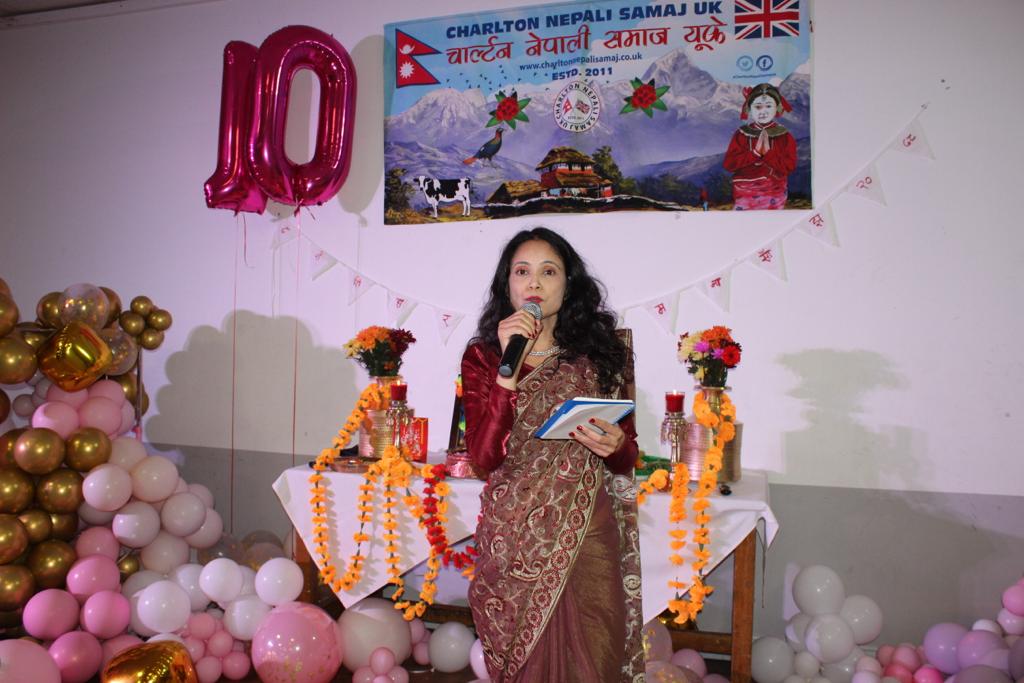 London — Charlton Nepalese Society (CNS UK ) celebreted its 10th anniversary in London amidst Nepalese festival 'Dashain' and 'Tihar' in south east of London . CNS UK an organisation  representing Nepalese people residing in south east of London particularly Charlton and surrounding areas organised a cultural program to mark its 10th anniversary on the occasion of Dashain biggest festival of Nepal and Tiharwidely known as Diwali a festival of lights .
A typical Nepalese cultural program was performed by local artist on the occasion . Organisation's Chairperson Mrs Rekha kharel and other office bearers exchanged  the well wishes on society's behalf amonst around two hundred praticipants of the program for Nepalese festivities. An anniversary cake was also seved during the ceremony .
Addressing the gathering, chairperson Mrs Kharel higlighted the importance of organisation's objectives . 'Unity of ethnic Neplese people for communal benefit and integration amonst local residents is vital for people of Nepal living in London' she said 'objectives of the organisation has met its significance specially during hard times like 'Covid-19' pandamic . She also thanked all volunteers for serving the community and working together with local authorities . General secratary T N Rijal conducted the official program .
Organisation based volunteers and community leaders also cheered and exchanged vote of thanks for all the hard work by CNS UK .
CNS UK was established ten years back in Charlton London in order to unite people of Nepalese background to serve  the communty and its people in the surrounding areas . It aims to carry out the charitable works in the future .