Covid Support from British Army to the Nepali Army arrives in Kathmandu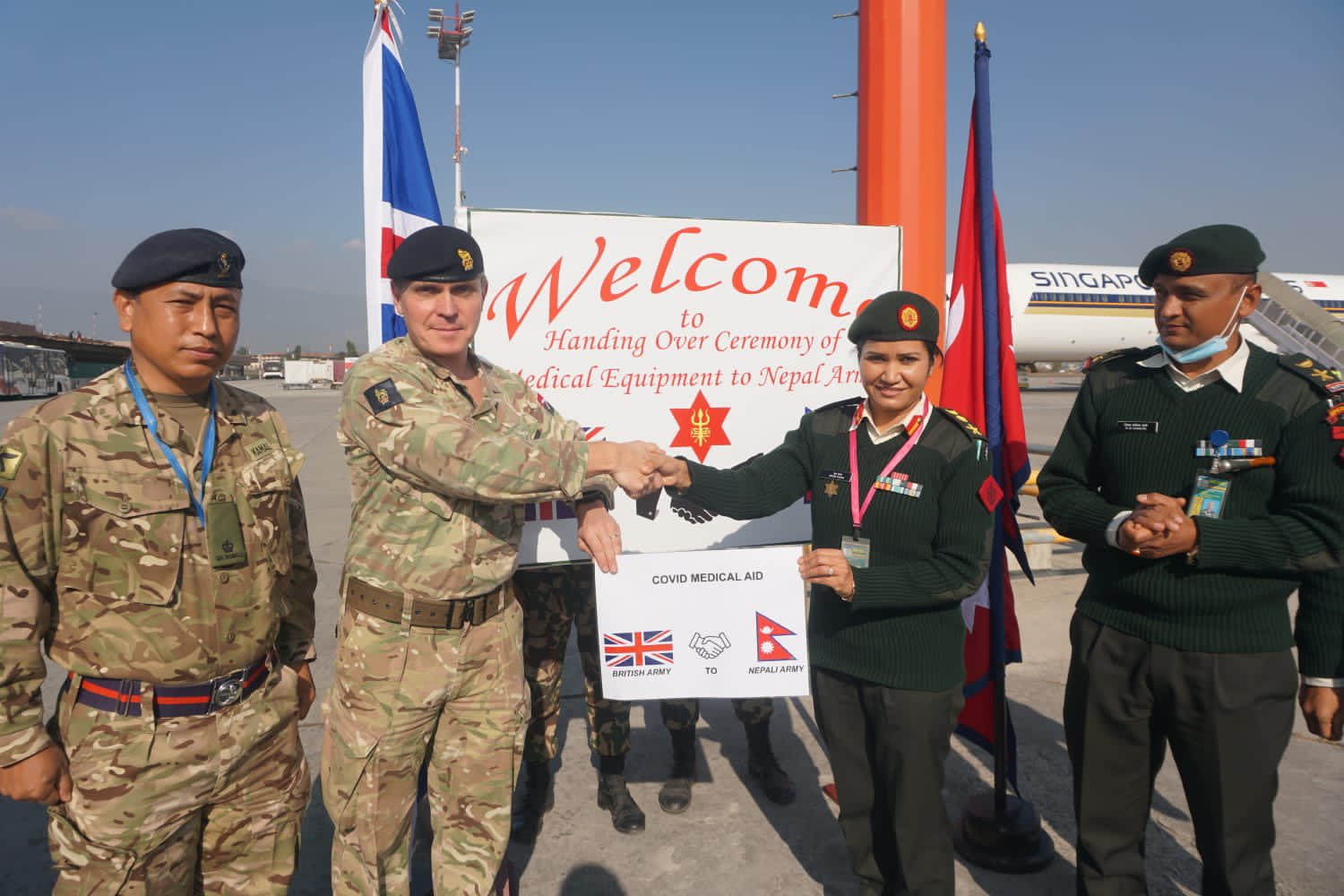 KATHMANDU — The Covid-19 medical equipment support pledged earlier by the British Army to the Nepali Army has arrived in Kathmandu on Monday.
The medical equipment package, which comprises a PCR Machine, Venturi Reservoir Masks and Continuous Positive Airway Pressure will form part of a 25-bed Covid control facility, was transported by UK Royal Air Force (RAF) C-17.
Col. Paul Smith, Commander of British Gurkhas Nepal, today handed over to @thenepalesearmy a 25-bed COVID control facility and PCR testing facility to support its fight again #COVID19. The bond between🇳🇵and 🇬🇧 as strong as always, with military partnership a cornerstone. pic.twitter.com/8j8rMp2Bl7

— UK in Nepal 🇬🇧🇳🇵 (@UKinNepal) December 20, 2021
Colonel Paul Smith, Defence Attaché & Commander British Gurkhas Nepal (BGN) handed over the equipment to Technical Colonel Dr Moon Thapa of the Nepali Army, at the Tribhuvan International Airport.
Shedding light on the unique Army-to-Army cooperation between the UK and Nepal, Colonel Smith said, "The British Army has long been associated with the Nepali Army and we recognise their responsibility to those that are serving as well as the many veterans and families that depend on their Medical Services. In the spirit of continued cooperation, we are pleased to support them with equipment and stores to make them more resilient in case of any further complications from Covid. This support marks the high regard we have for the Nepali Army and we send our best wishes to the highly professional and dedicated staff of the Nepali Army Medical Corps."
The British Army has sent a specialist team to advise on their response and work on a proposal to provide this Covid-19 medical support package to the Nepali Army in response to the latter's request made in May last year, according to a statement issued by British Gurkhas Nepal.
Some other items such as consumables with longer life for the assistance package will be delivered in the latter instalments and handed over to the Nepali Army through British Gurkhas Nepal, Kathmandu, the statement added.
This material assistance follows interactions between the Military Assessment Team (Nepal) (MAT (N)) of the British Army and the Nepali Army in June 2021 where knowledge was exchanged on how each Army has been contributing to its country's fight against Covid-19 and seeking ways to optimise over 200 years of cooperation between the two Armies in the present situation.
According to the statement, the UK MOD's head office has also supported this effort from the British Army with Staff Officers and Civilians supporting this work and gaining the personnel sign-off from the Secretary of State for Defence Mr Ben Wallace MP. This delivery also compliments other aid provided by the UK Government to help Nepal to cope with the Covid-19 situation. These include the provision of oxygen concentrators, a direct vaccine contribution and also vaccines made available through the Covax distribution programme.
Going beyond the present event to highlight the wider and long-standing cooperation between the British Army and the Nepali Army, Colonel Smith remarked, "Nepal and the UK have long worked together and continue to do so on UN Operations around the world. This donation of Medical equipment direct to the Nepali Army Medical Services is a long-standing of that close relationship and to support such a long standing ally."
The Brigade of Gurkhas represents all the units in the British Army which are composed of Nepali Gurkha soldiers. British Gurkhas Nepal (BGN) operates as the British Army unit in Nepal with its Headquarters in Kathmandu and camps in Pokhara and Dharan. BGN works alongside the Gurkha Welfare Trust (Nepal) which provides support to the Gurkha ex-servicemen and their dependants in Nepal. ( From : The Himalayan Times)