Mt Saipal, a virgin peak in Nepal's far west, still awaits daring climbers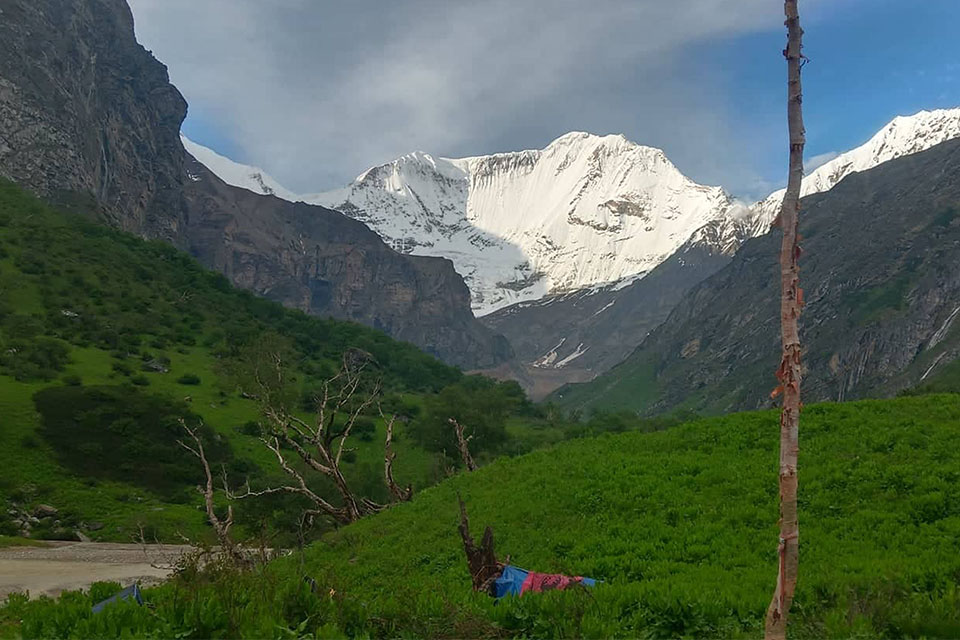 BAJHANG, RSS  —  The first attempt to scale Mt Saipal in Bajhang district was unsuccessful. This mountain (7,031 meters) has not been conquered even after 70 years of humankind's engagement with the Himalayas.
Although a 37-member team of mountaineers attempted to climb Mt Saipal four years ago, it was not successful. Tourism entrepreneurs had taken initiatives for the mountaineering expedition on Mt Saipal in 2018, stating the mountaineers were concentrated on climbing the peaks in the eastern Himalayas only.
Twenty climbers of three expedition teams had taken permission from the Department of Tourism to climb Mt Saipal during mid-October to mid-November. Pechhumbe Sherpa, a mountaineering guide, said that four Sherpa and two Spaniards who attempted to scale the peak gave up after reaching 5,500 meters. Their expedition was managed by the Sherpa Himalaya Company. "This mountain is technically a difficult mountain; so, we had to abandon our expedition for lack of preparation," he said. Sherpa still believes that Mt Saipal can be scaled if the climbers are capable and make adequate preparations.
Although more than 100 peaks have been identified in the far-west region of the country and opened for climbing, none has been climbed yet. Thus, the tourism entrepreneurs have urged the Department to extend cooperation for making the ascent of those peaks successful.
"The Department should attract the mountaineers by constructing routes up to the base camp and other physical infrastructures and publicizing these virgin peaks to promote mountaineering tourism and activities in this part of the country," said Bhojraj Bhatta, base camp manager of the Mt Saipal Expedition.
Though the government had waived the royalty for mountaineering expeditions in the western region for 20 years with a target of developing tourism in this region, the Department has started taking royalty for the past few years. The Department has collected Rs 481,000 in revenues till 2075 BS from the mountain expeditions in the far-western region.
A climber, who went to climb Mt Saipal, said that out of 403 mountains identified and opened by the government for the expedition, Saipal, is the main attractive mountain.
Saying there are around 150 mountains in the western region that are not climbed yet, he suggested that the three-tier government should expand the expedition by bringing special packages.
Altogether 37 people including members of the expedition team and locals had gone towards the base camp. Two expeditors, who had already climbed 14 mountain peaks above 8,000 meters of the world, were also in the team.