SONEUK organises a webinar on Renewable Energy Scenarios for Sustainability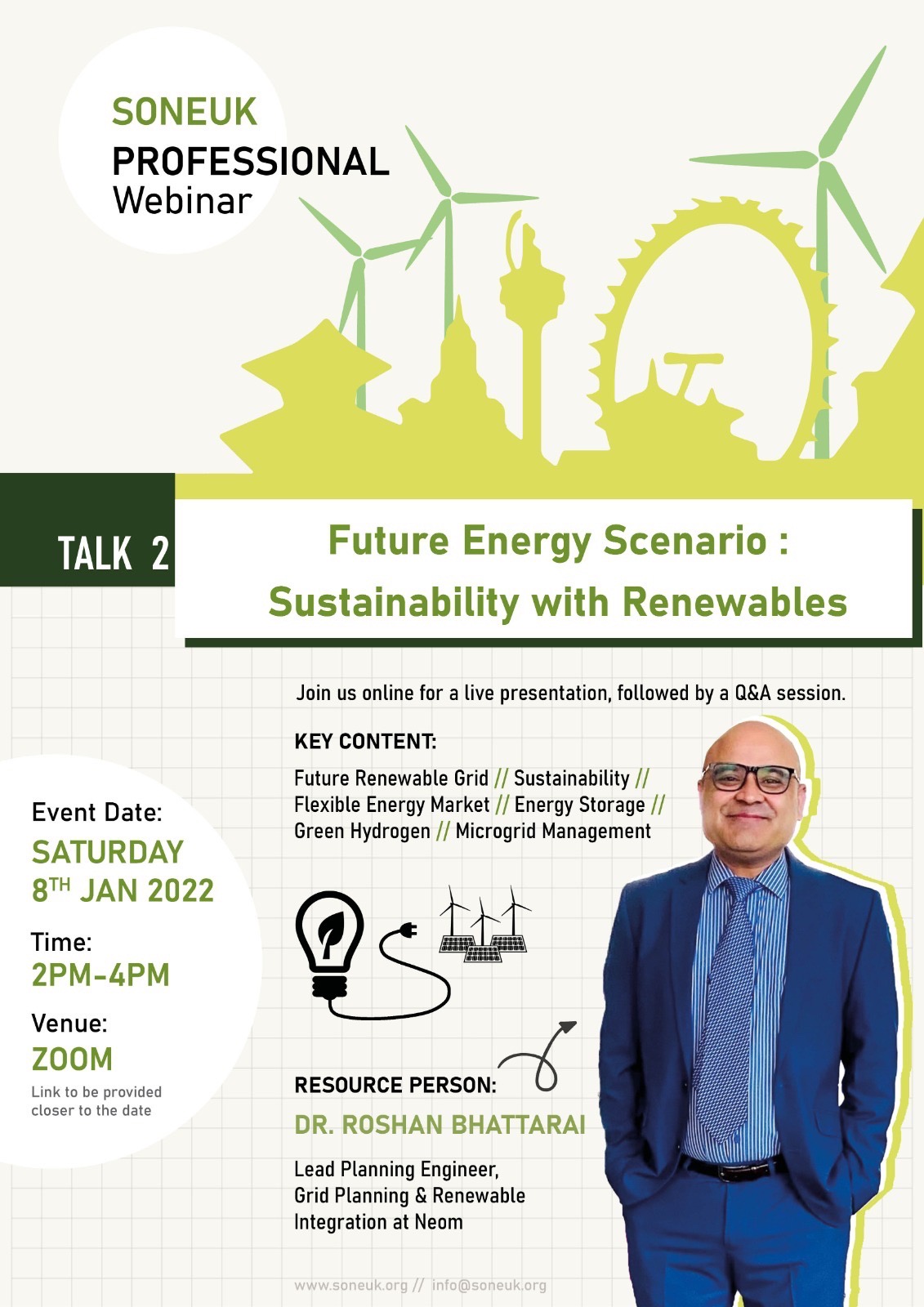 London : The Society of Nepalese Engineers in UK (SONEUK) organised a webinar entitled "Future Energy Scenario: Sustainability with Renewables" on Saturday. More than 45 engineers and managers from all around the UK, Nepal and the USA took part in the webinar. The webinar was delivered by Dr Roshan Bhattarai, Lead Planning Engineer, Grid Planning and Renewable Integration at NEOM, Saudi Arabia. Dr Bhattarai is also one of the office bearers as the Secretary of SONEUK Executive Committee and the coordinator of Social and Entertainment Sub-Committee.
Opening the event, SONEUK General Secretary Dr Bidur Ghimire welcomed all the participants and introduced the webinar agenda with the participants. The webinar was coordinated by SONEUK Executive Committee member Prabin Limbu. Treasurer Rashmi Singh Rana provided a brief introduction of Dr Bhattarai as the resource person.
In the webinar, Dr Bhattarai discussed about the future of energy especially one with zero carbon footprint. Dr Bhattarai highlighted on how increased electric system flexibility, required for electricity supply and demand balance with high levels of renewable generation, can be achieved through a portfolio of Future Renewable Grid, Energy Storage, Green Hydrogen and Micro-grid Management. Dr Bhattarai also deliberated the challenges and opportunities of flexible energy market and its sustainability in the upcoming days. Dr Bhattarai also emphasised the significance of renewal energy mix to achieve the multidirectional smart energy distribution.
All the participants actively and enthusiastically engaged in exploring more about the topic during the Q&A session. All of the participants, including senior members of the society, appreciated the webinar's content and delivery, emphasising how renewable energy is a promising alternative solution while being clean and environmentally safe. All participants were excited to know how renewable energy has been considered as energy source for the concept of first cognitive and smart city by NEOM in Saudi Arabia.
Vice-Chairperson of SONEUK, Narad Bhandari, conveyed vote of thanks to the resource person and the participants; whereas Chairperson of SONEUK, Sanyukta Shrestha, concluded the event highlighting the activities of the organisation.