Bangladesh approves projects for sustainable growth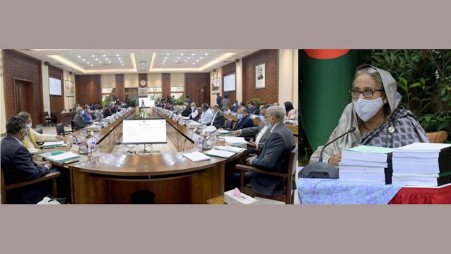 Dhaka — Bangladesh's economic policy-making body Tuesday approved 10 development projects worth over 46 billion taka (about 535 million U.S. dollars).
The projects were approved at a meeting of the Executive Committee of the National Economic Council (ECNEC) chaired by Prime Minister Sheikh Hasina.
After the meeting, the country's Planning Minister MA Mannan told reporters that 10 projects were approved at the meeting.
According to the minister, the projects include Establishment of Urea Formaldehyde-85 (UF-85) plant, road infrastructure development, construction of office buildings of Passport Department and Bangladesh Telecommunication Regulatory Commission and Development of Climate Smart Agriculture and Water Management System.
Of the total cost of the development projects, he said 30.55 billion taka will be financed from the government funds, while the rest amount from the respective project assistance.
According to the minister, Bangladesh Water Development Board under the Ministry of Water Resources will implement the mega Flood and Riverbank Erosion Risk Management Investment Program with a cost of 18.03 billion taka by December 2025.
He said the project is aimed at providing assistance to improve the standard of life, alleviate poverty and achieve sustainable economic growth of the people affected by erosion along two rivers — Jamuna and Padma.
He said the government will also develop integrated management to prevent river erosion and increase sustainability in the project areas. (1 U.S. dollar equals about 88 taka) (Xinhua)