Political stance on Migrants voting in Nepal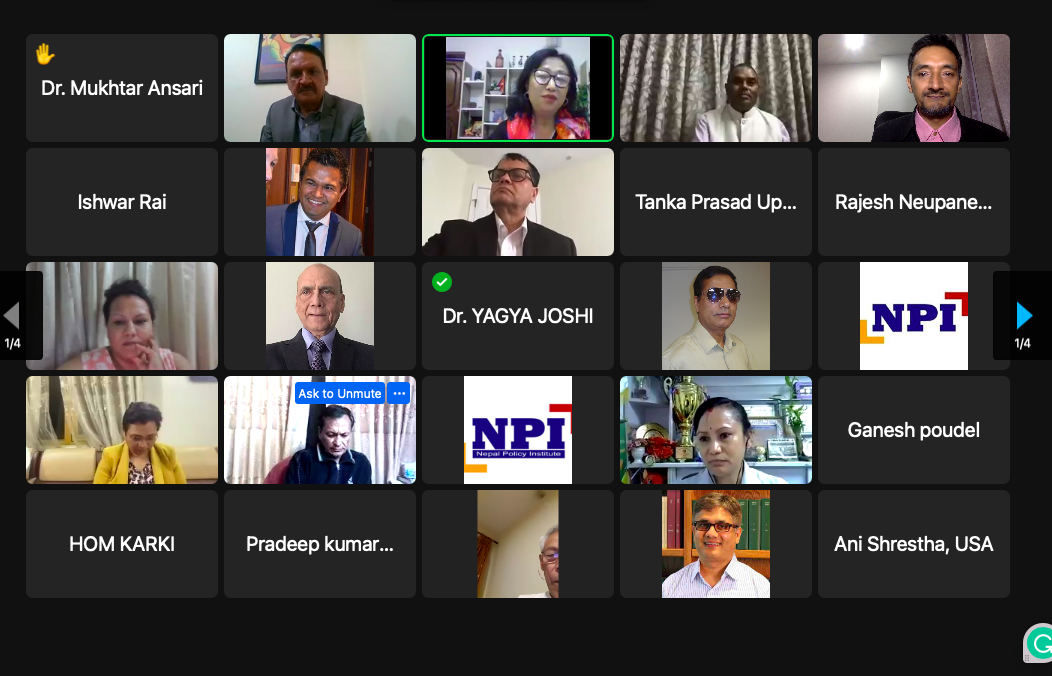 Kathmandu: Leaders from all major parties have strongly supported the implementation of granting voting rights to Nepali citizens living abroad. While there are still administrative, logistic, and legislative procedures to follow, leaders are confident that this can be implemented soon.
As part of an ongoing series of policy dialogues organized by the Nepal Policy Institute (NPI), on March 19 a panel discussion was organized on the topic of "Migrant Nepali Workers, National Economy, and State Policies." The panel was joined by Hon. Mr. Pradeep Kumar Gyawali, CPN (UML); Hon. Dr. Prakash Sharan Mahat, NC; Hon. Dr. Upendra Yadav, JSP Nepal; and Hon. Ms. Pampha Bhusal, CPN (Maoist Center).
Presenting the main findings of some research work carried out by NPI on the matter of voting rights of migrants, Mr. Khagendra Dhakal (Chair of the NPI Board of Directors) referred to international good practices on this subject and also highlighted the stances of major political parties in Nepal to the extent that they may or may not have broached the subject with any degree of specificity.
In the ensuing discussion on granting voting rights to Nepali migrants abroad, all panelists spoke on behalf of their political parties and clarified their stances on the issue. Relying on Article 21 of the Universal Declaration of Human Rights (UDHR), Hon. Dr. Upendra Yadav emphasized that "everyone has the right to take part in the government of their country, hence all Nepali citizens irrespective of their location must be able to vote." This was a common refrain shared by all speakers in the panel.
Each speaker strongly asserted their commitment to implementing the Supreme Court judgment on this matter. However, they emphasized the importance of due process and the need for resolute considerations. Ensuring free and fair elections is equally important. Hon. Dr. Prakash Sharan Mahat, while exploring the possible ways to implement external voting, outlined the risks of voter fraud using examples of the recent US Presidential Election. This concern was also shared by Hon. Pampha Bhusal while recounting the incidents of the NRNA elections. However, both recognized that voting fraud can happen within Nepal as well. Thus, the focus has to be on minimizing the risk factors.
In consideration of all the risk factors, Hon. Pampha Bhusal stated, "the Government of Nepal is in the process of making a law to ensure voting rights for Nepalis living abroad." In this regard, Hon. Pradeep Kumar Gyawali distinctly outlined the administrative and parliamentary procedure in implementing this mandate.
Hon. Gyawali illustrated that "as the primary stakeholder, the Election Commission has the responsibility to draft the election manifesto for external voting. This manifesto must take the logistics, safety, and financial commitments into consideration. Then this manifesto can be sent to Parliament, followed by the Council of Ministers for final approval before implementation." As provisional elections have already started in Nepal, implementing external voting for this election does not seem possible. "Hence, after the election, all political parties must come together to ensure speedy implementation of external voting. This should be a reality in five years" said Hon. Dr. Prakash Sharan Mahat.
In this discussion, NPI proposed the use of i-voting (internet voting) based on the release of their policy brief on "External Voting Rights for Nepalis Abroad: Reflections from International Practices." In presenting the Brief, NPI Chairperson Khagendra Dhakal highlighted evidence from more than 150 countries around the world having a legal framework for external voting. This includes many countries that are just as, or even more, constrained and capacity challenged as Nepal.
Member of the NPI Board of Directors, Ms. Sharu Joshi, moderated the webinar event, and in her own remarks exhorted the political parties to take up this subject matter expeditiously. Giving the closing remarks Dr. Ambika Adhikari, member of the NPI Board of Directors, stated that NPI will produce a Policy Brief on this subject to better inform relevant policymakers.
Migrant workers from Saudi Arabia, Malaysia, Qatar, and India, on behalf of the organizations directly concerned with immigration, suggested that the government should prioritize formulating necessary policies to implement the decision of the Supreme Court. In this regard, Hon. Pampha Bhusal committed to raise this issue at Sunday's cabinet meeting.