Ramadan, Iftar and Eid al-Fitr in the UK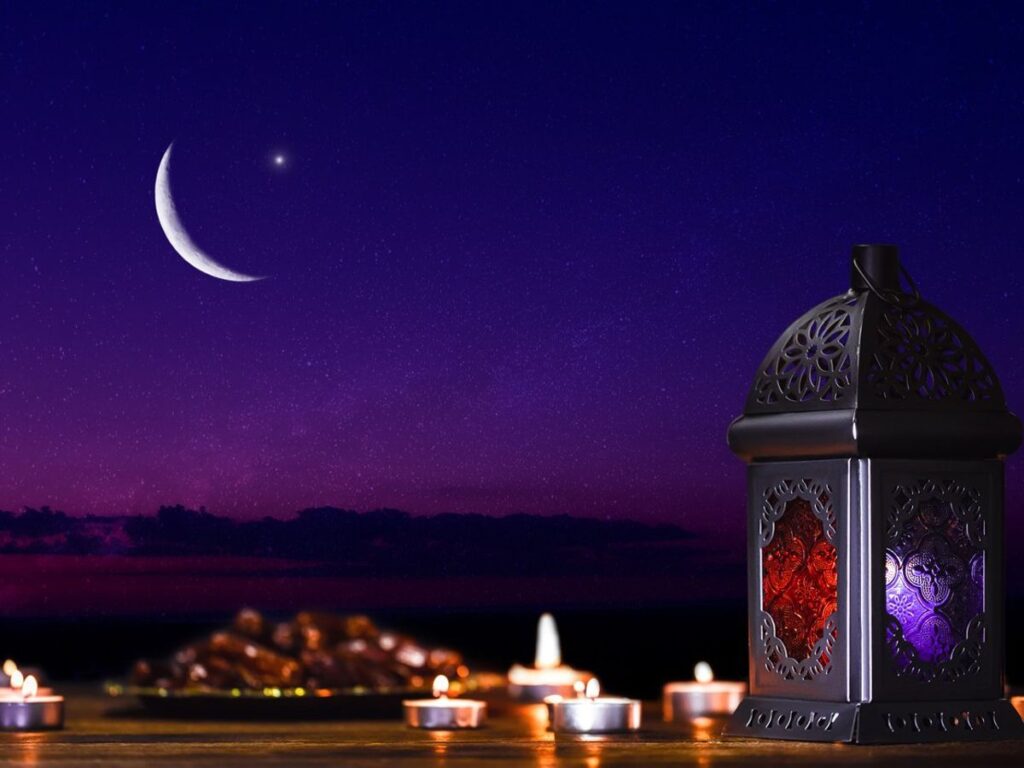 London — Muslims around the world are observing the fast which shapes the holy month of Ramadan.
Ramadan is the most important month in the Islamic calendar. It serves as a reminder of the month when the Qur'an (the Muslim holy book) was first revealed to the Prophet Muhammed "Peace Be Upon Him". During this month, Muslims are not allowed to eat or drink from sunrise to sunset. This is called fasting.
This year, Ramadan started on Saturday 2 April and It lasts between 29 and 30 days, until the sighting of the next crescent moon marks the end of the holy month and the arrival of Shawwal, the tenth month of the Islamic Hijri calendar.
Because the days will gradually increase in length, the fasting period becomes progressively more challenging as the month goes on and the celebration of Eid al-Fitr approaches.
But while the fast will be almost two hours longer at the end of this year's Ramadan than its first day, there is the consolation that it falls almost two weeks earlier than last year's festival, with shorter days as a result.
The day after the end of Ramadan is known as Eid-al-Fitr (more commonly referred to as just 'Eid') and is a widely celebrated holiday in the Islamic calendar filled with special prayers and food. Throughout Eid Muslims will also greet each other by saying "Eid Mubarak" which means "have a blessed Eid" – it is also common for sweets to be handed out during this holiday.
This year, Eid-al-Fitr is expected to start on the evening of Monday, May 2 and will end the following evening on Tuesday, May 3. Because the Islamic day begins after sunset, that is when the new day is traditionally welcomed, rather than in the morning.
During Ramadan, the Salat (daily prayers) take on increased significance, both because the holy month is considered a time of reflection and purification and also because they shape the hours of the fast.
The Salat
Fajr: observed before sunrise
Zuhr: observed after noon
Asr: observed in late afternoon
Maghrib: observed after sunset
Isha: observed at night
Every day of Ramadan, Muslims eat the pre-fast meal called the Sahoor, which is take before sunrise and culminates with the day's first prayer, the Fajr.
The fast isn't broken until sunset with the Iftar meal, which precedes the Maghrib, the fourth prayer of the day.
Because the days will gradually increase in length, the fasting period becomes progressively more challenging as worshippers near the end of the holy month, and the celebration of Eid al-Fitr.
According  to Inews this year expected to be Friday 1 April, while the timings apply to London:
Sat 2 April: 4.59am, 7.38pm
Sun 3 April: 4.57am, 7.40pm
Mon 4 April: 4.55am, 7.42pm
Tue 5 April: 4.52am, 7.44pm
Wed 6 April: 4.50am, 7.45pm
Thu 7 April: 4.48am, 7.47pm
Fri 8 April: 4.46am, 7.49pm
Sat 9 April: 4.43am, 7.50pm
Sun 10 April: 4.41am, 7.52pm
Mon 11 April: 4.39am, 7.54pm
Tue 12 April: 4.37am, 7.55pm
Wed 13 April: 4.35am, 7.57pm
Thu 14 April: 4.32am, 7.59pm
Fri 15 April: 4.30am, 8.00pm
Sat 16 April: 4.28am, 8.02pm
Sun 17 April: 4.26am, 8.04pm
Mon 18 April: 4.23am, 8.05pm
Tue 19 April: 4.21am, 8.07pm
Wed 20 April: 4.19am, 8.09pm
Thu 21 April: 4.16am, 8.10pm
Fri 22 April: 4.14am, 8.12pm
Sat 23 April: 4.11am, 8.14pm
Sun 24 April: 4.08am, 8.15pm
Mon 25 April: 4.06am, 8.17pm
Tue 26 April: 4.04am, 8.19pm
Wed 27 April: 4.01am, 8.20pm
Thu 28 April: 4.00am, 8.22pm
Fri 29 April: 3.58am, 8.24pm
Sat 30 April: 3.55am, 8.25pm
Sun 1 May: 3.52am, 8.27pm
Can you drink water during Ramadan?
No, for all practising Muslims, Ramadan is a month of dry fasting between the hours of sunrise to sunset, and this varies between countries.
This means that Muslims are to refrain from drinking water or any other liquid, and eating food.
It is recommended that anyone fasting consumes enough water at night, before the sun re-rises.
If you consume anything during daylight hours, the fast becomes void and would not count.
What else are Muslims not allowed to do during Ramadan?
As Ramadan is a holy month, Muslims are expected to put more effort into the religious and spiritual aspects of Islam and should refrain from violence, anger, and greed.
In accordance with the rules of Ramadan, nothing can be consumed during sunlight hours, which extends beyond food. It also means people are not allowed to smoke or chew gum.
Any sexual activity during sunlight hours is also not allowed.
However, you can brush your teeth, shower and rinse your mouth as long as no water is swallowed.
Are there any exceptions on who can fast?
Ramadan, although may sound harsh, is not a punishment and is a time of year many Muslims look forward to.
There are several exceptions to who can fast, which extends to those who are:
Pregnant or breastfeeding
Menstruating
Ill or on regular medication
Travelling long distances (over 48 miles)
However, for individuals who can keep fast, there are also exceptions. If you vomit then your fast becomes void for the sake of your health. Some Muslims believe that fainting is also a justifiable reason to break your fast as it could lead to further health complications down the line.
The important thing about fasting is actually your intention. For this reason, Muslims deepen their religious practices, by choosing to read the Quran or avoid listening to music for the 30 days – however, these are not mandatory.
The Holy month of Ramadan is here. Ramadan (or Ramzan) signifies the time for fasting, prayers, and spiritual reflection. Alongside, it is also time to devour some delicious foods with 'Sehri' and 'Iftar'. Though meal preparation during Ramadan might be a daunting task, with a little planning, a few creative ideas, and imagination, you can easily make healthy and enjoyable Iftar meals to keep you energised throughout the Holy month. To get you started, we have curated a list of healthy Iftar recipes for you to try.
TRS' Vegetarian Biryani idea :
Ingredients
 Paste ingredients
6 cloves of garlic
2 inches of ginger
2 green chillies
Main biryani ingredients
1/2 cup green beans, in 1 inch pieces
1/2 cup diced carrots
2 large potatoes, peeled and cubed
2 cups TRS basmati rice
3 tablespoons oil
3 thinly sliced onions
2 chopped tomatoes
1/2 cup yoghurt
1 inch TRS cinnamon stick
4 TRS cardamom pods
2 TRS Bay leaves
1/2 tsp TRS turmeric powder
1 tsp TRS red chilli powder
1 tsp TRS coriander powder
1/2 tsp TRS Garam masala powder
1/4 cup chopped mint leaves
Salt
Method
In a saucepan, add the rice with 2 cups of water along with salt and bring it to a boil for 4 to 5 minutes before turning off the heat. It should only be half cooked, and keep aside.
Use a grinder or pestle and mortar to make a paste of the ginger garlic and green chillies. Keep aside.
In a large pan on medium heat, add oil, onion, ginger garlic green chilli paste, cinnamon, cloves, bay leaf and cardamom.
On low heat, sauté until the onions turn brown and are caramelised.
Add the chopped tomatoes and sauté for about 5 minutes until mushy. Add the TRS turmeric powder, TRS chilli powder, TRS coriander powder and TRS garam masala powder.
Add the yogurt, the potatoes and the remaining vegetables and simmer for another 2 minutes until it bubbles. Finally add in the mint leaves, half cooked rice, and salt for taste.
Add about 1-1/2 cups of water and cover the pan, before turning the heat to low and cook the Biryani.
After 20 minutes, turn off the heat and allow it to rest.
Open the lid after 5 minutes of the resting period and give it a gentle stir, to combine all the ingredients.
Share it on IG and FB on: @TRS.food and www.trs.co.uk