Nepal Live Today marks its first anniversary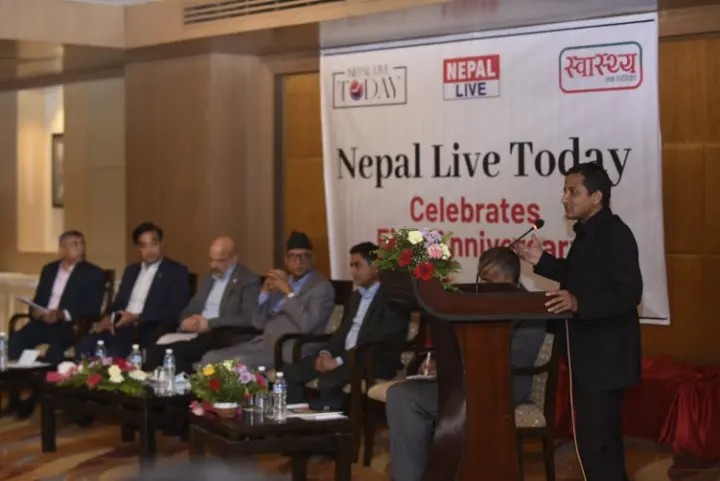 Kathmandu: Amid a program organized in Kathmandu, Nepal Live Today marked its first anniversary this week. 
Nepal-based news portal started its publication on April 24, 2021. Based in Kathmandu, this digital publication covers the news of Nepal and beyond. 
The portal presents reports, analyses, and commentaries on Nepal's politics, business, culture, economy, traditions, science, international relations, Sustainable Development Goals (SDGs), political contestations, issues of women, Madhesis and marginalized communities and many more, according to NLT.
In a program organized to mark the first anniversary, publisher Anil Nyaupane said: "As Nepali society remains largely polarized and divided along with various types of political ideologies and affiliations, the need for impartial and independent journalism has become even starker. And we remain committed on this front as well."
Nepal Live Today is committed to the principle of journalism. We are committed to upholding the values of journalism through quality journalism, said Bhagirath Yogi, Consulting Editor of Nepal Live Group. 
Democracy, freedom of the press, liberal economy and political and civil liberties are our uncompromising ethos, said Siromani Dhungana, Founding Editor of the portal. "Nepal Live Today does not compromise on fundamental democratic principles." 
In the anniversary program, Nepal's Minister for Industry, Commerce and Supplies Dilendra Prasad Badu praised the way Nepal Live Today is doing journalism. "Nepal Live Today has emerged as a brand known for quality and ethical journalism," he said. "Among hundreds of online portals, NLT stands out because of its unique presentation and trustworthy content."
Shekhar Golchha, President of Federation of Nepalese Chamber of Commerce & Industries (FNCCI), said that the portal has gained impressive trust in Nepal's private sector due to its commitment to ethical journalism. "Nepal Live Today emerged as a trusted source of news and information because it has always valued basic principles of journalism including accuracy, balance and credibility."
Representatives from Nepal's civil society, development sector, private sector organizations and noted scholars extended their wishes on the occasion.
South Asia Times and Nepal Live Today have established a partnership. Nepal Live Today offers insightful content and analyses for the SAT from Nepal.