A Nepali double amputee creates records, treks to Everest Base Camp, and skydives over Everest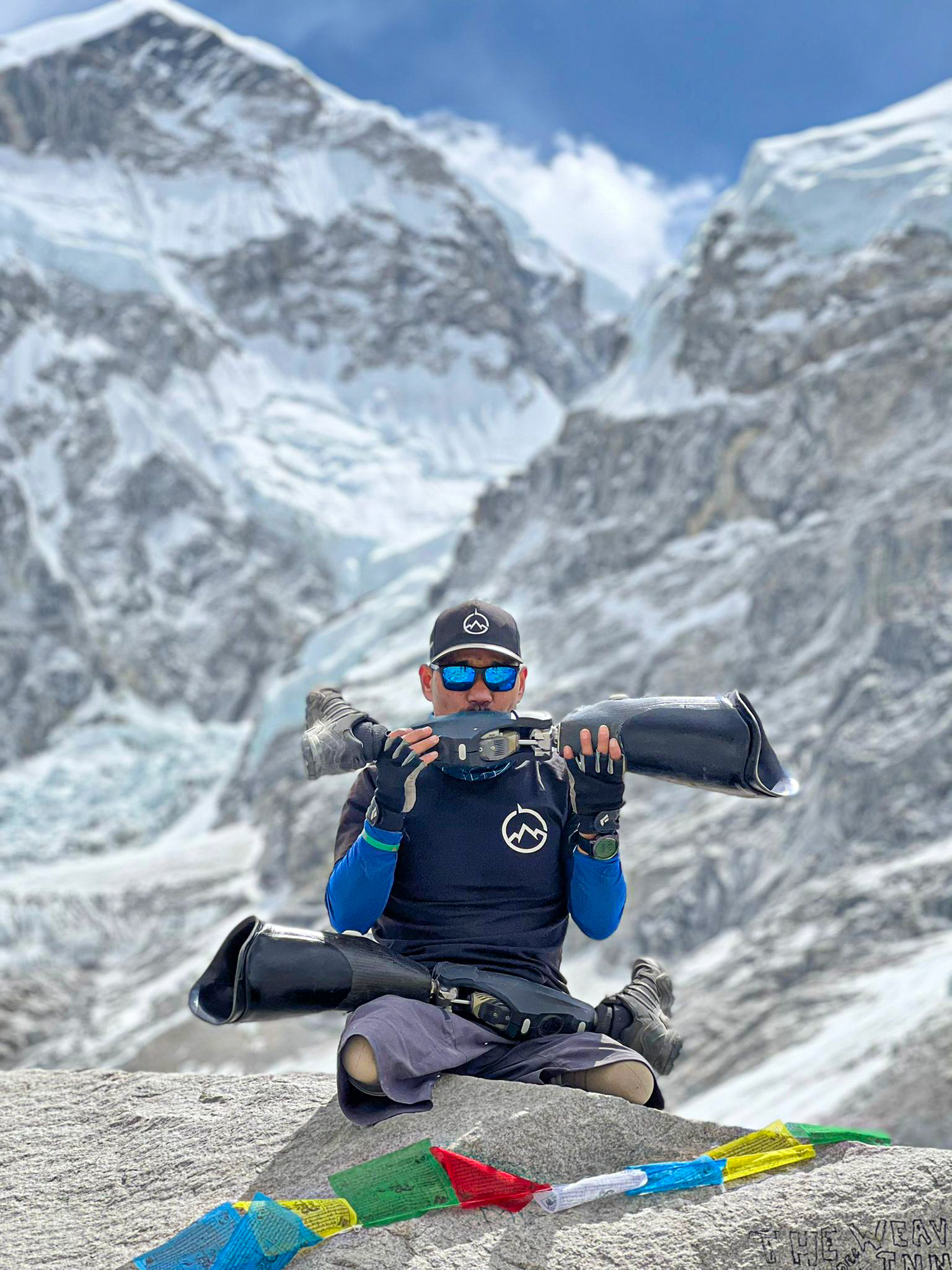 Nepal Live Today/Kathmandu: A former British Gurkha soldier has recorded his name in the history books by becoming the first double amputee to trek to Mount Everest Base Camp, and to skydive over the mountain.
Hari Bahadur Magar, a 43-year-old former British soldier, proved nothing is impossible when you are determined to achieve success. Magar became the first double amputee to trek to the base camp and skydive over Everest.
Magar, also a Global Goodwill Ambassador of the Positive Thought movement, reached the Everest base camp with two prosthetic legs. Magar is also an ambassador of the Gurkha Welfare Trust. Through this journey, Magar also promoted Pilgrim Bandits, a charity that looks after injured veterans like Magar himself.
This isn't his first record-breaking achievement. In 2017, Magar became the first double above-knee amputee to summit a mountain taller than 6,000 meters by climbing Mera Peak (6,476 meters). Magar has also successfully summited Mont Blanc (4,810 meters), Mt Chulu Far East (6,059 meters), and Mount Kilimanjaro (5,895 meters).
Magar always dreamed of conquering Mount Everest. But the plan to step onto the world's tallest peak was delayed as the government had banned blind, solo, and double amputee climbers to summit the mountain.
The ban was overturned in 2018 after the immense pressure from several organizations working for persons with disabilities. Now, Magar is on his way to fulfilling his long-anticipated goal.
Magar courageously triumphed over the hardships and challenges he faced in his life.  Born in a remote village of Mural, Rolpa in the western region of Nepal, Magar recalls a tough upbringing due to the harshness of the Himalayan region as well as his teenage years surrounded by a brutal decade-long Maoist insurgency.
The unpleasant childhood experience emboldened Magar, and he joined the British Army at the age of 19.
Magar served across five continents as a sniper, covert surveillance, and team medic. Then in 2010, an explosive device detonated when he was on patrol in Afghanistan, and he lost both his legs. The horrible incident didn't deter him. And now, he is now achieving impossible feats.
Magar believes his journey story will be a source of inspiration to many people.