Indian PM blames West for carbon emissions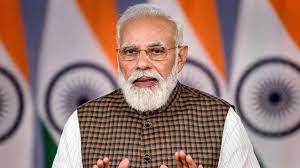 NEW DELHI — Indian Prime Minister Narendra Modi held developed nations responsible for large-scale carbon emissions on Sunday.
"India is making this effort when India's role in climate change is negligible," Modi said in a speech marking the World Environment Day.
"Large modern countries of the world are not only exploiting more and more resources of the earth, but maximum carbon emission goes to their account," he said.
Modi said the average carbon footprint of the world is about 4 tons per person per annum while the figure of India is about 0.5 ton per person per annum.
Modi underlined that India's efforts to protect the environment have been multifaceted.
"India is working on a long-term vision in collaboration with the international community on protecting the environment and established organizations like Coalition for Disaster Resilient Infrastructure, International Solar Alliance," he said, reiterating the country's goal of net-zero emissions by 2070(Xinhua).