India must be a developed nation in 25 years: Indian PM Modi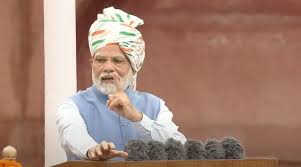 NEW DELHI: India's Prime Minister Narendra Modi, marking the 75 years of India's Independence, addressed the nation from the ramparts of Red Fort for the 9th consecutive time on Monday.
In his 83-minute-long speech, the Prime Minister said that India will be a developed nation in the next 25 years, India Today reported.
He also talked about the forgotten heroes of the country, panchpran, naari shakti, corruption and family dynasty, among other things.
The Prime Minister started with honoring the forgotten heroes who played a role in the country's Independence and recalled the strength of women and sacrifice of freedom fighters including Rani Lakshmi Bai and Begum Hazrat Mahal and said the nation is beholden to them.
He also said that Rajendra Prasad, Jawaharlal Nehru, Sardar Vallabhbhai Patel, Vir Savarkar and others were the nation builders.
The PM said, "The citizens are thankful to Mahatma Gandhi, Netaji Subhash Chandra Bose, Babasaheb Ambedkar and Veer Savarkar who gave their lives on the path of duty."
(from India Today)