Nepal's Arghakhanchi Cement begins export to India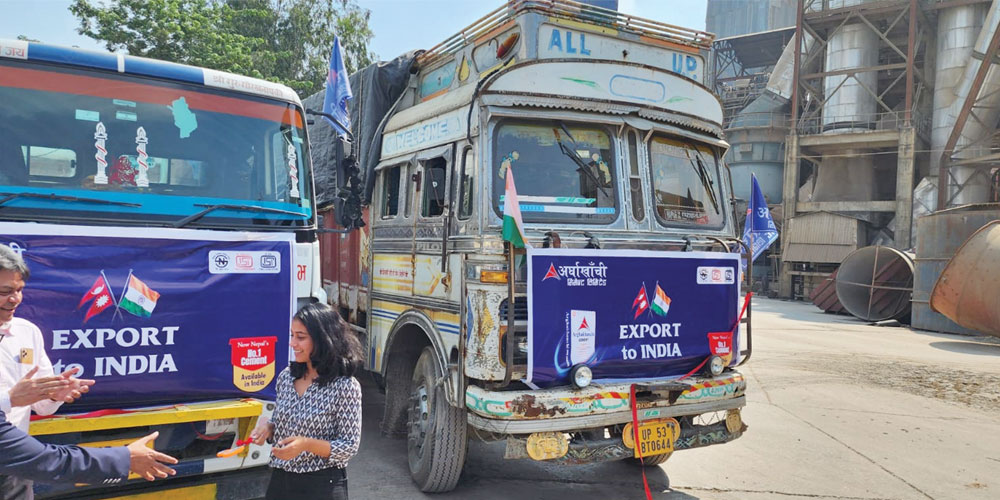 Kathmandu —  Arghakhanchi Cement has started exporting products formally from Monday. The company has organised a programme at its factory in Rupandehi and exported about 70 tonnes (1,400 sacks) of Portland Pozzolana Cement (PPC) cement to India in the first lot.
According to the company, Shivans Associates located in Nautanwa, Maharajganj, India, purchased Arghakhanchi products for the first time.
"This is the first step in exporting to the Indian market. This achievement was made possible by the 8 per cent subsidy provided by the government on export. This will help in reducing trade deficit with India," said Rajesh Kumar Agrawal, Managing Director of Arghakhanchi Cement.
As mentioned in the budget of the fiscal year 2022/23, the government has implemented the Export Subsidy Work Procedure (Second Amendment) 2079 for providing export subsidies from Friday.
Exporters who export goods, including clinker, cement, steel, footwear, processed water, information technology-based services and business process outsourcing will get a subsidy up to 8 per cent for export from Nepal.
Pashupati Murarka, owner of Arghakhanchi Cement and the former president of Federation of Nepalese Chambers of Commerce and Industry (FNCCI), said that the dream of exporting has been fulfilled since the beginning of the industry.
"Now my wish is that most of the cement produced by the industry should be exported to India," he said.According to Murarka, there is no limestone mining in Uttar Pradesh, Bihar, West Bengal and other regions of India.
Exports to India have been started to 'cash in on' that market, he said.
He also emphasised that all the cement producers of Nepal should take advantage of this opportunity.He said that the government should improve the environment for importing coal from India to further increase cement exports.
After the Bureau of Indian Standards of India gave Arghakhanchi Cement, a product of Arghakhanchi Cement Limited, the Indian Standards Institute (ISI) mark for quality, cement exports from Nepal have started.
The company has got ISI mark for export of OPC, PPC and clinker to India.
According to this, the company has planned to export its OPC and clinker products to the markets of neighbouring countries in the future.Almost three months ago, Palpa Cement exported its produce to India for the first time. ( Feom : TRN)