Five days festival to worship animal including Diwali begins in Nepal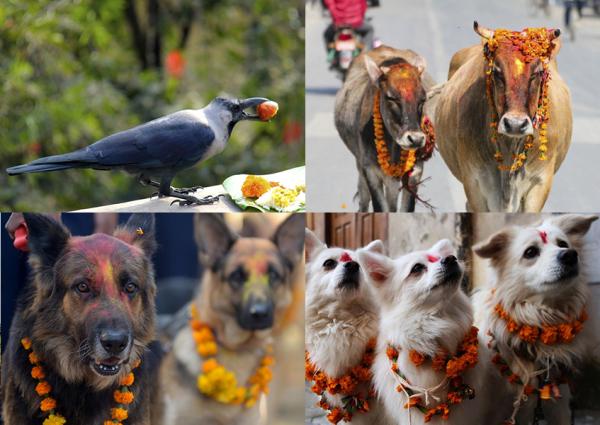 Kathmandu — The second biggest festival "Tihar" has begun in Nepal. The five-days-long festival falls in either September or October. Each of the five days are specially dedicated to a living being.  Tihar is also known as Dipawali or "Diwali" among Hindus around the world however the festival is celebrated for five days in a unique way in Nepal.
The first day is dedicated to a bird, crow. The second day is dedicated to dog, a very good pet of human kind. The third day is for cow, fourth day is dedicated to ox and the fifth is the day of brothers and sisters.
Kaag Tihar(Crow Festival )
Kagpuja is performed on the day of Kartik Krishna Trayodashi. Crow is a very smart bird. A crow is an omnivorous animal. There are various reasons for worshiping it. If the crow looks at everyone equally, it will eat the insects and grasshoppers on the grain crops. Crows are also considered as messengers of Yamaraj. Kaag is also a very dear devotee of Yamaraj. In the same way, various words such as Kakagveshana, Kakanyaya, Kakabali etc. are related to crow.
Kukur Tihar (Dogs Festival )
It is celebrated on the second day of Yama Panchak i.e. Kartik Krishna Chaturdashi, which has various religious and social beliefs. This day is also known as Narak Chaturdashi. Dogs are also considered as messengers. The dog is another favorite of Yamaraj.
Dogs are not only obedient and protectors, dogs also do research and find criminals who commit various crimes. Dogs have been helping people by taking care of the house and protecting them from thieves and robbers. In the same way, it also gives advance warning when there is a natural disaster and divine calamity. Dog is also called the arm of Bhairava. That's why we eat the favorite food of the dog and garland it on the dog festival.
Gai Tihar and Lakshmi Puja(Cow Festival )
Before performing any religious or social rites, there is a custom of Hindus to smear the house and yard with cow dung, sprinkle cow wheat all over and make their house, room and house holy. Cows are considered as livestock. Hindus consider cow as the form of Lakshmi and cow mother.
The words Gaijatra, Gaipala provide various symbolic meanings based on cow. Lakshmi is considered the goddess of blessings and a symbol of wealth. The night of Kartik Krishna Aunsi is considered as a very dark night.
Lakshmi is invoked to illuminate the night in this darkness by lighting lamps in every house. In this, there is also a message that any kind of darkness should be removed by the light of consciousness inherent in oneself.
Goru Tihar(OX Festival )
Goru Tihar, Hal Tihar or Govardhan Puja is celebrated on the fourth day. According to mythology, Govardhan is a mountain near Gokul. According to belief, Lord Krishna used to live with Gopals in Gokul. The Gopalas used to worship Indra, the king of gods, but they did not get anything from Indra.
Bhai Tika(Brother-Sister Festival)
On the final day of Tihar, Bhai Tika will be celebrated when sisters offer tika to their brothers and vice-versa.
Worshipping Self (Mha Puja)
Celebrated on the fourth day of Tihar by the Newar community is the festival of Mha Puja. It also falls on the Newari New Year which is based in the Newar calendar, Nepal Sambat. Mha Puja literally refers to self worship, making offering to one's body.