Nepal-EU film festival concludes in Kathmandu, to continue in Surkhet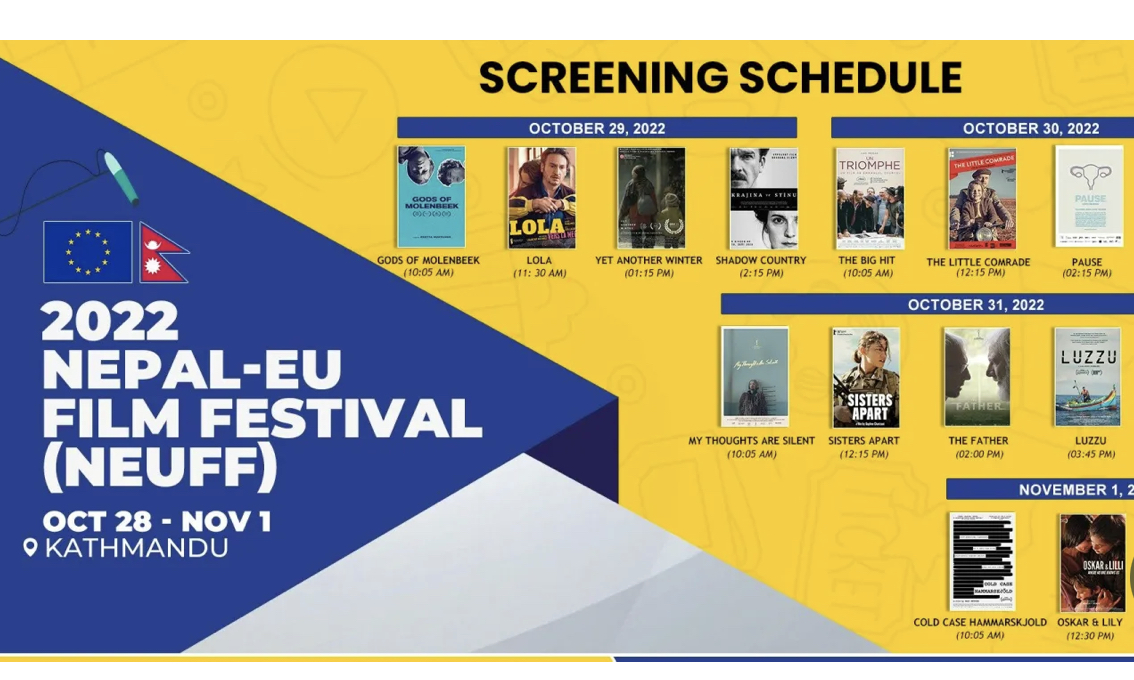 Kathmandu —  The 11th edition of Nepal-EU Film Festival (NEUFF) concluded in Kathmandu on Tuesday with the screening of Sujit Bidari directed Aaina Jhyalko Putali, "Butterfly on Window Pane," a Nepali feature film that won accolades in the Nepali film theaters at Nepal Film Development Board hall in Kathmandu. The film was a major highlight of the festival.
The film festival, brought to Nepali audiences by the Delegation of the European Union to Nepal and which ran from October 28 to November 1, screened as many as 13 European films, and three Nepali films.
Two other short Nepali films–Yet Another Winter directed by Kiran Shrestha and Gurkha Girls directed by Bishal Rokka Magar–were also screened during the festival.
The festival was inaugurated on October 28 with the screening of Gods of Molenbeek, a documentary directed by Reeta Huhtanen, which revolves around the interaction and imagination of two six-year old boys in the Molenbeek district of Brussels. This is where they listen to spiders, discover black holes and quarrel over who gets to command the flying carpet that is to take them to the lands of their ancestors. They live in the same building, yet come from different worlds.
Audience watching Aaina Jhyalko Putali at Nepal Film Development Board hall. Photo courtesy: Mohan Rai
Apart from the physical event, three online side events were organized on different aspects of film-making during the festival. The first online event, organized on October 29, centered on how archive materials can be used while making a film. The second side event, that took place on October 30, featured an interaction on how films can contribute to protecting the environment and the third side event, held on November 1, discussed the production conditions in Europe and possibility of cooperation between European and Nepali film professionals.
EU Ambassador to Nepal, Nona Deprez, addressing the concluding event in Kathmandu. Photo courtesy: Mohan Rai
While addressing the concluding event in Kathmandu, the EU Ambassador to Nepal, Nona Deprez, said films contribute to understanding each other's culture. "Cinema is such an important tool to get to know each other and to learn each other's culture," said the EU ambassador. "I hope that in the coming years, we will be able to screen more European and Nepali films in such festivals." She further said that films help strengthen people-to-people relations and understand where we come from and what our cultures are.
Though the festival event of Kathmandu concluded on Tuesday, it will continue in Surkhet, the capital of Karnali province, from November 5 to 8, where six European and two Nepali films are scheduled to be screened at the Mid-West University, according to the organizer. According to the Delegation of European Union to Nepal, the online festival can be accessed at https://www.festivalscope.com/page/european-film-festival-nepal-2022/ and the site will be active from 28 October until 28 November. (From : Nepal Live Today)