COP27 concludes setting up the Loss and Damage Response Fund, LDCs welcome the decision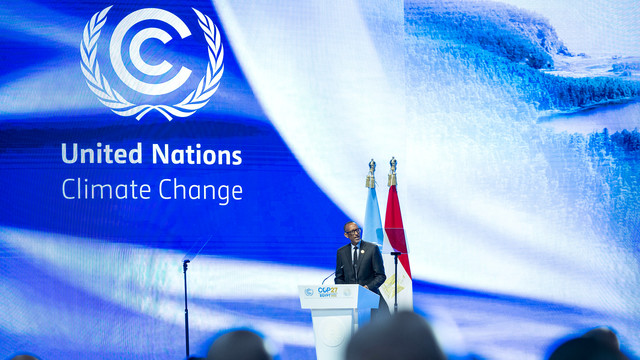 London – The United Nation's Climate Change Conference (COP27) has concluded in the Egyptian resort city, Sharm el-Sheikh on Sunday, after agreeing to set up a Loss and Damage response fund.
The Conference of Parties, also known as annual jamboree, brought together nearly 30,000 delegates, representatives of non-governmental organisations and activists from around the world.
Pakistan's climate minister, Sherry Rehman, told reporters that she was very happy with the agreement.
"I am confident we have turned a corner in how we work together to achieve climate goals," she said.
Environment minister Molwyn Joseph, and chair of the Alliance of Small Island States, said the deal was a "win for the entire world" and "restored global faith in this critical process dedicated to ensuring no one is left behind".
But nations like UK were not happy.
"A clear commitment to phase-out all fossil fuels? Not in this text," said the UK's Alok Sharma, who was president of the COP26 summit in Glasgow held last year.
Poor nations had been demanding that such a fund be set up to compensate for the historic carbon emissions emitted by rich, industrialised nations in the past.
LDCs appreciate the Loss and Damage Fund
Meanwhile, the Least Developed Countries (LDCs) have appreciated the COP27 decision to create a fund to respond to loss and damage and to set up a transition committee to operationalize it.
Regarding loss and damage, LDCs would like to appreciate the efforts made by all Parties to devise an effective institutional structure for the Santiago Network for loss and damage. We urge developed country Parties to provide the necessary financial support to catalyze technical assistance to address loss and damage through this network, the LDC Group said in a statement.
"The signal that this decision sends to the world and to ourselves as Parties strengthens our confidence in this multilateral process and its results on which our common future rests," said Madeleine Diouf SARR (Republic of Senegal) – Chair of the Least Developed Countries Group at UN Climate Change negotiations.
"The fund should be an operational entity within the framework of the financial mechanism of the Convention and the Paris Agreement with new, additional and predictable public funding," said Ms Diouf SARR speaking on behalf of the 46 least developed countries.
"With regard to mitigation, we acknowledge the agreement reached in adoption of the "work programme for urgently scaling up mitigation ambition and implementation".The work programme must lead us towards raising ambition in NDCs in line with 1.5°C pathways, with provision of support for developing countries, particularly LDCs," she said.
"As far as adaptation is concerned, we would like to stress the need to help LDCs to formulate and implement National Adaptation Plans (NAPs). With regard to the global goal on adaptation, we are pleased to see the framework initiated at COP 27 to achieve the global goal on adaptation and to assess progress towards achieving it," the Group said. 
"As far as finances are concerned, we would like to reiterate the importance of continuing work on the definition of climate finance in order to support the implementation of the new goal with strong transparency provisions that allow clear monitoring of progress and achievements," Ms Diouf SARR said adding, "We expect to see next year the achievement of the USD 100 billion target, lagging behind since 2020, as well as clear progress in achieving the commitment to double funding for adaptation by 2025."