Nepal Election: ruling alliance is on the verge to secure a majority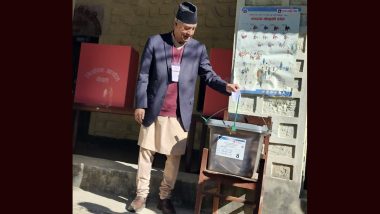 Kathmandu — Nepal held its second parliamentary and provincial elections after the promulgation of a new constitution in 2015 that turned the country into a federal democratic republic. The counting of the election result is underway. The ruling alliance is on its way to securing its majority by a small number. The ruling Nepali Congress party led by PM Sher Bahadur Deuwa,  has improved its parliamentary position by being the largest party. The party is expected to secure approximately 90 seats including the win on the first past post (56) and the parallel representation(34). There are 165 directly elected MPS and 110 MPs elected from a parallel representation system. The principal opposition party, CPN-UML, led by former prime minister KP Sharma Oli is expected to secure 77 seats.
Rashtriya Swatantra Party, led by TV host-turned-politician Rabi Lamichhane, has won seven seats while it is leading on one seat and likely to secure 15 seats in the PR system.  Rashtriya Prajatantra party favoring the constitutional monarchy and Hindu state in Nepal has also won 7 seats and is likely to gain 8 seats from the PR system and likely to secure 15 MPs representation in the powerful upper house of Nepal.
None of the political parties has secured a single majority and the existing ruling coalition is expected to form a government.   All 5 parties and the independent candidates supported by the coalition are on the verge to secure a majority by 140 seats as the 275 members house of representatives needs 138 seats to form a majority government.
Elections to the House of Representatives (HoR) and seven provincial assemblies were held on Sunday, November 20. The counting of votes started on Monday, November 21.  According to the Election Commission, about 61 percent of polling was recorded across Nepal. More than 17.9 million voters were eligible to cast their votes to elect the House of Representatives and provincial assemblies.  Almost 95% of votes have been counted by today morning.