Qatar: Nepali civil society groups denounce FIFA over migrant worker compensation – open letter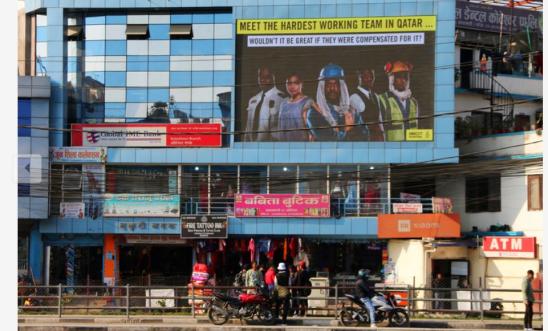 Around 400,000 Nepalis currently working in Qatar
'There is a huge danger that when the final whistle is blown on the World Cup, the contribution and sacrifice of so many migrant workers will be forgotten' – Nirajan Thapaliya
More than three dozen Nepali civil society organisations have today published an open letter to FIFA President Gianni Infantino calling on him to "stop looking the other way" while migrant workers are denied compensation after having suffered human rights abuses in Qatar in the years leading up to the World Cup.
The organisations have also displayed messages on billboards across Kathmandu, including at Tribhuvan International Airport where workers from Qatar often return without their wages and where the bodies of migrant workers who have died overseas are regularly repatriated. The billboards include the slogans "Meet The Hardest Working Team In Qatar" and "What's A World Cup Without Fair Play?"
The civil society organisations' letter highlights how migrant workers are unable to access a compensation fund set up by Qatar in 2018 to reimburse stolen wages if they've already returned to Nepal, and also how bereaved families are unable to receive compensation if the causes of their loved ones' deaths are not investigated.
Som Prasad Lamichhane, Executive Director of the Pravasi Nepali Coordination Committee, which helped organise the letter, said:
"We have come together to call on Gianni Infantino to make good on FIFA's promises to respect workers' rights and agree to compensate workers who have suffered abuses and families who have lost loved ones. We know the real human costs of the abuses faced by so many workers in Qatar. Families have spiralled into poverty, children have been taken out of school, and workers forced to migrate again to pay off debts. FIFA cannot be blind to this reality and must act to make things right."
Around 400,000 workers from Nepal are employed across a range of sectors in Qatar and have played a huge part in building the vast infrastructure projects required to host the 2022 FIFA World Cup. Nepali workers typically have little choice but to pay illegal recruitment fees of more than US$1,000 to secure their jobs, and human rights organisations have regularly documented cases of forced labour and unpaid wages, including at sites linked to the World Cup.
Workers have also lost their lives due to dangerous working conditions, and their deaths have rarely been investigated. A peer-reviewed study found that the deaths of at least 200 Nepali construction workers could have been prevented between 2009 and 2017 with adequate protection from extreme heat. In recent years, Qatar has introduced a number of reforms to strengthen labour laws and opened a new visa centre in Nepal aiming to reduce abuses. However, despite some progress abuses persist on a significant scale.
Nirajan Thapaliya, Amnesty International Nepal's Director, said:
"There is a huge danger that when the final whistle is blown on the World Cup, the contribution and sacrifice of so many migrant workers will be forgotten, and their claims for justice and compensation ignored.

"If FIFA wants to show respect towards the people who made this tournament possible, Gianni Infantino should finally agree to ensure workers and their families are compensated. Their claims must not be dismissed any longer."
Campaign for remediation programme
Since May, a global coalition of human rights organisations, trade unions and fans groups has called on FIFA and Qatar to set up a remediation programme that would compensate workers and invest in programmes to prevent future abuses. The call has been supported by 12 football associations and four FIFA sponsors, with opinion polls showing strong support among the wider public in 15 countries.
However, FIFA has refused to compensate workers for labour abuses related to the Qatar World Cup. Despite FIFA officials having previously said they were working on a plan to ensure workers were compensated, on the eve of the tournament Infantino merely said that anyone who had suffered abuses should "contact the relevant authorities to seek due recompense" from Qatar's existing compensation fund. However, this mechanism remains inaccessible to those who have already left the country, caps the amount that can be paid to each worker, and will not support families of workers whose deaths may have been wrongly attributed to "natural causes" because investigations were not carried out.
On Monday, a coalition of international human rights organisations criticised FIFA for "misleading the world" on workers' compensation. The coalition has called on Infantino to use a newly-announced "legacy fund" to compensate workers and establish an independent migrant workers' centre, as requested by trade unions such as Building and Wood Workers' International. The size of the proposed fund is not yet known and is currently intended to support educational projects and a planned "labour excellence hub".