'LDCs are hard hit by the compounding effect of COVID and climate crises' – Manjeet Dhakal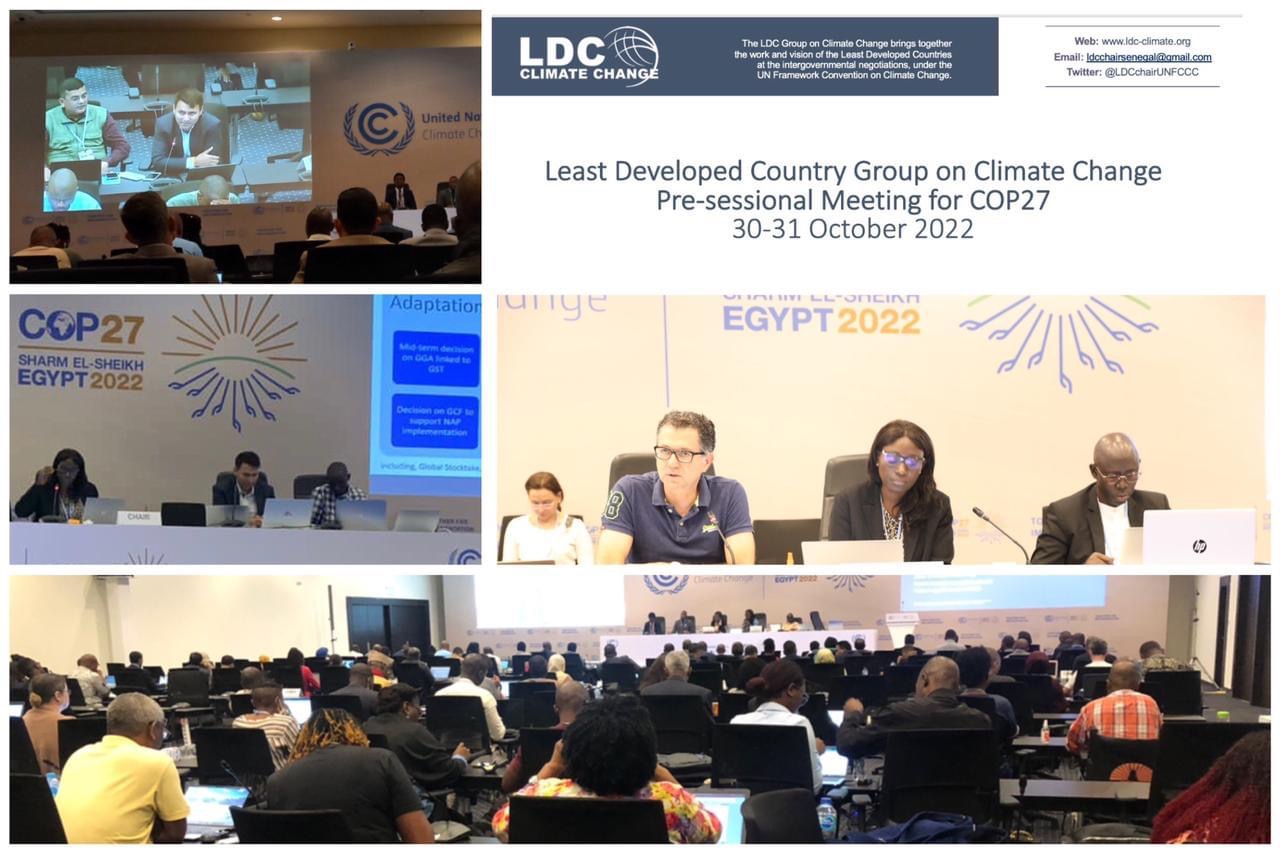 MANJEET DHAKAL is head of LDC Support Team at Climate Analytics. He serves as an Advisor to the Chair of the Least Developed Countries (LDC) Group at the multilateral process of the UNFCCC. As an advisor he has provided high-level climate leadership support for the LDCs in climate change UN-related processes over many years and played a key part in the LDC efforts that led to the Paris Agreement in 2015. He is also associated with School of Environmental Science and Management, Pokhara University in Nepal as an Adjunct Associate Professor for climate diplomacy. Dhakal spoke to BHAGIRATH YOGI regarding the outcome of COP27 especially for LDCs. Excerpts of the interview:
What were the hits and misses at the recently concluded COP27 in Sharm el-Sheikh, Egypt?
The establishment of the Loss and Damage fund was the remarkable outcome at the 27th Conference of Parties (COP27). This was a demand of developing countries for a very long time. As the negative impacts of climate change are mounting much faster and countries are experiencing devastating consequences, this decision lays the foundation for the UN system putting in place a mechanism to address this problem.
However, COP27 did not deliver in every way, especially on top ticket items like emissions reductions. It merely reiterated the call from COP26, for rapid, deep and sustained reductions in global greenhouse gas emissions for limiting global warming to 1.5°C. Likewise, beside some pledges on climate finance, the decision on finance was more procedural in nature.
How optimistic you are that the 'loss and damage' fund will be established soon and benefit some of the poorest countries in the world?
The decision in Sharm El-Sheikh sets the deadline for a year to operationalise the fund. The work must be guided by the urgency of the climate crisis as soft and hard limits of adaptation are being crossed. In this context, it will not be justified to now have prolonged negotiations on its shape that continue for years as communities on the ground suffer from climate change induced loss and damage.
But fund's ability to benefit the most vulnerable very much depends on how it is set up. The vision is that it will provide financial resources to those that are hardest hit by climate change. For example, it should be able to release funds immediately in the aftermath of an event – with a much shorter proposal period than the programme-based approach of the Green Climate Fund.
It seems that COP27 failed to reinforce the agenda to limiting the global warming to 1.5 degree Celsius compared to the industrial period? Is it a forgotten agenda now?
Even though no new commitments were agreed at COP27, the hope for 1.5°C still remains. Limiting global warming to 1.5°C is still narrowly possible and will be determined by our actions in this critical decade. Emissions are cumulative – so the cuts we make early on will buy us time to adapt and reduce emissions in harder to abate sectors in the coming decades. The science has told us how to do this, we need to get on with it.
It is well understood fact that the faster the transition, the lower are the climate risks and the higher are the synergies between climate action and sustainable development goals. But, the longer we leave it to act, the more difficult, the more expensive, and the more dangerous it will be.
At COP27, the last minute inclusion of "low-emissions energy" in the decision, which could be also interpreted as energy sources with comparatively lower emission but still a fossil fuel, like fossil gas, undermines the strong call for ambition to limit global warming to 1.5°C and was extremely disappointing.
However, the call for countries to revisit their Nationally Determined Contributions (NDCs) in line with 1.5°C and provision of support for developing countries to raise ambition still remains strong. There was strong pushback on even the agreed language in Glasgow, so this continued reiteration of a global commitment to high levels of ambition is by no means guaranteed as an outcome for COPs.
You attended the COP26 in Glasgow, Scotland, last year.Looking back, what progress we have made so far?
The COP27 was held at a time of geopolitical difficulty, but governments cannot avoid this crisis. The devastating flood in Pakistan and other impacts hitting countries all around the world will keep emphasising the need to take stronger action.
It is important that every COP build on the last one, otherwise we will not be able to achieve the ambitious targets that the science has recommended: a roughly 45% reduction in emission by 2030 compared to 2010 levels. At this time, even if all the latest climate action plans committed to by countries (Nationally Determined Contributions) are implemented, emissions would still grow by over 10% compared to 2010 by 2030.
Likewise, the promise that was made in 2009 to deliver US$100 billion per year of climate finance by 2020 has still not been met. In 2020, developed countries only provided around US $83 billion, the majority of which was in the form of loans, which is not ideal for vulnerable countries, which are facing shrinking fiscal, multiple crises and mounting debt.
The LDCs have been on the receiving end of the climate impacts though they pollute far less than the richer countries. Do you agree that time has come to reimagine the development agenda of these countries?
Despite less emission, LDCs are taking action, three LDCs submitted long-term low emissions development strategies and many are in the process of preparing them. So this work of reimagining development is happening. 38 of the 46 LDCs have submitted new and updated NDCs (climate plans to 2030). 40 National Adaptation Plans have been prepared by developing countries, and 16 of these are from the LDCs.
Climate change is a fundamental part of our future so it is very much being taken seriously by governments, despite the additional bureaucratic and governance challenges it presents. Climate actions can go hand-in-hand with achieving sustainable development goals, poverty eradication, improved health, resilience building and access to clean energy.
At Climate Analytics, we looked at how long term planning for climate change creates opportunities for cost savings and development gains for LDCs and can generate a series of co-benefits and opportunities. https://climateanalytics.org/publications/2022/long-term-strategies-low-carbon-growth-resilience-and-prosperity-for-least-developed-countries/
The UN General Assembly (on 24th November 2021)adopted a resolution endorsing the graduation of Nepal, Bangladesh and Laos from the Least Developed Country (LDC) category with the preparatory period of five years. How do you see these countries making progress, if any, towards that direction in the post-Covid scenario?
The coronavirus pandemic added another shock to the multiple challenges that people living in the LDCs already face in day-to-day life. Recent examples, like COVID, have shown that any single event can hit the economy badly, Nepal was supposed to have graduated much earlier, however, the 2015 earthquake pushed back our economy to below 1% growth of GDP.
In a context of rapidly growing climate impacts, this is a stark reminder how one single event can push back the overall development process of a country. The timetable for many of these countries who are in a process of graduation now looks uncertain as these countries are already hard hit by the compounding effect of COVID and climate crises, and may require adequate time to recover and stabilise their economies.
However, these crises also provides opportunity to adopt and implement sustainable solutions – transition to just and climate-resilient green economies and shift investments away from fossil fuels towards renewable energy – without losing sight of the climate crisis. https://climateanalytics.org/blog/2020/covid-19-another-shock-for-vulnerable-countries-facing-multiple-crises/