Bhutanese community demand amnesty for Political Prisoners in Bhutan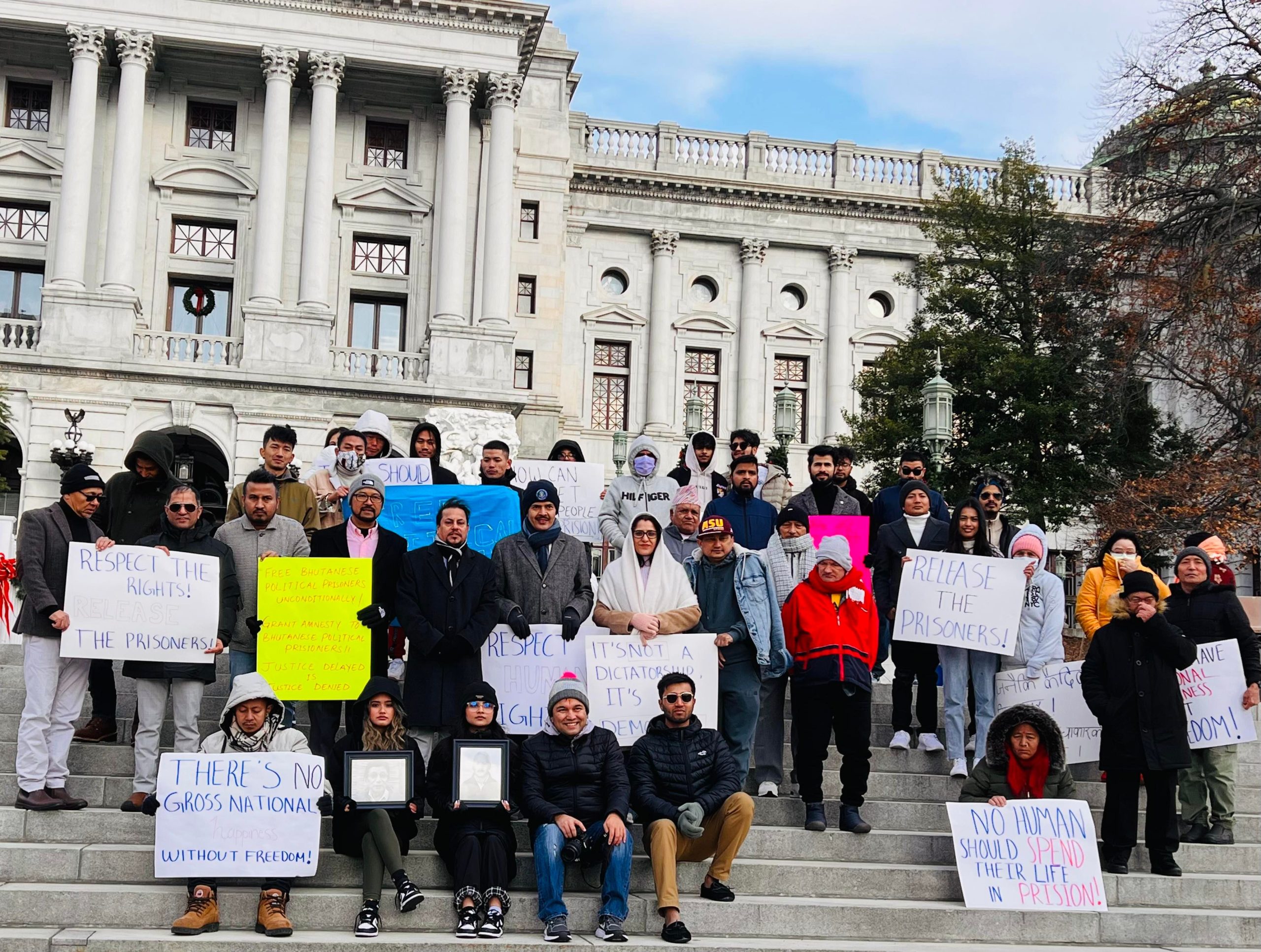 Harrisburg, Pennsylvania: Members of the Bhutanese community in America have demanded amnesty for Bhutanese political prisoners. 

Under the banner of the Global Campaign for the Release of Political Prisoners in Bhutan (GCRPPB), over 40 activists stood at the front steps of the PA Capitol Complex. They called for the immediate and unconditional release of political prisoners in Bhutan.

For centuries, the Nepali-speaking Bhutanese people resided peacefully in Bhutan's southern region, only to find themselves subject to unjust cultural alienation, exiled from the country, and imprisoned. Political prisoners in Bhutan were once peaceful members of the country. Their only 'crime' was advocating for democracy and human rights for all Bhutanese citizens. Because of this, they were labelled anti-nationals and shut behind bars without due process.

Since 2019, GCRPPB has been pleading for their amnesty. However, the Royal Government of Bhutan continues to violate its citizens' human rights by refusing to grant them their freedom. As a result, political prisoners themselves and their family members continue to suffer.

In the rally organised on Saturday, the Bhutanese community in the US demanded the release of the many political prisoners in Bhutan. Youth Coordinator of the GCRPPB USA chapter, CM Niroula, Youth Coordinator Ashika Dhaurali,local Bhutanese community leaders Narad Adhikari, Tika Dhungana, Dr Narad Pokhrel, Samickshya Subedi, and Man Ghaley addressed the rally.
A personal plea was delivered by Pasang Tamang, brother of Chaturman Tamang, who is serving a life sentence in Bhutan. The campaign also held a spoken memorial in honour of late Dr Bhampa Rai and late Kishor Rai, two prominent Bhutanese activists.
Prominent Bhutanese Community leader and a former Amnesty International Prisoner of Conscience and presently Governor's Advisory Commission member on Asian Pacific American Affairs-Pennsylvania, Biswanath Chhetri, Bhutanese intellectuals Madhav Sharma, former Bhutanese Parliamentarian KB Chuwan, also took part in the rally.
The young people must continue to work in the Bhutanese movement, as they are the community's future. They should be involved in the work to pressure the Royal Government of Bhutan and the King to immediately release all political prisoners, respecting their fundamental rights to peaceful opinion. International organizations must also continue to advocate publicly for the protection of human rights in Bhutan, speakers said.'

GCRPPB is pleased that more people are hearing the stories of the languishing political prisoners. We hope that together we can achieve a future of reconciliation for the prisoners of Bhutan who have endured these oppressive conditions for far too long,' said Ram Karki, global coordinator of the GCRPPB.

According to GCRPPB, nearly 100 political prisoners continue to languish in various Bhutanese prisons inside Bhutan.