World Cup on top of the mountains of death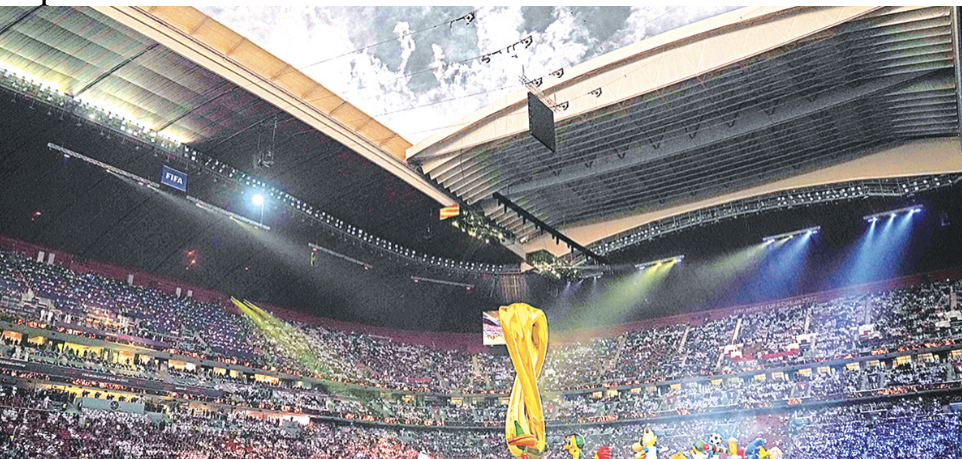 Dr Ramhari Poudyal and Prerana Poudyal
The World is currently at the climax of the World Cup, which is held every four years. For the first time, a tiny Gulf nation, Qatar, has become its grand host. Football lovers from all over the World have gathered in Qatar. Qatar's request to host the World Cup 12 years ago was initially considered unviable bymany. There were no stadiums in the country at that time. The desert and intense heat were contrary to hosting a global football tournament. However, we all have been surprised to see how Qatar seizing the opportunity to celebrate the historic world cup in a marvellous way.
Many arguments, conjectures, and the smell of corruptioncame to FIFA when the Qatar was selected twelve years ago. However, currently, the way Qatar organised the event has surprisingly boosted the country's reputation surprising. Te World is enjoying Qatar's hotels, magnificent stadiums, and huge seashores, often don't realise how this marvellous infrastructure was built. Who was involved with terrible blood and sweat? How many died in accidents? How many died or were killed by the extreme heat, long hours of hard work and working day and night without break and food? This article aims to expose the bitter truth of one of the most gigantic developments within a decade.
It is estimated that there are approximately 272 million international migrants worldwide, t two-thirds of all labour migrants. The global remittance reached 654.33 billion dollars in 2019 (World Bank 2020; United Nations 2020). In 2019, the top five remittance recipient countries were India ($83.1 billion), China ($68.4 billion), Mexico ($38.5 billion), the Philippines ($35.2 billion), and the Arab Republic of Egypt ($ 26.8 billion) (World Bank 2020). Nepal received $8.75 billion in remittances in the fiscal year 2019/20, 23.23 per cent of the total GDP (Nepal National Bank, 2020).
Labour migration is an integral part of the Nepali economy. The Department of Foreign Employment (DOFE) granted work permits to more than four million Nepali workers from 2009 to 2019. Over the past decade, remittances from abroad have tripled from $2.54 billion to $8.75 billion. Among the 110 destination countries for labour migration, Qatar, the UAE, Saudi Arabia, Kuwait, and Malaysia are the top five destination countries.
Qatar has a population of about 3 million, very similar toKathmandu, although 88% of these are foreign nationals. The number of migrant workers is estimated to be two million, which constitutes 95 per cent of Qatar's labour force. About 1 million people are employed in infrastructure construction, while another 1 million are domestic workers. Many foreign workers, mostly men, come from South Asian countries, including the Philippines, India, Pakistan, Nepal, and Bangladesh. It is this body of migrant workers that have suffered a significant human cost of 2022 World Cup with their lives! – "Migrant workers were indispensable to making the World Cup possible, but it has come at a high price for many migrant workers and their families" Tom Dart writes in the Guardian
Not only did those workers sacrifice their precious lives, but they were also victims of widespread wage fraud, thousands suffered mutilations, and thousands faced unexplained deaths." (Rothna Begum, senior researcher at Human Rights Watch)
Massive investment in the physical construction
Qatar has become the first Middle Eastern country to host a World Cup final. Qatar has spent 220-300 billion dollars on infrastructure projects. This considerable investment has given us the privilege of conducting the World's most prominent sports event as a catalyst for nation-building. At $6.5 billion, Qatar built seven new stadiums for the tournament and renovated an eighth. Other construction projects include public transport, major road upgrades, new skyscrapers, hotels, residences, and the new city of Lucelle, which will host the World Cup final.
Intense heat
Five months of the year, the temperature in Qatar exceeds 37 degrees Celsius. Knowing this, the World Cup was moved to the winter season, by FIFA. The decision was made keeping in mind the health status of the players, spectators, and coaches during the extreme heat. However, workers for the project were at risk of accidents, heat-related illnesses, and other diseases due to the physical and mental stress of working long hours in hot weather. Suicide is another concern. Construction workers often live in vulnerable conditions, lacking safety precautions preventing even some preventable accidents. This starkly contrasts with the many grand features and prosperity they have built.
Status of Nepalese
Since 2010 in Qatar, thousands of Nepali workers have died at the construction site of the World Cup. According to local officials, 13,000 Nepalese have gone to Qatar to work on the World Cup construction site. But Qatari companies rarely give any compensation to the victims' families. Most deaths were due to falls from tall buildings or heart attacks. Human rights groups have questioned working conditions in Qatar, where temperatures often reach 50 degrees Celsius. Although some of the workers have returned home, their health has deteriorated. Despite this, many Nepalese continue to go to the Gulf. Because there are few jobs in country andfollowingthe dream of high wages.. These people suffer the same fate as modern slavery. Every day their dreams turn into death and return home to their families in wooden boxes Nepal is benefiting from the remittances, the state is unaware of their untimely death. Employment agencies are complicit in the sad and fraudulent exploitation of workers. Ironically, the Qatari government responds aggressively when the government speaks up for the workers also worrying that the employment agency will be forced out of business.
Cause of death of young workers
The ILO report (2020)questioned the reliability of the death certificates issued and how "heart attack" or "natural causes" were considered high. Considering the relatively young age of Nepalese migrant workers and the mandatory medical examination before coming to Qatar, the cause of death appears to be the same for all; the report calls for more research and more accuracy in identifying the cause. It is the most extensive basis for workers' families to receive fair work-related compensation.
The research conducted 48% of severe occupational accidents were caused by falls, 28% by road accidents, 17% by falling construction materials at the workplace, and 7% by falling into machinery. National origins were Bangladesh 26.5%, India 19.6% and Nepal 18%. There were 60 deaths of young workers by such accidents occurred in July and 28 in March 2020
Human rights
After human rights groups raised the alarm about hundreds of workers being forced to overwork in scorching heat for little or no pay, the Qatari government barely listened to this argument. Workers were frequently forced to surrender their passports to employers and faced abuse, fraud and violence at the hands of employers. While the nationals of these countries continue to suffer such exploitation, none of the labour-sending countries in South Asia has publicly condemned Qatar or demanded accountability in bilateral or multilateral forums.
Increasing suicide
The increasing suicide rate of Nepali workers in Qatar is another significant exploitation.. The past decade has seen an alarming number of suicides. About 200 Nepalese migrant workers have committed suicide in Qatar. Hundreds of return coffins are classified as "natural deaths", and no autopsies are performed. Those who die this way are healthy aged 20-45 who go to the Gulf countries only after having passed a medical test. What kind of psycho-social impact has there been on their dependent children and wives of the migrant workers when they stay away from their family and country for years? This is another topic of research.
The study of Dr Yagyamurthy Bhurtyal, who has a PhD from Sheffield University in the UK, has revealed their miserable condition in his PhD thesis. Similarly, Professor Dr Priyambada Paudyal's Impact of Migration on the Health and Well-Being of Separated Families: A Systematic Review has been published in an international journal.
Finally,
Thus, the government should take immediate action to protect the wellbeing of their workers starting firstly with an in-depth fair investigation into accidents and deaths during the development of the World Cup stadiums. In addition, such incidents could have been reduced if the workers were given basic training on traffic rules, safety, and skill training before sending them to the gulf countries. Without these changes, the government is undoubtably subjecting millions of migrants who risk their lives abroad to be destined to return to their respective home countries in a wooden box.