120 journalists affected in 45 press freedom violations in a year in Nepal, report says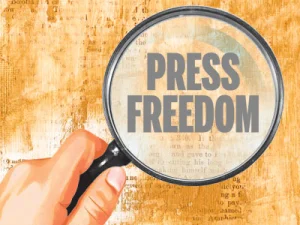 Kathmandu —  In the past one year, 2022, total 45 incidents of press freedom violations occurred in Nepal, where 120 journalists were directly affected, according to a report.    

Compared to the previous year, the number of violation has declined, but the number of affected journalists increased, which the report mentioned as a worrying trend.

Releasing an annual report on press freedom recently, a civil society organization, Freedom Forum, said among the total affected journalists, 109 are male and 11 female. It has further stated that there was little progress in addressing impunity on crimes against journalists while the hostility meted out to journalists went abated.
"Absence of FoE and press freedom friendly law and policy, interference in media by the constitutional body, increased cyber surveillance against media persons, and flood of fake news were major trends recorded," the report stated, adding that the year however remained an election year for the successful conduct of election at three tiers of governments.

The Freedom Forum has categorized the press freedom violations as arrest/ detention, attack/ manhandling, obstruction/ vandalism, threat to life, and misbehavior. The number 0f obstruction and vandalism combined stand highest, 56, which is followed by attack/manhandle, 28. Similarly, 18 journalists were affected with misbehavior while 13 with threat, and five arrest and detention combined.

The report has also brought forth some examples of intimidations as keeping in detention a journalist and right to information (RTI) activist Kailash Majhi for four days for his critical reporting about local leadership in Saptari. Digital surveillance and cybercrime against journalists has been projected as new and alarming threat to Nepali media by the report. FF writes, "
Original photos and contents published on the news portal www.ukeraa.com were deleted and replaced with irrelevant contents on December 1, while on the run up to November 20 election, senior journalist Kishor Nepal's mobile phone was blocked and social media accounts hacked. Although the mobile phone was opened after some days, the social media accounts are blocked for long."

As per province, the Bagmati Province has highest number journalists affected, 44; which is followed by Madhes Province with 42. The Gandaki and Lumbini Provinces each has the number of journalists affected at 11.
The last year recorded the least number of journalists affected in Province-1 as it witnessed only two incidents of violations. The Karnali Province and Sudurpaschim Province had the journalists affected 7 and 3 respectively, the annual report revealed.

The report has welcomed the Janakpurdham High Court's verdict of life imprisonment to the murder convict of media entrepreneur Arun Singhaniya as a positive update on long pending case of impunity. The court issued the verdict on September 21, 2022. The High Court sentenced life imprisonment to the suspended lawmaker and former Minister of State Sanjay Kumar Saha who was declared the mastermind of the murder.

Singhaniya, the then chairman of Janakpur Today Media Group was shot dead on March 1, 2010 at a local Shiva Chowk of Janakpur city.

Executive Chief at Freedom Forum, Taranath Dahal, observed, "The case of journalists killed and made disappeared during the conflict time could be taken to the regular court under criminal offense rather than transitional justice mechanism, but this demand went unheard this year too."

The issues of information disorder with spread of fake news and need of digital capacity building are stressed by the report.

Dahal points out the need of political tolerance and CSO's activism to ensure the journalism a safe profession and create safe free-speech environment in society. "Political will and commitment can contribute to FoE friendly media law and policy environment in the federal and provincial levels as per constitutional spirit and international standards," he said, adding that a balanced approach of fair election and free press could make democracy functional and sustainable. (RSS)