US welcomes India's participation in Indo-Pacific Economic Framework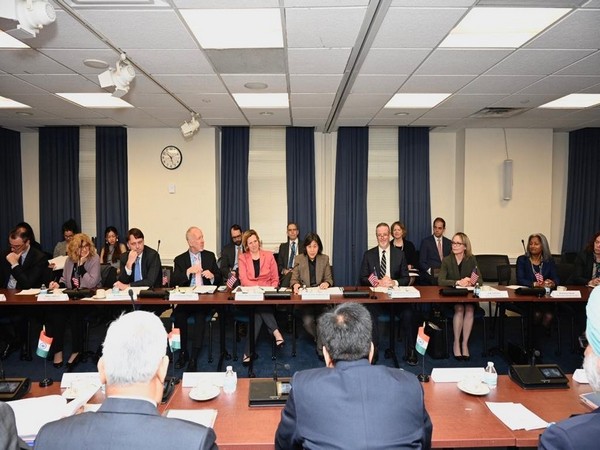 Washington : The United States on Wednesday welcomed India's participation in the Indo-Pacific Economic Framework for prosperity (IPEF).
US and India held the 13th Ministerial-level meeting of the United States-India Trade Policy Forum (TPF) in Washington, which was co-chaired by US Trade Representative Ambassador Katherine Tai and Minister of Commerce and Industry Piyush Goyal.
Both leaders discussed several issues of mutual interest and explored how complementarities can further forge robust trade and investment ties to strengthen the multifaceted partnership.
"Ambassador Tai and Minister Goyal fully support the IPEF initiative and believe that deepening economic engagement among partner countries is crucial for continued growth, peace, and prosperity in the Indo-Pacific region, adding that the IPEF will bring tangible benefits to the region," read the joint statement on the United States-India Trade Policy Forum.
The ministers underlined the significance of the TPF in forging robust bilateral trade ties and enhancing the bilateral economic relationship to benefit working people in both countries.
"They appreciated that bilateral trade in goods and services continued to rise rapidly and reached about USD 160 billion in 2021," the statement added.
The ministers highlighted the work undertaken through the TPF working groups since the 12th TPF Ministerial. They reiterated the importance to India and the United States of specific trade issues enumerated in the 2021 TPF Joint Statement and directed that work be maintained to advance those issues towards resolution, with regular stock-taking of progress by the ministers and their senior officials.
They also welcomed the results achieved at the WTO's Twelfth Ministerial Conference and expressed their shared intention to continue to work constructively at the WTO, including on WTO Ministerial Decisions, to achieve tangible, realistic, and meaningful outcomes.
"Recalling the foundational principles of the WTO, they noted that WTO reform should build trust in the multilateral trading system and enable the WTO to better advance its foundational objectives and respond to the needs of all of our people," read the statement.
Ambassador Tai welcomed India's G-20 Presidency saying the United States looks forward to working together with India in the Trade and Investment Working Group.
She noted that the G-20 can be a useful forum for initiating constructive dialogue and seeking to enhance coordination and cooperation among member countries on global trade issues, added the joint statement.
The US appreciated India's initial public consultation on the draft Drugs, Medical Devices, and Cosmetics Act.
The Ministers welcomed the finalisation of the Turtle Excluder Device (TED) design with the technical support of NOAA. The collaboration between India and the United States to expedite the TED trials will ensure that the TEDs are effective in minimising the impact of fishing on sea turtle population, read the statement further.
The ministers also welcomed continued engagement on intellectual property (IP) and reiterated that the protection and enforcement of IP contribute to the promotion of innovation as well as bilateral trade and investment in IP-intensive industries.
The two nations underlined the importance of continuing to engage on the provisions of the copyright in view of commitments under the World Intellectual Property Organization Copyright Treaty and World Intellectual Property Organization Performance and Phonogram Treaty, added the statement.
The ministers also acknowledged the positive impact of Trade Margin Rationalization (TMR) on patient access to affordable medical devices during the Covid Pandemic while agreeing to continue exchanging views on pricing issues for cardiac stents and knee implants that would facilitate access to cutting-edge medical technology at affordable prices for the patients.
They further acknowledged the remaining work to be done to finalise access to certain agricultural products of interest to both sides. The ministers said they also "intend to increase dialogue on food and agricultural trade issues in 2023 and to continue work to address bilateral issues in the relationship through the Agriculture Working Groups, as well as the relevant sub-groups".
"They noted that the movement of professional and skilled workers, students, investors and business travellers between the countries contributes immensely to enhancing bilateral economic and technological partnerships. India acknowledged the steps being taken by the United States to augment the processing of visa applications. Both sides decided to continue close monitoring of visa issues with the shared resolve to facilitate the movement of professionals, skilled workers, experts, and scientific personnel," read the statement.
The ministers noted the potential of enhancing trade in professional services between the two countries. They acknowledged that well-functioning pathways for recognition of qualifications in professional services, and deeper dialogue between the professional bodies of the two countries can facilitate this growth.
They intend to encourage their regulatory bodies to engage in discussions on exchanges of knowledge, capacity building, and recognition of qualifications to further enhance trade in professional services.
The ministers also noted that greater cooperation in the Fintech sector could contribute to further expansion of the bilateral trade relationship, and intend to continue engagement in this area. They also discussed the importance of electronic payment services to furthering the trade relationship and both sides expressed their intention to continue engagement in this area.
"The ministers concluded by directing the TPF Working Groups to reconvene quarterly, either in person or virtually, and identify specific trade outcomes to ensure that the trade relationship begins to reach its full potential. They also instructed senior officials to hold an inter-sessional TPF meeting by mid-2023 and agreed to reconvene the TPF at the Ministerial level before the end of 2023," added the statement. (ANI)