Yeti Air plane crash in Nepal deals major blow to tourism industry: TAAN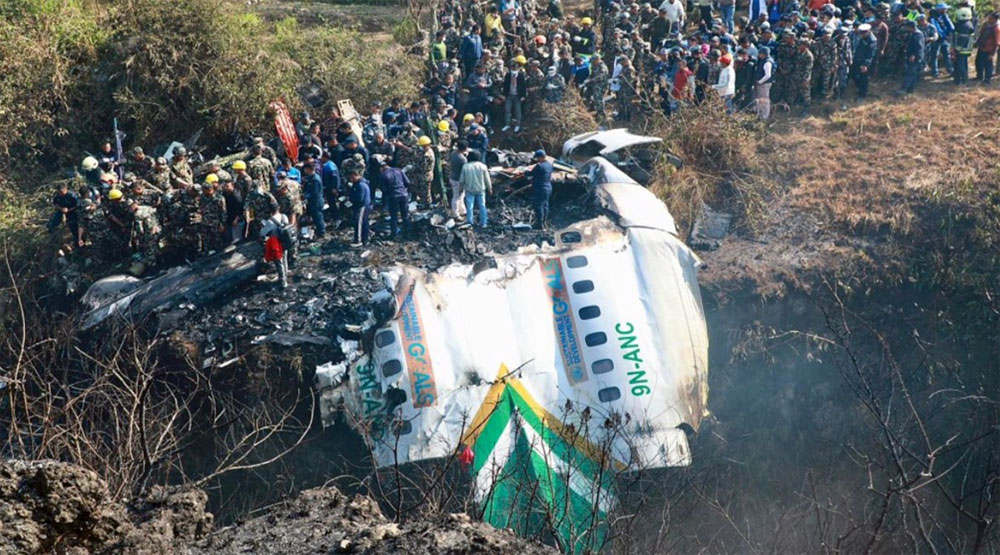 Kathmandu : Trekking Agencies' Association of Nepal (TAAN) has said the Yeti Airlines plane crash in Pokhara, the country's touristic hub, on Sunday dealt a powerful blow to Nepal's aviation and tourism sectors. 
Issuing a press statement today, TAAN general secretary Binod Sapkota said the crash caused an irreparable loss to the domestic tourism industry that was trying to revive from the implications of COVID-19 pandemic.
Flights at Pokhara Regional International Airport were recently launched following its upgrade from the national to international standard and the crash took place at the country's touristic hub was itself a major blow to the entire domestic tourism business, the TAAN concludes.
TAAN President Nilhari Bastola demanded the State takes significant measures to ensure that Nepal's sky and aviation service are safe. He advised the State's responsible bodies to take measures for the prevention of such incidents in the days to come.
The plane with the call sign 9N-ANC ATR-72-500 that had left Kathmandu for Pokhara on January 15 carrying 72 people, including 68 passengers and four crew members, crashed on the Seti River Gorge.
NAC expresses grief
Office bearers of the Nepal Airlines Corporation (NAC) are saddened by death of scores of people in the crash, according to the NAC.
The NAC in a statement today offered its heartfelt condolences to those killed in the tragedy while wishing that the bereaved families may have patience and strength to endure the incident. It has termed the crash as a saddest one in the history of Nepal's aviation.
It has expected the findings of facts relating to the incident while urging effective investigations so as to make the country's aviation sector safe and reliable.
HAN mourns
The Hotel Association Nepal (HAN) has expressed its sorrow over the crash. "The Association and all other organisations under it are saddened by the incident. In this time of sorrow, we offer our condolences to all passengers and crew members killed in the tragedy, and to the bereaved families," read a statement issued by the HAN.
Stating that the accident has had negative impacts not only the country's aviation sector, but the whole nation and tourism sector as it has spread the message at national and international levels that Nepal's sky is unsafe, it said it was the responsibilities of all of us including the state and stakeholders to make the country's sky safe. (RSS)