Shahabuddin Chuppu is set to become the next president of Bangladesh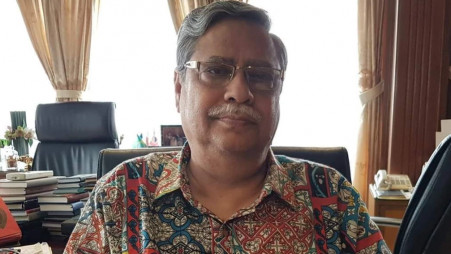 Dhaka — Mohammad Shahabuddin Chuppu, a former judge and freedom fighter, is set to become Bangladesh's next president after the ruling Awami League, which holds an absolute majority in Parliament, nominated him for the top post.
Chuppu, 74, will replace President Mohammad Abdul Hamid, whose tenure ends on April 24.
"The Election Commission (EC) has received his (Chuppu's) nomination paper submitted by Bangladesh Awami League," a spokesman of the independent statutory body said, PTI reported.
Bangladesh Awami League has decided to nominate Md Shahabuddin for the post of the country's 22nd president. Prime Minister Sheikh Hasina, the president of Awami League, has finalised the nomination.
Shahabuddin was born in 1949 in Pabna and is a lawyer by profession. He is a member of the party's advisory council. He previously served as a district and sessions judge and ACC commissioner.
He was the convenor of Pabna district's Swadhin Bangla Chhatra Shongram Parishad in 1971. He is also a freedom fighter. He joined the BCS as a judicial cadre in 1982 and was elected as the general secretary of the Judicial Service Association in 1995.
He also served as the coordinator appointed by the law ministry in the case filed over the assassination of Bangabandhu. He served as the chairman of the Judicial Inquiry Commission set up after the 2001 general polls to investigate the murders, rapes and looting and inhumane activities committed by the leaders of the BNP-Jamaat alliance.
Shahabuddin was imprisoned following the brutal assassination of Father of the Nation Bangabandhu Sheikh Majibur Rahman in 1975. He also was the election commissioner in the last National Council of Bangladesh Awami League."
He is married to Professor Dr Rebecca Sultana, a former government official and the two have one son, Quader concluded his brief.
According to the schedule, the presidential election will be held on February 19 as the tenure of incumbent President Abdul Hamid nears an end, tbs news reported.
The final date for submitting nomination papers was today and those will be reviewed on Monday (13 February), as per the EC.