UN chief condemns Russian 'affront' in Ukraine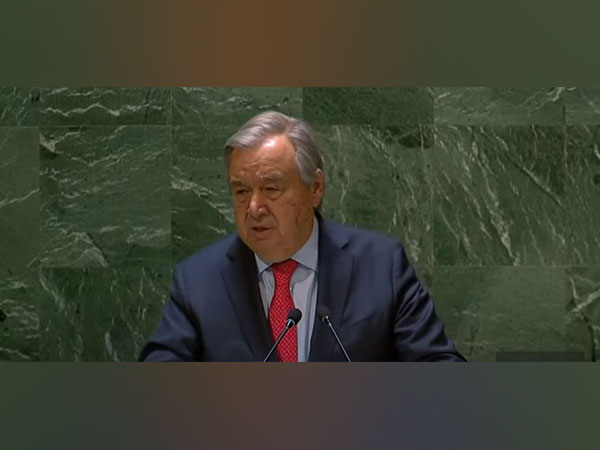 New York : United Nations Secretary-General Antonio Guterres condemned Russia's invasion of Ukraine on Wednesday and said that it "is an affront to our collective conscience." While addressing the eleventh emergency special session two days before the
anniversary of Russia's attack, Guterres said, "When you mark Russia's invasion of Ukraine stands as a green milestone for the people of Ukraine and for the International community that invasion is an affront to our Collective conscience." "It is a violation of the UN Charter and international law. It is having dramatic humanitarian and human rights consequences and the impact is being felt far beyond Ukraine," he added.
The Russia-Ukraine war started on February 24 with the bombings and changing the world's geopolitics.
As fighting raged on in Ukraine, the General Assembly began debating a motion backed by Kyiv.
While addressing the session, UN Chief also said, "I said from day one Russia's attack on Ukraine challenges the Cornerstone principles and values of our multilateral system the UN Charter is unambiguous." "I quote all members shall refrain in their international relations from the threat or use of force against the territorial integrity or political independence of any state or in any
other manner inconsistent with the purposes of the UN," he added. He also recalled the other countries' addresses over the illegal annexation of four regions of Ukraine.
Earlier, in Poland, US President Joe Biden on Wednesday said that Russian President Vladimir Putin made a "big mistake" when he announced that his country was suspending its participation in the New START nuclear arms reduction treaty. Biden – who was walking into a meeting with the Bucharest Nine at the Presidential Palace in Warsaw, Poland, first smiled and responded, "I don't have time" when a member of the US press asked for his response to Putin.
He then paused and said "big mistake," before walking in for a photo with other leaders.
The Bucharest Nine group was formed in 2015 after the Russian annexation of Crimea, and it consists of Bulgaria, the Czech Republic, Estonia, Hungary, Latvia, Lithuania, Poland, Romania and Slovakia.
Biden is meeting with NATO leaders in Poland as the Ukraine war approaches the oneyear mark.
While in Moscow, Putin met with China's top diplomat Wang Yi on Wednesday. Earlier, Wang met Russian Foreign Minister Sergey Lavrov.
Putin has said he is suspending participation in New START — the only remaining major nuclear arms control treaty with the US — and sought to blame the West for the Ukraine conflict. (ANI)