Global hunger set to spiral as debt crisis bites, says a new report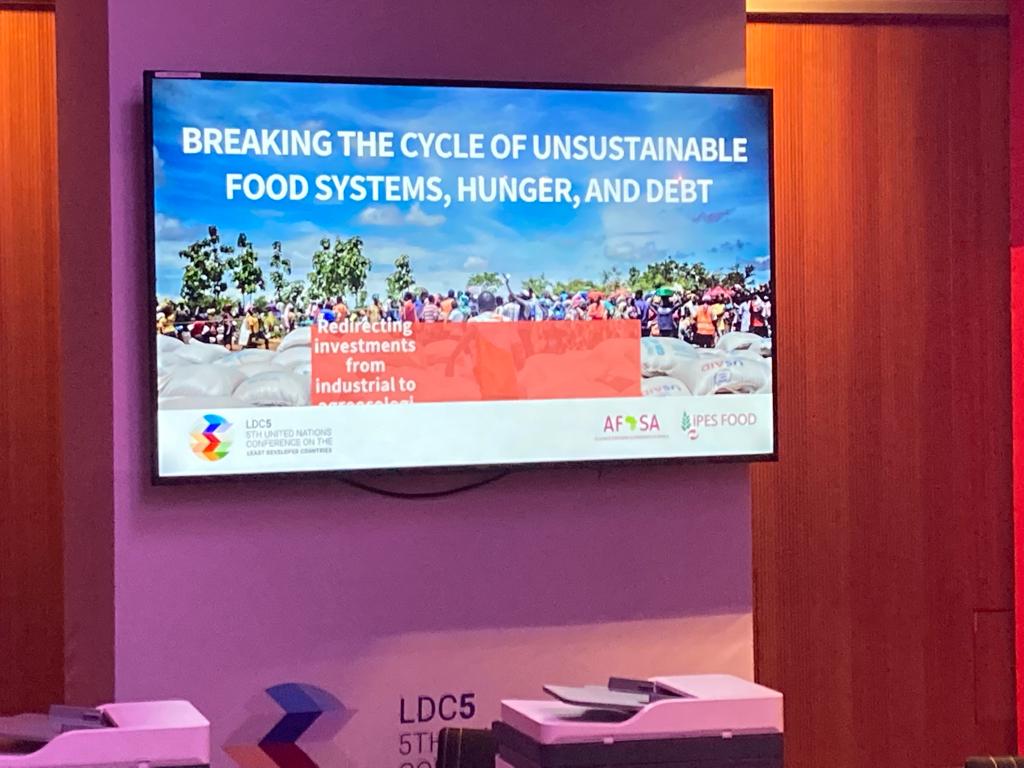 Doha, March 6 –  Leading food systems experts have warned that the food price crisis is entering a dangerous new phase, as the world teeters on the brink of a debt crisis that could plunge millions more into hunger. The International Panel of Experts on  IPES-Food special report comes as global leaders meet in Qatar (LDC5) to address challenges faced by the world's Least Developed Countries – with 'debt sustainability and debt cancellation' finally on the agenda.
Presenting the report entitled 'Breaking the cycle of unsustainable food systems, hunger, and debt,' at the Civil Society Forum panel in Doha on Monday, Million Belay, IPES-Food expert, said: "Many African countries' economies and food systems are on the brink of meltdown. Africa is stuck in a bind. We're selling coffee and cotton to the rich to pay off debts, while we import increasingly unaffordable staple foods from outside, climate change batters our harvests, and interest payments spiral out of control. The economic system prioritizes servicing debt over feeding people, while our governments are starved of cash to build the sustainable food systems we need to feed ourselves."
A year after Russia's invasion of Ukraine, record-high food prices have receded, but growing numbers of countries are facing rising hunger and soaring debt repayments, the report said. 60% of low-income countries are now considered at high risk of, or already in, debt distress, while some 21 countries are nearing catastrophic levels of both debt distress and food insecurity. Zambia, Sri Lanka, and Suriname already defaulted on their debts; Ghana and Pakistan are currently in urgent talks to avoid default.
Policymakers are ignoring the critical role of unsustainable, import-heavy food systems in driving rising debt and hunger, the experts said. Skyrocketing costs for imports of food, fertilizer, and energy are straining the public finances of many low-income (and also some middle-income) countries. Rising interest rates and plunging currencies are sending debt bills higher, constraining the ability of governments to ensure the food security of their citizens. Those same countries are locked into exporting cash crops (such as cocoa, coffee, and cotton) to pay off dollar-denominated debts and import basic necessities – at the expense of feeding local populations.
Moreover, record high debt burdens are preventing urgently-needed investments in sustainable, climate-resilient food production and food security, creating a vicious cycle, says the report. Debt repayments dwarf spending on climate resilience and social protection in the world's poorest countries. Failure to break this vicious cycle of unsustainable debt and unsustainable food systems will mean the reversal of decades of progress in addressing poverty and hunger, and abject failure to meet the Sustainable Development Goals, the experts said.
They have called for urgent action to:
● Provide debt relief and development finance on a scale sufficient to meet the needs of COVID-19 recovery, climate-resilient food systems, and the Sustainable Development Goals; ● Repair historical injustices that have left countries funneling wealth to the global North – through windfall taxes on food profiteers and steps to achieve tax justice, and repay 'ecological' and historical debts;
● Democratize financial and food systems governance: reform decision-making over food systems and in the World Bank and IMF to put the interests of the world's poorest countries and marginalized populations first.
21 countries are nearing catastrophic levels of both debt distress and food insecurity – including Afghanistan, Cameroon, Ethiopia, Haiti, Lebanon, Somalia, Sri Lanka, Sudan, and Zimbabwe, the report said. By November 2022, some 349 million people were facing acute food insecurity, with 49 million on the brink of famine, 45 countries in need of external food assistance, and some 828 million facing persistent hunger.
As food prices spiked, countries in Sub-Saharan Africa spent an additional $4.8 billion on food imports in 2022 while receiving less food overall. The world's 77 'net food-importing developing countries' faced a crippling $21.7 billion in additional costs, the report said.
The full report can be accessed at:
http://www.ipes-food.org/pages/debtfoodcrisis